SET YOUR VEHICLE
Northridge4x4 and Aero Precision Giveaway
Nothing says America more than this right?
Here's your chance to win a one of a kind, custom rifle! We worked with our buddies at Aero Precision to offer up one helluva prize. The Northridge4x4 Edition AR is built with parts from Aero Precision, VG6 Precision, Battle Arms, Magpul, Geissele and Vortex. This masterpiece is completely finished by Blown Deadline with a Northridge4x4 Battleworn Titanium Custom Cerakote. See below for full build specs.
To enter the drawing, scroll down and click on the "Rifle Giveaway with Northridge4x4" link. The more steps you follow, the more entries you'll get! This giveaway will run all month long and at the end of the month, we'll pick a random person who entered so be sure to get as many entries as you can!
Upper Receiver
Aero Precision 16" .223 Wylde Mid-length barrel
VG6 Bead Blasted Stainless Steel Epsilon 556
Aero Precision 15" Enhanced Gen 2 MLOK Handguard
Aero Precision .750 low-profile gas block
Aero Precision 30mm extended Ultra-Light Scope mount
Aero Precision M4E1 Enhanced upper receiver
Aero Precision 5.56 Nickle Boron BCG
Aero Precision AR15 Ambidextrous Charging handle
Aero Precision Flip-up sight set
Vortex Strike Eagle 1-6x24
Lower Receiver
Aero Precision AR15 Gen 2 Lower Receiver
Aero Precision Enhanced Lower Parts kit
Battle Arms Development BAD-ASS Short Throw Safety Selector
Aero Precision Carbine buffer kit with H2 buffer
Magpul STR Stock
Magpul MOE Grip
Geissele SSA Two-stage Trigger
For a limited time, you can save 20% on all Aero Precision products when you use our exclusive code. Simply visit www.aeroprecisionusa.com and use the code 4X4PEW to save. This offer is only good for the month of July so get shopping!
ALSO, Click here to head on over to their site and enter their drawing for a Warn Zeon 10-S winch or an ARB Fridge Freezer.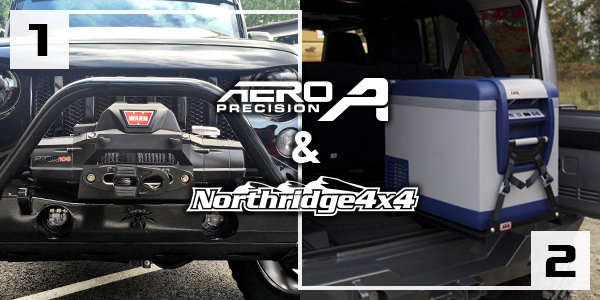 Frequently Asked Questions
Q: How do I get the 10 extra entries?
A: When you enter our giveaway you will receive an option to 'Bring Your Friends!' that will give you a unique URL that you can share with your friends. For each friend that enters the giveaway through that unique URL, you will receive +1 entry into the giveaway. You can refer up to 10 people for each giveaway. They must use that unique URL and enter the giveaway for these entries to be added.
Q: How do I know if I won?
A: The winner will be contacted the next business day after the giveaway ends via email. They have 48 hours to respond to our email before we move on to another winner. Once that winner has accepted the giveaway we will announce the winner on Facebook and on this page. If you are NOT contacted within the first few days of the month, you unfortunately are not the winner.
Q: How many entries do I get for each submission?
A: Each entrant receives a certain amount of entries based on the way they enter our giveaway. You will receive entries by: - Joining the Northridge4x4 Mailing List: 5 entries - Visit Northridge4x4 on Facebook: 3 entries - Following @northridge4x4 on Twitter: 3 entries - Tweeting a Message: 1 entry - Referring your friends: Up to 10 extra entries (See first question above for details)
Q: What if my question isn't listed here?
A: If your question isn't listed here please go to our Contact Us page and ask away. Please select "Website Issues/Concerns" in the Department field when asking questions about the rifle giveaway.