SET YOUR VEHICLE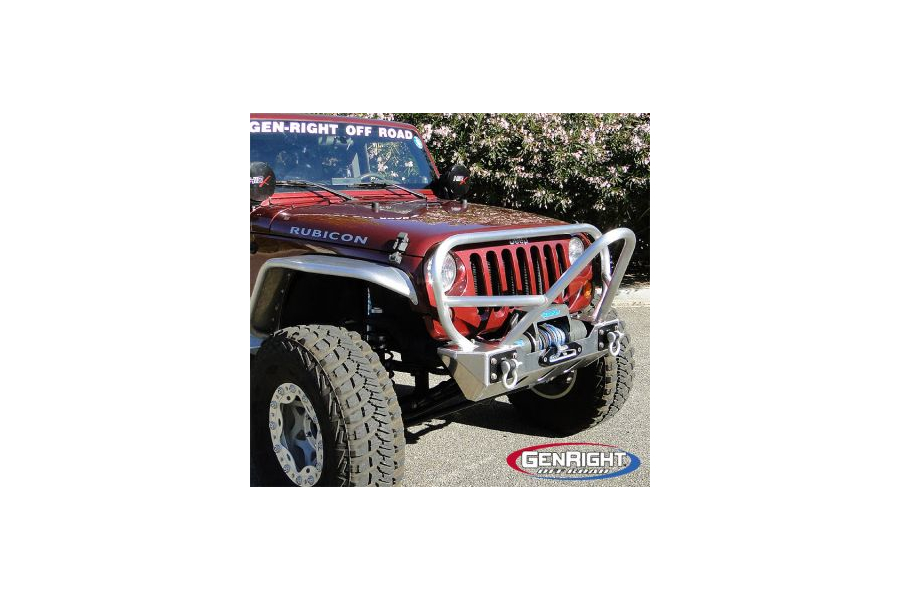 Genright Stubby Steel Front Bumper w/Boulder Stinger
Part #:

GENFBB-8100


MSRP: This Item is no longer available.
PEOPLE WHO VIEWED THIS ITEM ALSO VIEWED
Material Thickness:
3/16in
---
Mfgr. Warranty:
No Warranty
This is the all new Front Bumper for the Jeep JK from GenRight Off Road!
We call this model our -Boulder Series- front bumper for Jeep Wrangler JK.
Our high quality, high clearance Stubby type front bumper with a low version of our front stinger which is directly welded on. It is perfect for protecting the front of your Jeep while out on the trail. The low profile design incorporates the winch mount to keep the winch lower than most other bumpers to allow for better air flow to the radiator.
FEATURES Include:
¦Fits the 2 door and 4 door Jeep JK.
¦Compact design fits tight to the frame and wraps around each side.
¦Works with Antirock type sway bars (or the factory sway bar).
¦8 bolt mounting fits tight up against the frame for the best approach angle.
¦Laser Cut and CNC Formed from heavy duty 3/16 inch thick steel plate.
¦Includes two steel tow points (D-ring shackles are extra REC-2100).
¦High stinger bar is to protect the winch and prevent forward roll overs.
¦Grille bar is to protect the hood and radiator in the event of a roll over.
¦No grille obstruction; the winch -tray- is sunken down into bumper (between frame rails) for optimal air flow to the radiator.
NOTES:
¦This product is un-painted (except for the winch tray and tow points).
¦Aluminum fairlead is not included, but sold separately (FBB-5001).
¦Because of the recessed winch tray a Warn 9.5TI winch can be made to fit with minor modifications and the Warn Power Plant winch can be made to fit with major mods.
No questions have been asked about this product.