SET YOUR VEHICLE
JW Speaker 8700 Evolution J Series LED Headlights - JK
MODEL #
JWS0551131
Manufacturer Part #
0551131
$
$760.00

Bundle Savings:

MSRP:

$760.00
Buy as a package deal and save: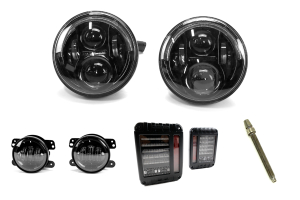 JW Speaker 8700 Evolution J Series Headlight Kit - JK
As low as
$487.95
View Product
---
Mfgr. Warranty:
Limited 5 Year Warranty
The 8700 Evolution J LED headlight brings with it an integrated anti-flicker technology. This world-class technology eliminates the flickering that is normally caused by a Jeep's electrical system especially in the newer models. Unlike the other LED headlights that need bulky and/or expensive anti-flicker harness, this series is totally plug and play!
This model series provides an extremely unique look that features a cool 'half halo' pipe. It also features an exclusive 'Evolution J' inner bezel. Its high beam delivers extra illumination over the horizon. This makes it a perfect choice for any Jeep owner that seeks first-class performance off-road LED lights.
The Model 8700 Evolution J usually supports DRL (Daytime Running Light) functionality that is present in Canadian Jeeps.
The ECE versions, even though not utilized in the U.S, boast both FP and DRL functions.
Grab this LED headlight for your Jeep today and experience the magic.
Northridge4x4 is a fully authorized J.W. Speaker retailer and these carry the full J.W. Speaker warranty.
These are awesome!
WilGeno
3 months ago
These are the lights you are looking for. I've seen a few different reviews of different LED headlights and I decided to try the JW Speaker headlights based on those reviews. But what I never did get a good sense of is just how much brighter these are. WOW! Installation: These are truly a plug n play installation. Light Output: The light output is amazing. It's a bright white light that rally illuminates the road and sides of the road so much and so clearly. There's no color distortion so when you see objects they appear as their real color. I've done a lot of night driving with the stock headlights and I've always needed to have high beams on just to have useful light to see the road. A week after installing these I drove 150 miles across Minnesota in the pitch dark but I saw everything clearly even on low beam. The difference was amazing. I could even clearly see the sides of the highway and the ditches where the deer were lying in wait to attack, I mean jump out in front of, passing vehicles. Just being able to see the deer in time to avoid them is well work the cost. But being to see the entire road for several car lengths in front of me, even on low beam, is the reason why these lights are the lights you are looking for.

---
Nice Upgrade
Dagwood
3 months ago
Very worthwhile improvement over stock. Have not been through a winter yet and I've only used them for a few months, but happy so far. Best price I found was here. Quick shipping as well.
---
night and day
motosurgeon
5 months ago
I got these as an upgrade from the factory lights. They are much brighter. I'm not sure if I like the half halo or not but since I have the angry bird grille it breaks up the half halo and looks okay. When installing the lights I got some finger prints on them so I cleaned them with some windex and a paper towel which scratched the lenses. I am taking off 2 stars because of this since these lights are for an off road vehicle and they are not scratch resistant. The are protective lens wraps available and I highly recommend them to be put on as soon as you take them out of the box.
---
No questions have been asked about this product.
Jeep Wrangler JK
Rubicon
2007, 2008, 2009, 2010, 2011, 2012, 2013, 2014, 2015, 2016, 2017
Unlimited Rubicon
2007, 2008, 2009, 2010, 2011, 2012, 2013, 2014, 2015, 2016, 2017
Sahara
2007, 2008, 2009, 2010, 2011, 2012, 2013, 2014, 2015, 2016, 2017
Unlimited Sahara
2007, 2008, 2009, 2010, 2011, 2012, 2013, 2014, 2015, 2016, 2017
Unlimited X
2007, 2008, 2009, 2010, 2011
X
2007, 2008, 2009, 2010, 2011
X-S
2009
Islander
2010
Mountain
2010
Sport
2010, 2011, 2012, 2013, 2014, 2015, 2016, 2017
Unlimited Islander
2010
Unlimited Mountain
2010, 2012
Unlimited Sport
2010, 2011, 2012, 2013, 2014, 2015, 2016, 2017
70th Anniversary
2011
Unlimited 70th Anniversary
2011
Unlimited
2012
Unlimited Altitude
2012
Unlimited Willys Wheeler
2014
Willys Wheeler
2014
Unlimited Hard Rock
2015
Sport S
2016, 2017
Unlimited Sport S
2016, 2017