SET YOUR VEHICLE
Use Code: NR100 and save $100 on orders over $850 *Some restrictions apply
The Ultimate Jeep Wrangler Rhino Rack Roof Rack Setup
We've picked out our current favorite roof top essentials you'll need to build your own customized system on your Wrangler. Wether you're looking to free up more interior cargo space, install that roof top tent you've always wanted, or be able to pack more things with you on your adventures, a roof rack can provide these opportunities and more. versatile use and customization allows you the freedom to invest in the right roof rack accessories for your needs. Overlanders, campers, off-road junkies, and Jeep owners in general all expect different things from their roof top system, and this expansive list satisfies just about everybody.
Rhino Rack's Backbone, RLT600 Legs, and Pioneer Platform
Rhino Rack BackBone 3 Base Mounting System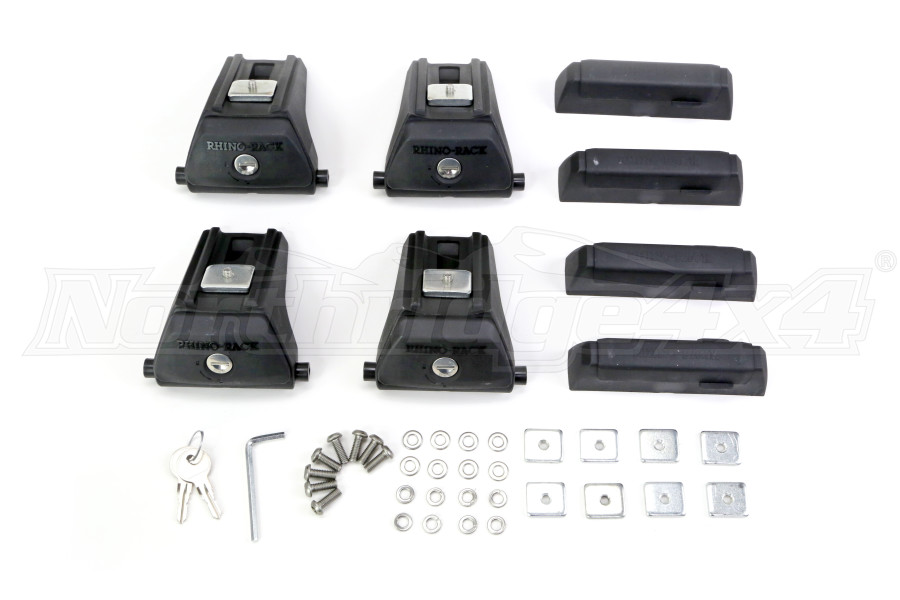 Rhino Rack Quick Mount Legs x4 Features:
Simple trigger-locking system
Cover plate is compatible with MasterKey locks
33 degrees of swivel
Max load capacity /100kg
Single-person installation
Lifetime Warranty
 Easily position and configure these Rhino Rack Quick Mount Legs (4) (RLT600) to accommodate for your Wrangler's new roof rack. These legs support the actual roof rack and is designed as a low clearance set that is easily adjustable with the trigger locking system. Although they are compatible with other aftermarket rack systems, they are recommended pairings to the Rhino Rack systems. Spacer and fitting kits are also available. Installation is simple, no extra tools, hardware or modifications needed to complete. You will also need the additional support legs sold in a set of 2: RLT600H.
Rhino Rack Pioneer Platform 72x76in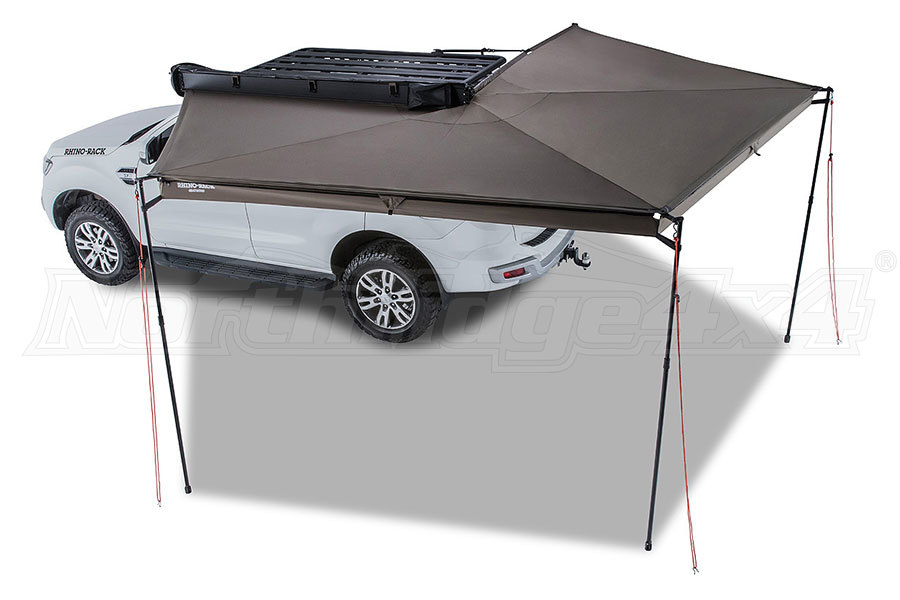 Batwing Awning Features:
Left-hand configuration
Portable design
118 sq. ft. of coverage
Rip-stop fabric
Powder coated frames and adjustable poles
Water and mold resistant
5-year Limited Warranty
If you're not quite ready to commit to a Roof Top Tent, the Batwing Awning (RRU33100) will provide similar convenient protection from the elements on your spontaneous outdoor ventures. 270 degrees of coverage allows for a multitude of uses in almost any weather conditions. Comes complete with pegs, ropes, 2 spare hinge knuckles and a tie down point and strap to secure the awning. Lightweight and sturdy rip-stop fabric is water and mold resistant. Set up and pack up your premium cover in minutes.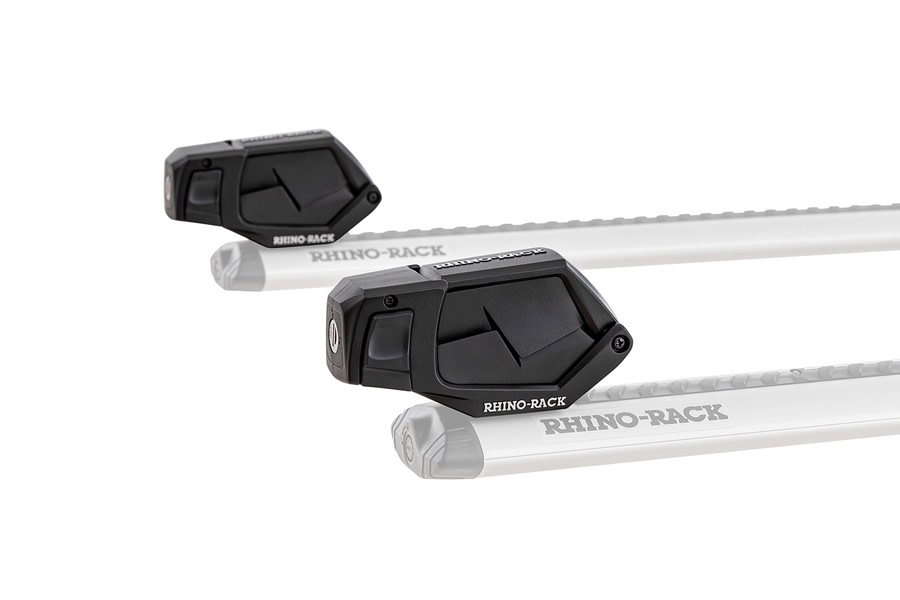 Stow-It Utility Holder Features:
Load capacity: 17lbs/ 8kg
Load max diameter: 10mm-50mm
Durable aluminum construction
Rubber inserts secure and protect equipment
Ratchet locking mechanism
Spring-loaded quick locking and release
MasterKey locking compatibility
Hardware Included
3-year limited warranty
Rhino Rack Stow-It (RRURSIT) holds your essential outdoor gear like paddles, fishing rods, axes, and especially shovels. Campers, overlanders, off-raoders and frequent comuters can utilize this accessory. Essentially any tools measuring 10mm-50mm diameter can be safely stored with this system, protected with a rubber grip insulation. Compatible with Rhino Rack Pioneer platforms and crossbars, this utility holder is semi-universal. Comes complete with a lock to secure and protect your tools but is also MasterKey compatible. The spring-loaded ratcheting locking mechanism keeps your equipment secure no matter where you venture in your Jeep. All necessary installation hardware is included, and installation is easily a one-person job.
Krazy Beaver Shovel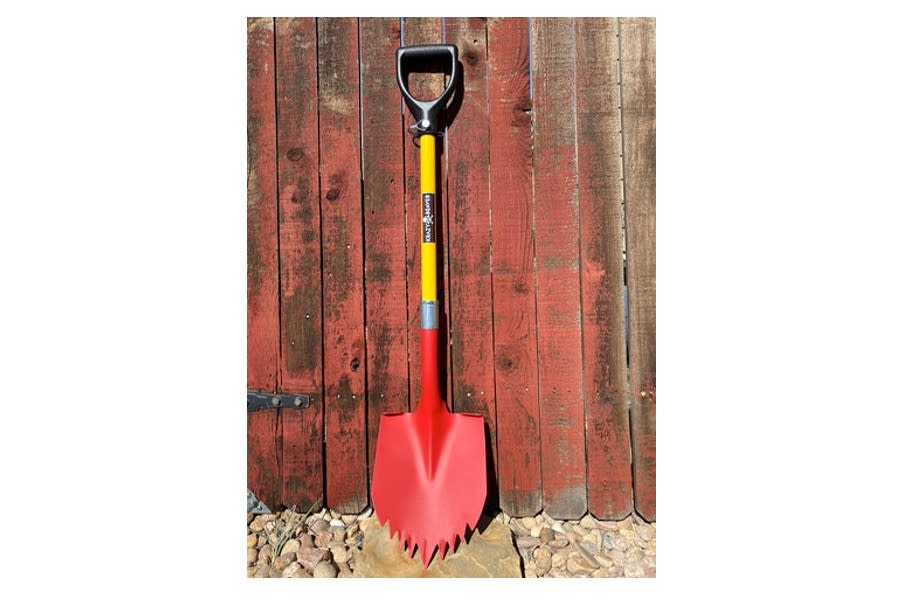 Krazy Beaver Shovel Features:
Powder coating for corrosion resistance
Heavy-duty 13-gauge tempered steel
Sturdy and lightweight fiberglass reinforced core
Measures 40" long
11 ½" long x 8 ½" wide
Reinforced teeth for better ground penetration
Integrated pocket for small item storage
Polymer handle
Solid lock pins
Limited Lifetime Warranty
This Krazy Beaver Shovel (KBS45637) is designed with a red textured head and yellow handle for visibility. This innovative design can penetrate a variety of ground, including ice. Constructed with heavy-duty heat-treated steel, this tool is twice as thick as your average shovel. Powder coating inside and out from head to handle maintain its durability and prevent rust buildup. The reinforced teeth can withstand heavy use and penetrate through ice and clay if needed. Can be used as a regular shovel or in extreme situations on your expeditions. A convenient pocket is located underneath the D-grip handle, perfect for emergency batteries, matches, fishing line, etc. The handle itself is constructed with a solid polymer. Solid lock pins make this shovel easier to use and find when stuck in the sand or mud.
Jeep Wrangler Roof Rack Cargo Upgrades
Roam 95L Rugged Case in Desert Tan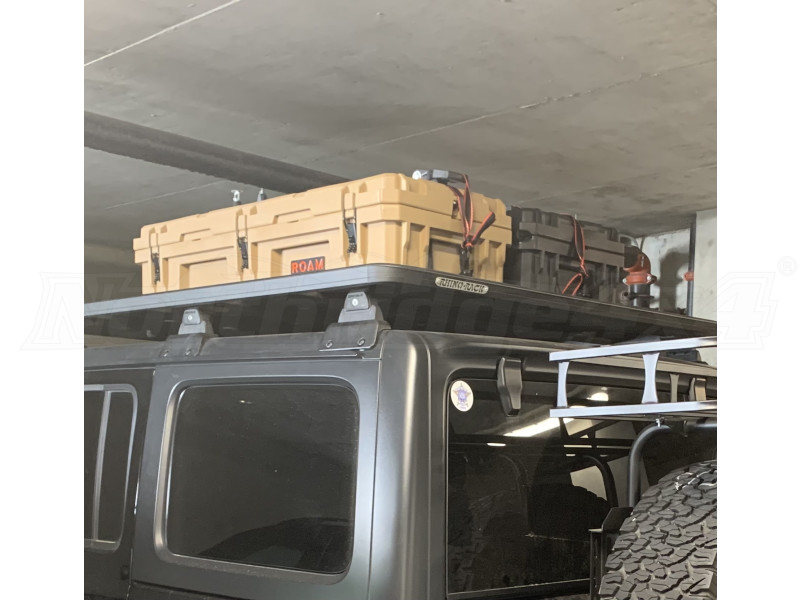 Roam Rugged Case 95L- Desert Tan Features:
Hard LDPE shell case
Gas struts for easy lid opening
Steel lockable latches
Dust/waterproof gasket seal
Comfortable handles to support weight
Channels for use with ratchet straps
Built-in drain plug
Integrated bottle opener
1-year Limited Warranty
Hard storage cases are another must-have for any serious off-roader. Hard storage cases provide a multitude of uses, are long-lasting and durable against extreme climates and rugged use. The Roam 95L Rugged Case (ROM-ROAM-95L-DesertTan) is optimal for the Rhino Roof Rack system. Durable LDPE shell can withstand extreme temps and steel lockable latches are durable through rough use. A built-in drain plug makes for easy cleaning, and the waterproof gasket seal protects your belongings. Rope handles and rubber grips help to transport easily and comfortably. Enjoy an integrated bottle opener for wherever you end up on your adventures. All you need to secure this hard case to your roof rack is the Roam 95L Case Mount. Quick and painless installation anchors your hard case to your roof rack. Stainless steel material, powder coating and lockable latches ensure your 95L Roam rugged case a secure fit to your Rhino Roof Rack. Dimensions of the mounting kit are 18.4" W x 10" L x 2" H. Kit includes a limited lifetime warranty.
Rotopax 2 Gallon Gen 1 Gas Can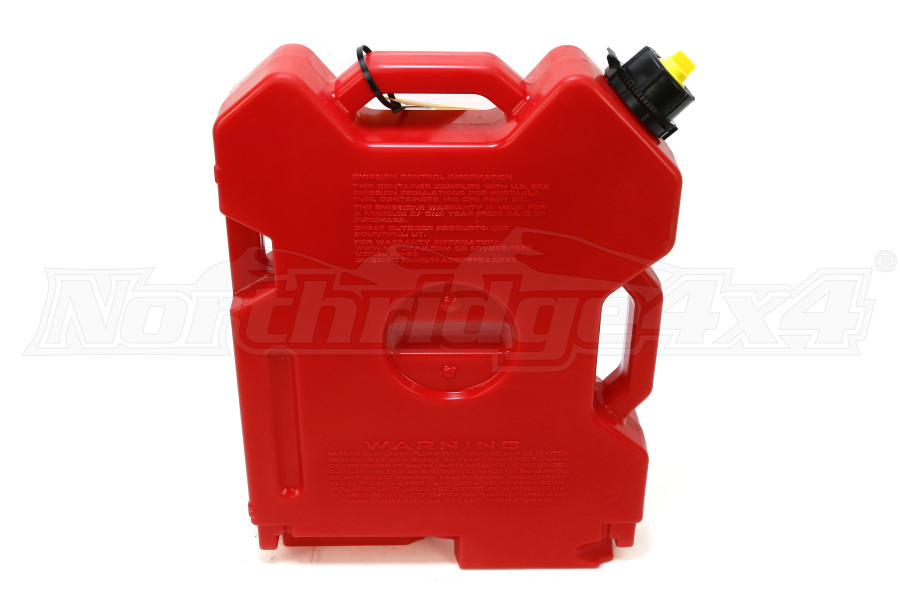 Rotopax 2 Gallon Gas Can Features:
Dimensions: 18" L x 13 ¼ W x 3 H
Leak-proof spout
Sure-seal gasket
Patented three-layer Roto Molding
Full manufacturer warranty
Any seasoned Jeeper appreciates that an off-road build isn't complete without a gas can. The Rotopax RX-2G (RTPRX-2G) red gas tank easily mounts to the Rhino Roof Rack in conjunction with the Rotopax Lox Pax Mount and Pioneer Fit Kit. This gas can is the ideal size for an emergency fill-up or bringing extra fuel for your camping needs. What sets this Rotopax gas can apart is the rotationally molded EPA and CARB compliant design and a patented three-layer Roto-Molding process. They boast a specially formulated plastic barrier meeting low permeability requirements, so you can be sure your fuel is safely stored on top of your vehicle.
Rotopax Lox Pax Mount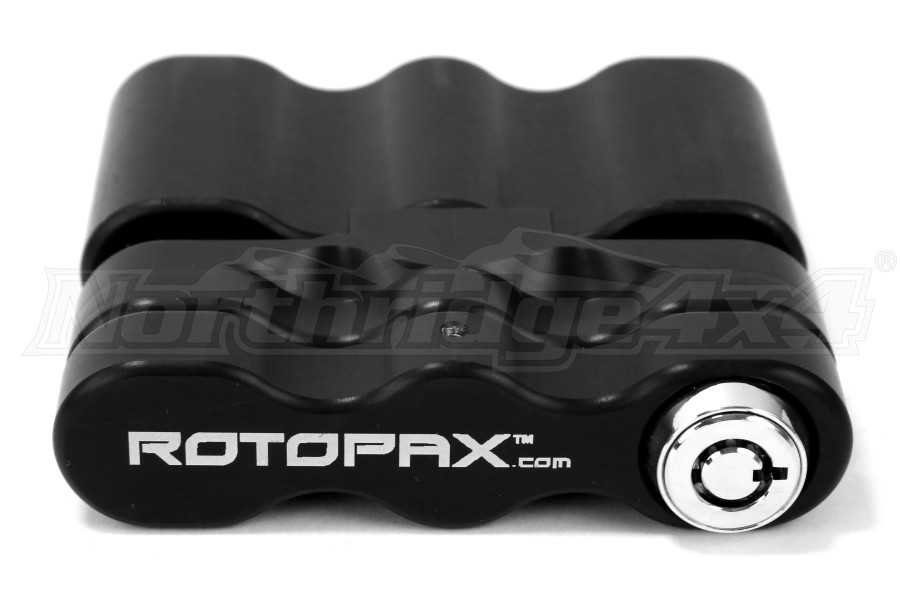 Lox Pax Mount Features:
Unique design with extra tightening power
Keys and installation hardware included
Minimal maintenance locks
Black anodized aluminum
Locks your RotoPax to mounting surface
1-year Warranty
Enjoy more inside cargo space with this durable Rotopax Lox Pax Mount (RTPRX-LOX-PM) for your RotoPax Gas Can. Secure and lock up your container to a flush surface with the mounting plate and hardware in this kit. Includes two keys but be sure to keep them secure; RotoPax does not sell spare ones. As rust is a natural nuisance with metal parts exposed to the outdoors, be sure to occasionally spray the aluminum locks with lubricant so you can still get access to your equipment. Beyond this basic rust maintenance, this mount is hassle-free and will keep your gas can secured on your roof rack through rugged adventures.
Rotopax Pioneer Adapter Fit Kit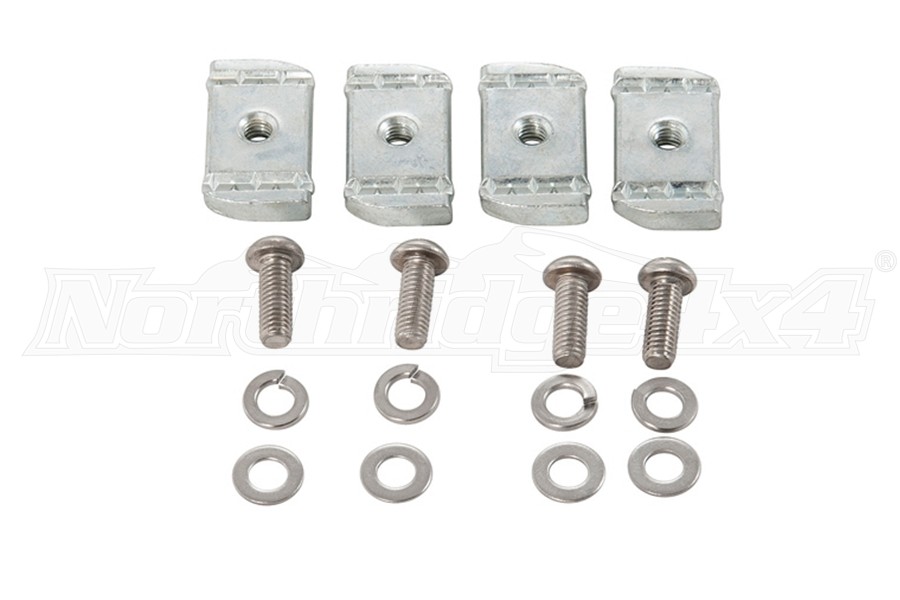 Pioneer Fit Kit Features:
Easy Install
Specific to Rhino Rack Pioneer Roof Racks
3-Year Warranty
This Rotopax Kit (RRU43203) will ensure that your gas tank will mount tightly on your Rhino Roof Rack system. While the basic Mount secures your tank to any flush surface, this fit kit is specifically designed for use with the Pioneer Roof Rack. Simple install just requires an Allen wrench. Gives you even more confidence that your supplies are securely mounted.
Final Thoughts
The number of variations you can create with your roof rack just with this list alone is impressive. But now it's time for you to decide. Are you ready to take your Wrangler to the next level and customize your own Rhino Roof Rack? Check out these other Rhino Rack Parts, our Youtube channel and other blog posts for more awesome 4x4 recommendations. Happy trails!
Products mentioned:
Rhino Rack Backbone 3 Base Mounting System
Rhino Rack Quick Mount Legs (4)
Rhino Rack Quick Mount Legs (2)
Rhino Rack Pioneer Platform 72 x 56 unassembled
Rhino Rack Batwing Awning- Left Side
Rhino Rack Sunseeker 2.0M Awning
Rhino Rack Stow It Utility Holder
Roam Rugged Case 95L in Desert Tan
Roam Rugged Case Mount Kit- 95L
Rotopax 2 Gallon Gen 1 Gas Can