SET YOUR VEHICLE
The Pacific Northwest 4WD Association (PNW4WDA) hosted it's 30th annual Summer Trail Jamboree this year and we had the chance to attend! Having attended it many times over the past couple decades, we've got to say that this is a small event that should be on your bucket list. Not because it has super hard-core trails or big named off roaders in attendance. You should have this on your bucket list because this is a well organized and ran event that feels very down home and welcoming. Add to that some excellent trails and some fantastic mountain views Held in the foothills on east side of the Cascade mountains near Naches, WA, the event brings plenty of warm weather and beautiful wheeling up through the hills and woods, often ending up at spectacular view points where you can see many of Washington's mountain tops.
Like Vintage Jeeps?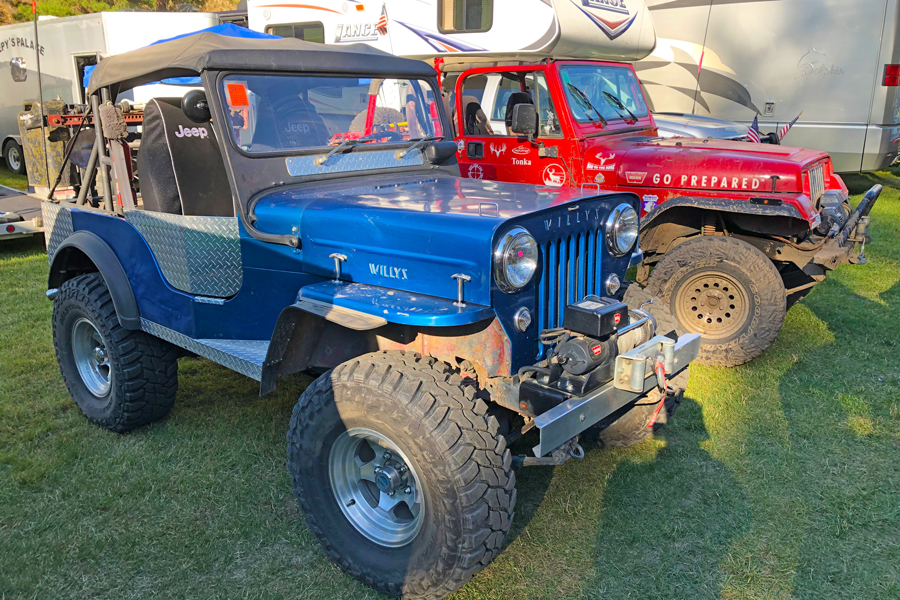 At just about any event put on by the PNW4WDA, you'll see more flat fenders in attendance than anywhere else in the country.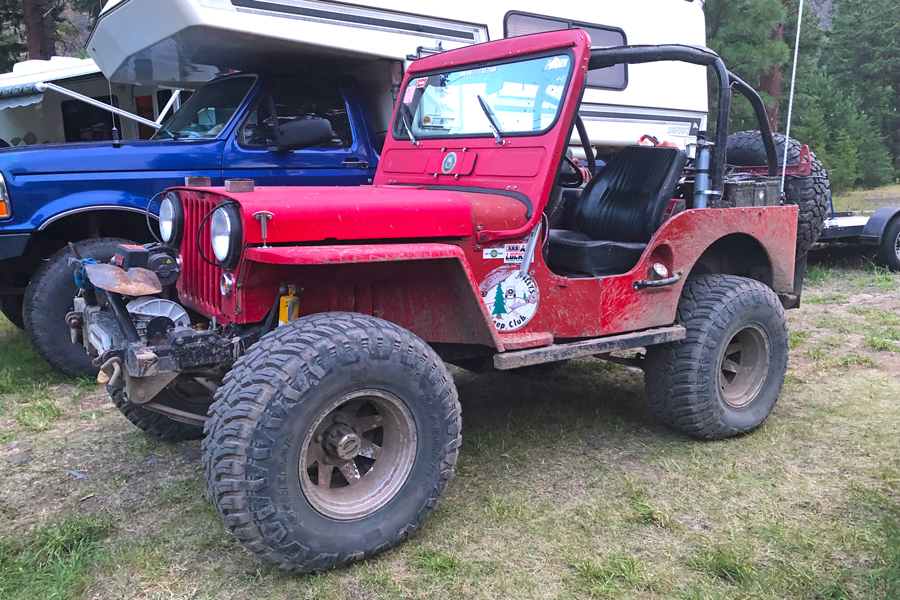 Mitch Carter from AEV was on hand with his dad's old Flattie. This one has a V-6 under the hood with Old Man Emu Jeep YJ leafs and shocks.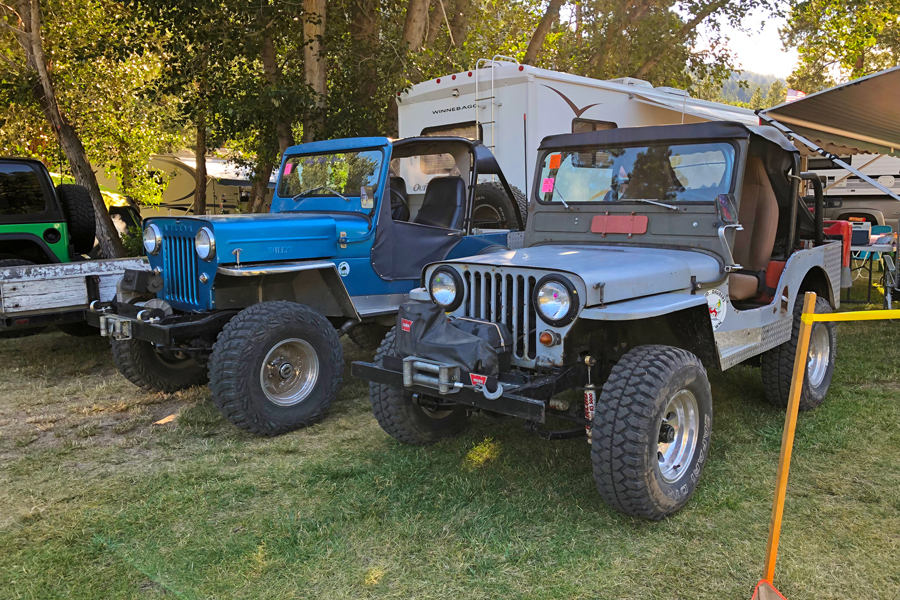 Another blue High Hood (3B) sitting next to a low hood flattie, really shows the hood/grille/cowl height difference between the two models.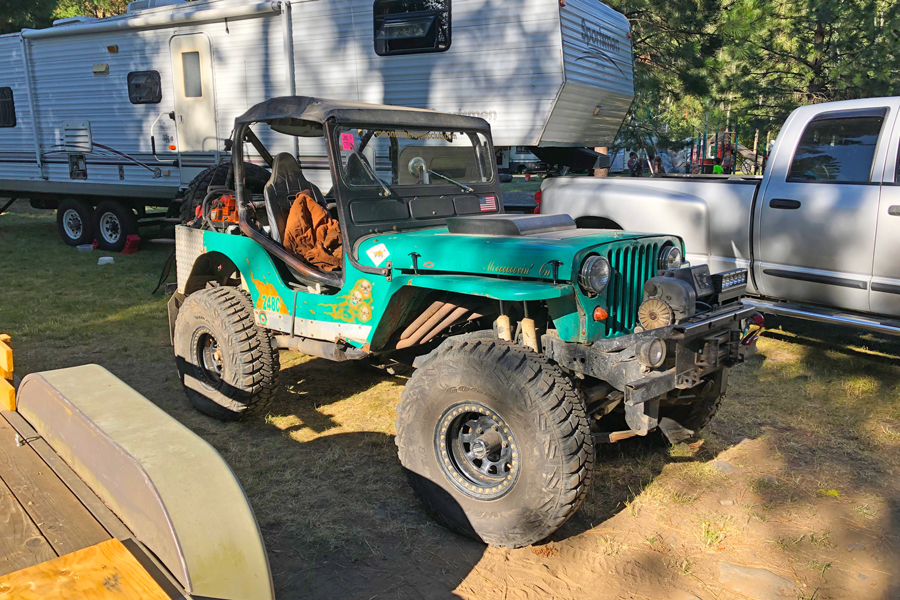 This built low hood has a rip snorting' v-8 under the hood, ready to do some serious trail riding.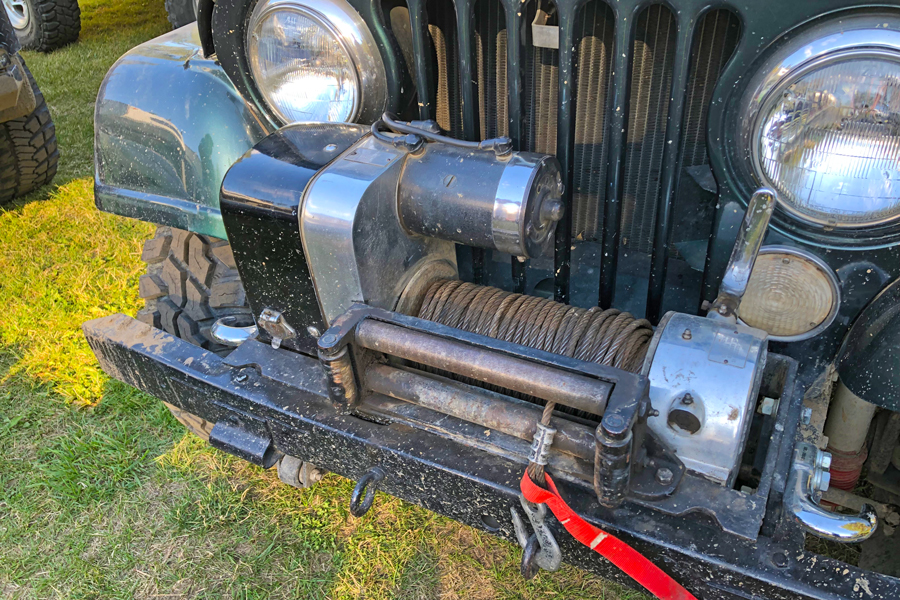 The amount of vintage things you see at a PNW4WDA event can be mind blowing…. like this old school Ramsey Winch, still in operating condition and still being used!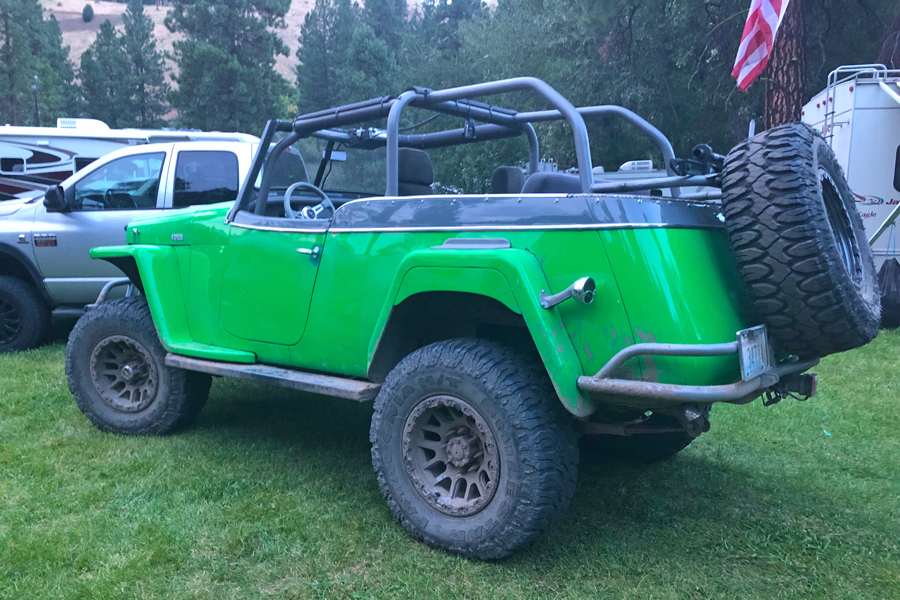 The 4×4 that had a lot of vintage Jeep/Willys fans drooling was this super sweet resto-modded Willys Jeepster. Converted to 4wd, lifted and armored, this Jeepster is actually used out on the NW trails.
Recovery Gear Training Sessions: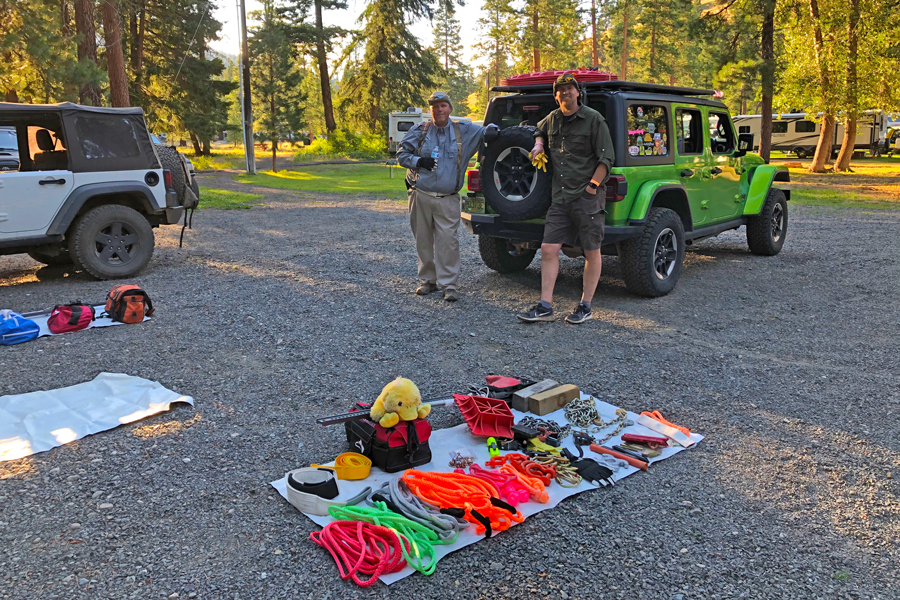 Richard Sheridan (V.P. of the 4WD Assoc. of British Columbia) and Northridge4x4's Tech Writer/Video Host Tim Lund teamed up to host a Hi-Lift Use and Safety class on Thursday eve, a winching best-practices class on Friday eve and they led the Newbie run on Saturday, putting the theories shown during the evening classes to to real-world applications.
Trail Rides: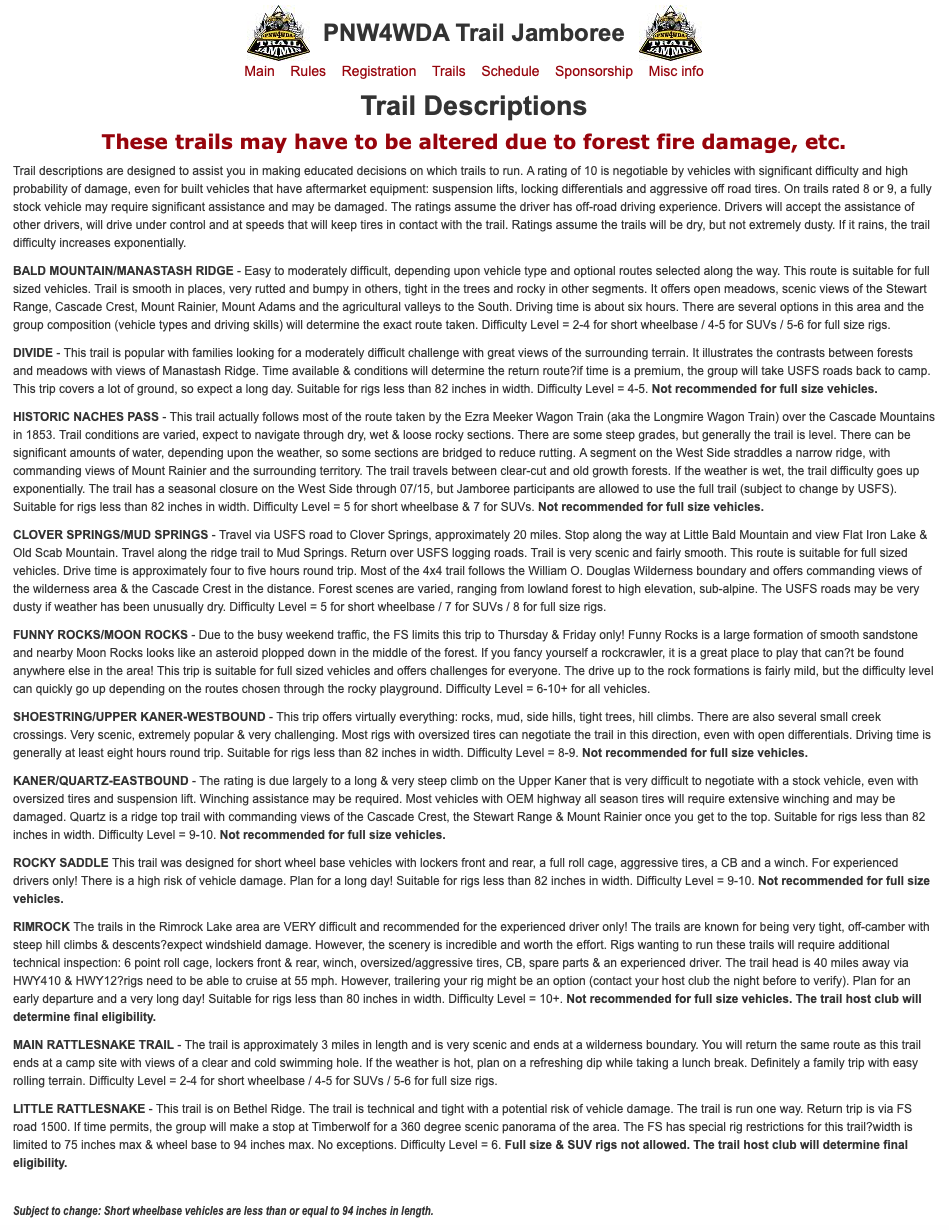 There were 11 different trail rides to run over the three days of the event. From the historic Naches Pass (first crossed by the Meeker wagon train) to the super mild and very scenic Rattlesnake Trail to the super tight and off camber Rimrock runs, the summer Trail Jamboree offers a little bit of everything for all types of four wheelers.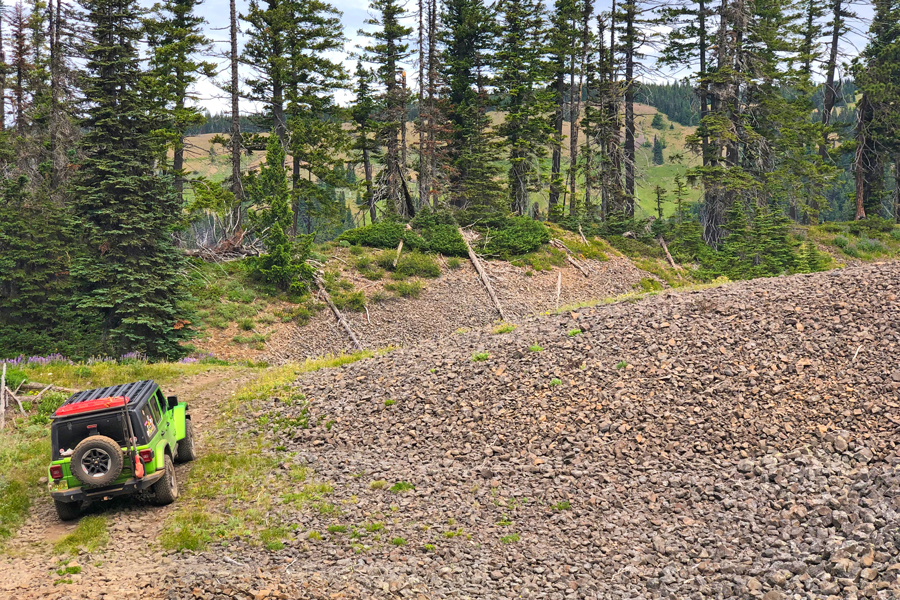 As the Northwest was originally a very volcanic area, there are huge fields of fractured basalt (lava rock) everywhere you go. Many of the trails weave around and through these huge fields.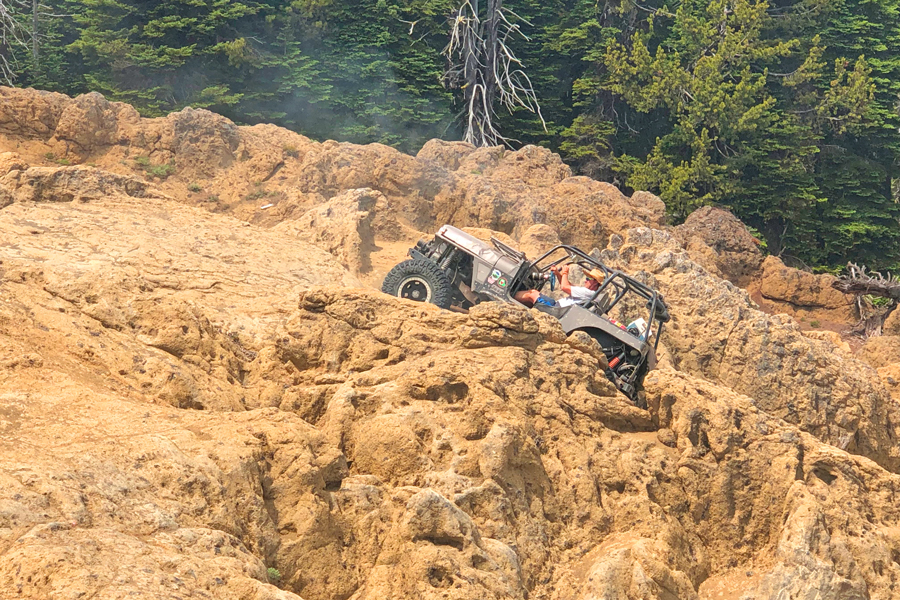 Funny Rocks and Moon Rocks are also very interesting ares to explore. Imagine driving through miles and miles of forest and basalt fields only to come around a corner and arrive at a sandstone playground!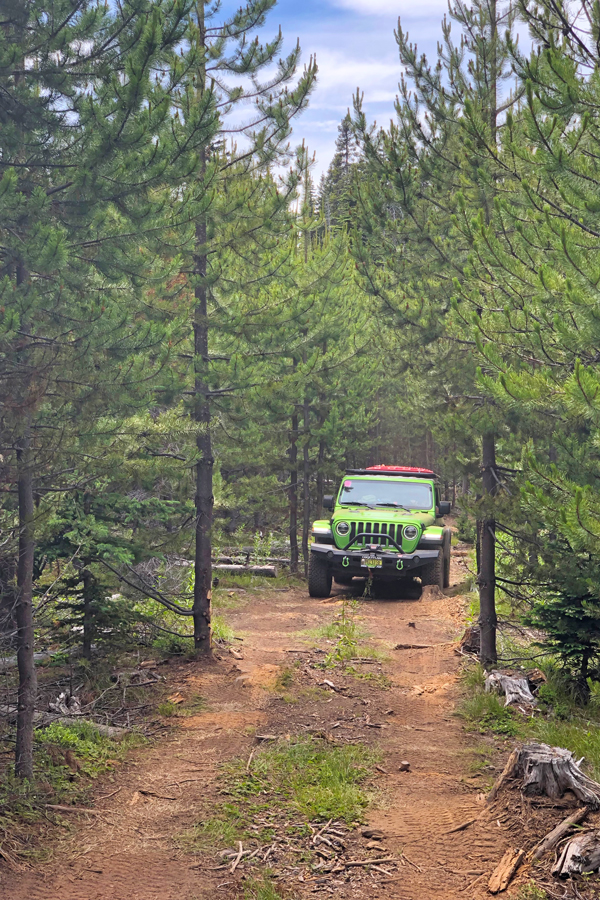 Weaving in and out of the trails can be a chore for the larger vehicles.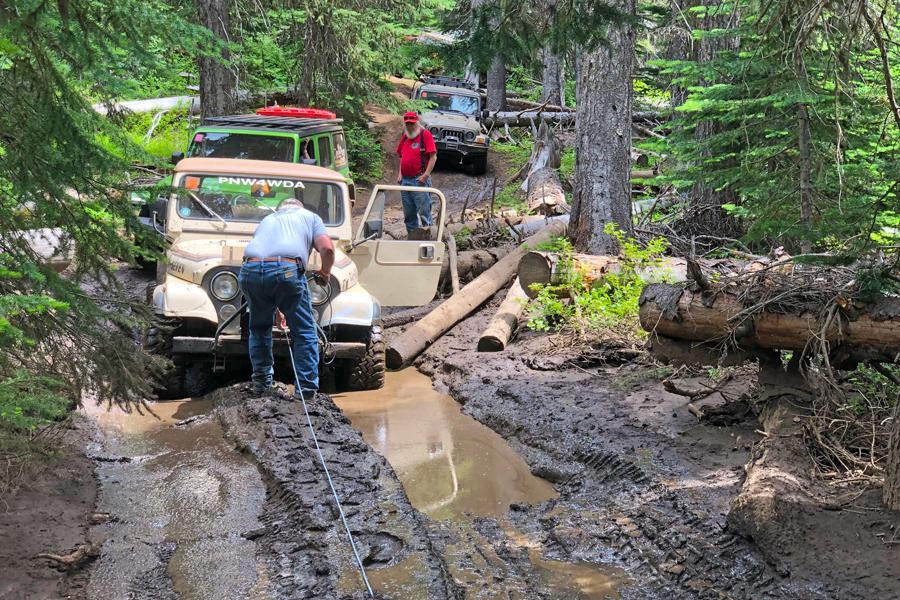 Being the Northwest, even in July there were still a few mud holes that would grab and stick any vehicles that weren't paying attention.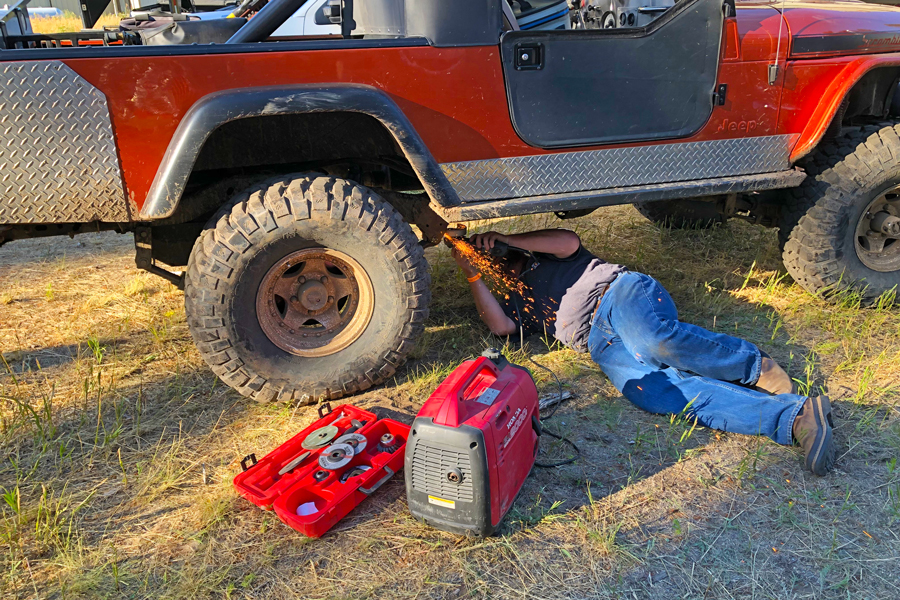 Vehicle damage is a given if you take your eye off the trail for even an instant. With any luck you can limp it back to camp, where many rigs were getting patched back together in the evening to be able to make the next day's run.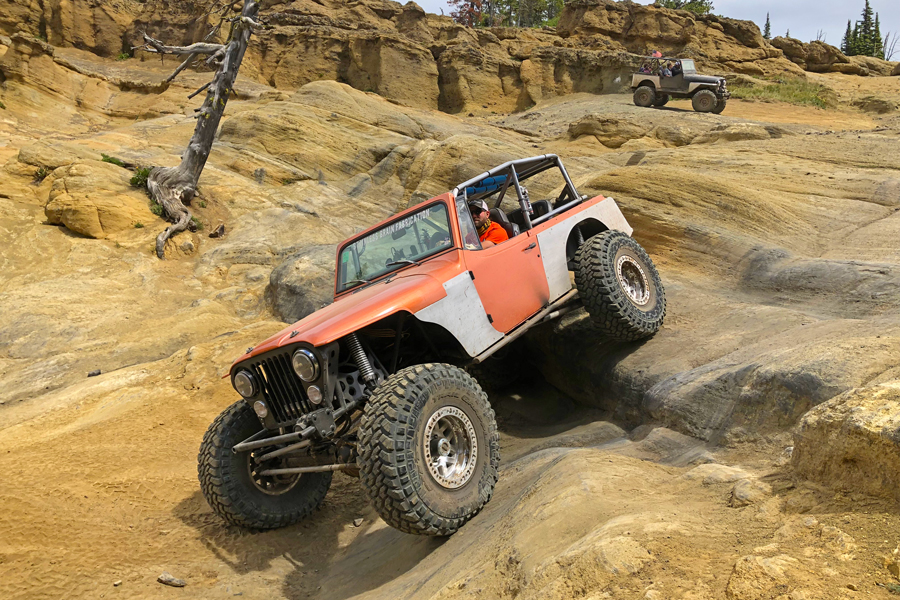 We even bumped into another Northridge4x4 co-worker from the Silverdale, WA location. Sales Supervisor Eric Johnson piloting his well built Jeepster Commando through section of the Funny Rocks trail. Eric, is a member of the Rainier Scramblers 4×4 club and attends the Summer Jamboree every year.
Newbie Run: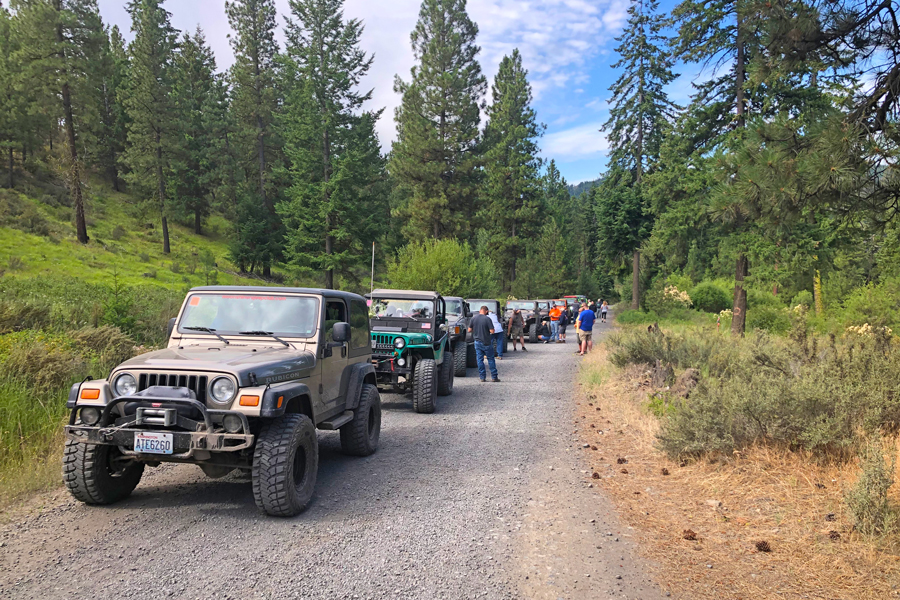 Saturday morning saw us joining in with the Newbie Run. As it turned out, there were some newbies on the run, though the majority were participants who had many years of off-road experience. They had enjoyed the evening Hi-Lift and Winching sessions so much, they decided to join the newbie run to see what other neat tips and tricks the two training instructors could impart.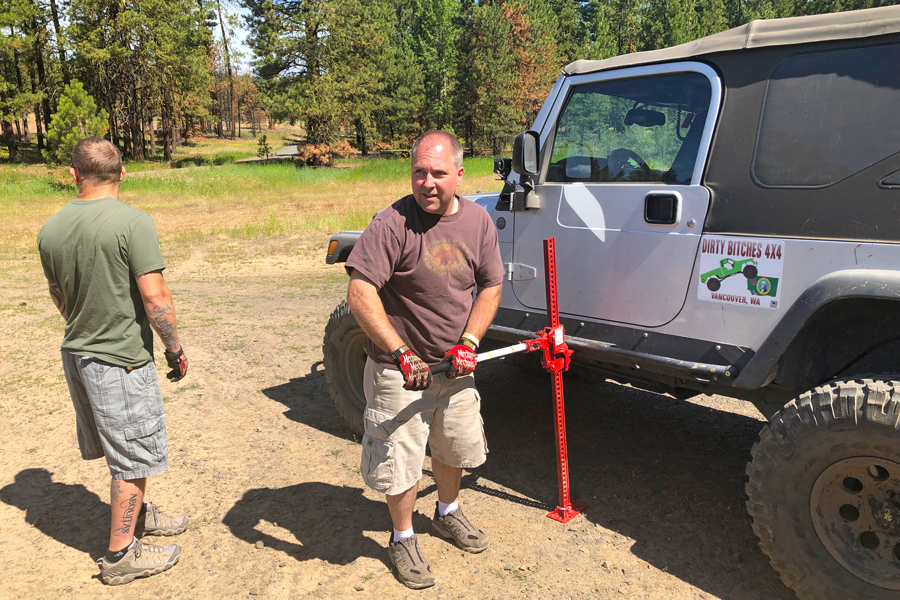 One of the first stops along the trip was in a large clearing where participants got the chance to put into practice the skills they learned at the evening Hi-Lift session, using their own Hi-Lift jack on their own vehicle.
After a few more stops along the way to practice various driving skills we came across a full catered lunch that the PNW4WDA had organized for the newbie run. Talk about style, how about fresh grilled burgers on the side of the trail? Oh yeah, life is good.
Back In Camp:
As part of the event, dinner was served in camp on Thurs., Fri. and Saturday nights. The Jim Sprick Community Park is really a great place to host an event like this. Sitting right on the Naches river and offering plenty of room for camping and RVs, this little park was home for 4 days.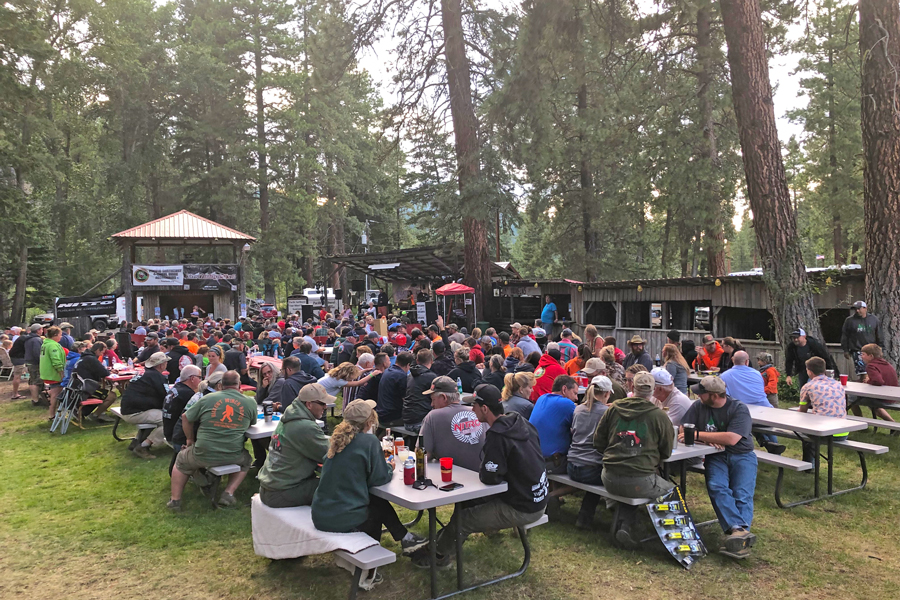 After dinner was served on Saturday, the PNW4WDA got their raffle going, raffling off a huge number of really cool prizes for your off-road vehicle, including a super-trick Husqvarna electric chain saw, which would make an excellent off road trail maintenance tool for anyone's off road toolbox.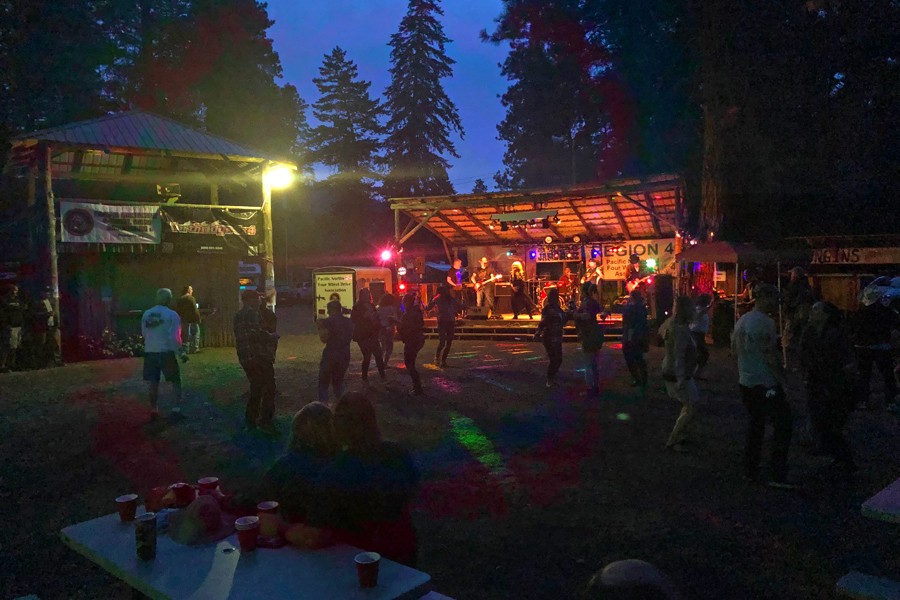 The PNW4WDA closed out Saturday night with a live band that played a wide range of music and they went well into the night, enjoyed by many and only despised by those that tried to call the night early.
Definitely Planning To Return Next Year!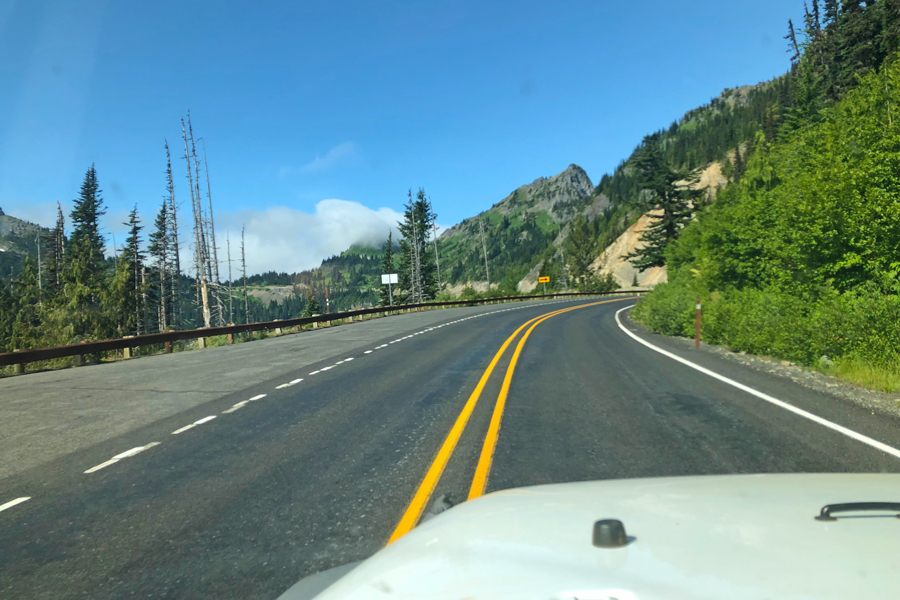 After 4 days of fun in the Eastern Washington sun, it was time to point the hood of the little white JK back over the mountains in the direction of the wetter side of Washington state. As always, the PNW4WDA did not disappoint and we're already talking about next year's event.