SET YOUR VEHICLE
Now that the
2023 Jeep Gladiator JT
has been out for quite some time now, there are plenty of confirmed aftermarket parts and accessories that offer a perfect fit and function to help further elevate the style and capabilities of your ride. With just a few simple and effective modifications, your Jeep JT will be better prepared for any off-road applications with improved style and appeal in every situation. Here at NorthRidge 4x4, we carry the performance parts your 2023 Gladiator JT needs to tackle just about any adventure you have in mind, and we're here to prove it. In today's article, we'll be covering the top 5 performance parts and upgrades currently available for the 2023 Gladiator, and which ones might be the perfect fit for your custom build. Take your ride to the next level by adding on some of the best aftermarket modifications in the business.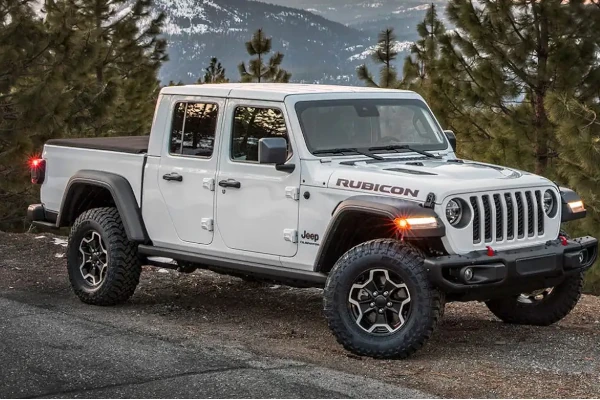 ---
2023 Jeep Gladiator JT Z Automotive Tazer Mini Programmer
One of the most common modifications made on the 2023 Gladiator JT is the addition of a premium programmer or tuner that allows you to change specific engine and transmission functions in order acheive incredible power and performance gains, especially after any hard modifications were added to your ride. Starting out, we'll be taking a look at the
2023 Jeep Gladiator JT Z Automotive Tazer Mini Programmer
as it features a user-friendly design so you can easily adjust your vehicle's settings to enjoy benefits from your new aftermarket upgrades. This system easily allows you to make complex vehicle adjustments for consistent operation of your 2023 Gladiator's engine, and features cutting-edge live functions that correct your engine parameters in real-time for the ultimate versatility wherever you go. Beginning with the vehicle adjustments, the Tazer JT Mini is capable of changing a laundry-list of settings including but not limited to: tire size, gear ratio, TPMS system, HVAC controls, and lighting functions to ensure your Jeep JT is functioning at its very best in every situation. You can also disable/enable a ton of settings depending on the type of modifications you make, allowing you to correct your Gladiator's computer for any components that have been added or removed. This is especially helpful during axle swaps, steering conversions, other various performance upgrades to ensure your 2023 Jeep JT responds to any performance upgrades accordingly. Moving on to the live functions, the Tazer Mini is able to perform a ton of tasks while plugged in and moving, giving you the ability to make on-the-fly adjustments when you need them most. A few of the many live functions the Tazer Mini is capable of performing includes axle locker control, AutoTracKill, Hood Alarm, Winch Mode, Button Mapping and more. For a complete list of everything this tuner is capable, you'll need to visit the product page linked above. All of these adjustments can be simply made be accessing your 2023 Jeep JT's in-dash display, using the steering wheel buttons to easily navigate the menu. For installation, all it takes is a simple plug-in process by removing the factory SGW module and replacing it with the Tazer Mini. All in all, the Tazer Mini is perfect for anybody looking to make an abundance of changes and modifications to their 2023 Gladiator JT, allowing you to experience consistent and reliable operation each time you get behind the wheel.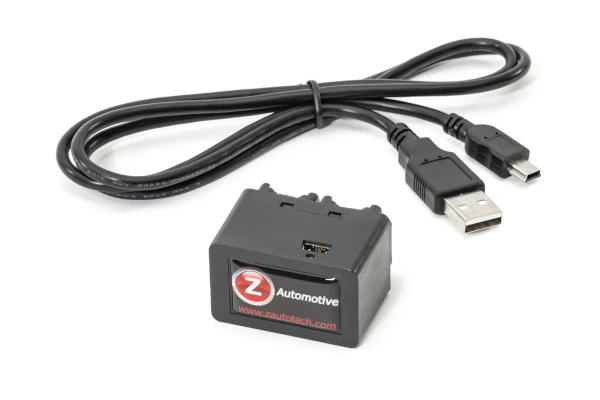 2023 Jeep Gladiator JT Z Automotive Tazer Mini Programmer Features:
Adjusts your Jeep's performance after modifications
Features can be accessed using Dash Display
User-Friendly design
Simple and straightforward setup
---
2023 Jeep Gladiator JT RSI SmartCap Evo Sport Series Truck Bed Cap
Moving on to a more functional and cosmetic upgrade, we'll be taking a look at why the
2023 Gladiator JT SmartCap Exo Sport Series Truck Bed Cap
may be a perfect fit for your custom JT build. This premium truck topper is perfect for those extended overland adventures while helping combat the damaging affects of brutal weather elements. This 5-Piece modular truck cap is the world's first as it features a front flush-bonded slider window, gullwing side doors, and a rear half-door with a flush-bonded fixed window. These high-quality windows and doors equipped on the Evo Sport Series Truck Cap work to deliver an impressive appearance on your Jeep JT while greatly improving the utility of all your off-road adventures. Whether you need more storage space to haul additional gear, or you're simply transforming your 2023 Gladiator into a mobile campsite, this premium canopy will handle it all. The front flush-bonded slider window grants you access inside of of your Gladiator's cab, while the gullwing doors provide excellent ventilation with 17% taller opening compared to most to fiberglass caps seen on the aftermarket. The gullwing side doors paired with the rear half-door makes it incredibly easy to access your gear at a moments notice, no matter where you venture to next. Additionally, the system's integrated roof rails allow for mounting additional cargo and accessories on top of the unit including rooftop tents, bikes, kayaks, ladders and more. The Exo Sport Series Cap was also universally designed to accept just about any rack system, giving you plenty of different ways to configure your gear for any excursion. When it comes to construction, the entire unit was crafted from automotive-grade stainless steel, ensuring you and your Jeep JT experience maximum strength and functionality each time you get behind the wheel. The premium construction of this system results in an impressive 330lb capacity while in motion, and 770lb capacity when parked. RSI SmartCap engineered this to be one of the most durable options on the market, which is why they also created a innovative sealing method to keep all dust and moisture out. When installed properly, this system will be completely weather proof, making it a premium alternative to keeping your gear safe and secure along your journey. Perfect for the avid overland warriors, this premium truck topper will help extend your adventures you can stay longer and explore more.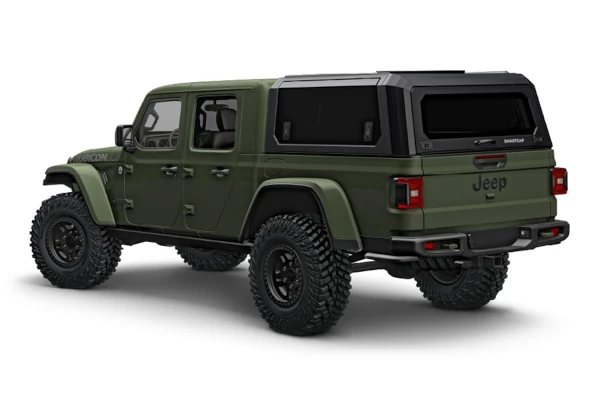 2023 Jeep Gladiator JT RSI SmartCap Evo Sport Series Truck Bed Cap Features:
Integrated Roof Rails for mounting cargo & accessories
Positive Pressure air vent keeps dust and moisture outside
5-Piece design with innovative weather sealing method
Front flush-bonded slider window
Easily installs or removes in 15 minutes
---
2023 Jeep Gladiator JT KMC Wheels KM229 Machete Beadlock Satin Black Wheel
The set of wheels fitted on your 2023 Gladiator JT are one of the first things noticed when bystanders are checking out your rig, so its best to compliment your Jeep JT with an aggressive set of wheels that will be sure to turn some heads each time you set off for adventure. One of our favorite options for the 2023 Gladiator is the
KMC Wheels KM229 Machete Beadlock Satin Black Wheels
as they offer a premium balance of both style and performance that you'll be sure to love. The Machete Beadlock wheels offers a total customization of your Jeep JT's exterior with its premium satin black center and machine while lip that will surely compliment the aggressive nature of your ride. Moreover, this wheels features a concave center and a 12-Spoke design that offers a much more aggressive look over the factory wheels, giving your 2023 Gladiator a head-turning appeal in every situation. The wheel's tough, high-quality construction minimizes weight and provides increased strength overall, making it ready to handle the abuse of extreme off-road applications. These wheels are also plenty tough enough to host the high-performance off-road tire of your choice, allowing you to achieve the perfect balance of traction and appeal for your intended applications. Made from a one-piece aluminum and engineered for a perfect fitment, the KMC Series KM229 Wheel is one of the top aftermarket options available, so pick up a set today to seriously set your 2023 Gladiator JT apart from the rest of the herd.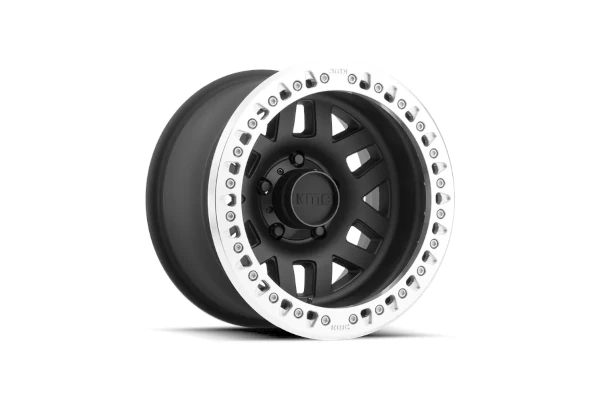 2023 Jeep Gladiator JT KMC Wheels KM229 Machete Beadlock Satin Black Wheel Features:
Solid steel construction
Concave, 12-spoke design
Satin black center with machined lip
Extremely tough and durable
---
2023 Jeep Gladiato JT Bestop Sundrider Black Twill Soft Top
2023 Gladiators sporting a factory hard top leave a lot to be desired in terms of versatility, so it's never a bad idea to have an alternative soft top nearby. That's exactly why we recommend picking up the
2023 Jeep JT Bestop Black Twill Soft Top
as it offers a partial-style soft top design that's perfect for a variety of applications. This premium soft top is perfect for those who want enough protection from the sun's harmful rays while still enjoying that open-air feeling on your adventures. By installing this alternate top to your ride, you can take advantage of sunny days by flipping the panel back for an open-sky ride, or keep it shut should any inclement weather get on your way. The panel can easily be opened or closed right from your Jeep JT's front seat, allowing you to make on-the-fly adjustments to your driving experience. The top panel can also be accessed by pulling it forward and latching it onto the windshield header just like the original panels would. Moreover, the black twill design compliments your 2023 Gladiator's aggressive off-road nature, so it will be sure to turn some heads the next time you get behind the wheel. When it comes to construction, this versatile soft top was crafted from heavy-duty, 30-ounce acrylic fabric that features impressive strength and durability as it can withstand harsh sun rays and brutal weather elements with ease. The hardcore construction of this unit also helps combat violent impacts from flying road debris and forced entry to help better deter prying eyes and would-be thieves when your Gladiator is left alone. For your convenience, this Sunrider Soft Top easily installs using your vehicle's factory mounting locations and the included heavy-duty storage heavy-duty straps and clamps to make for a simple and straightforward process you can complete at home. Give your 2023 Jeep JT the ultimate versatility and freedom for every adventure by investing in this high-quality soft top today.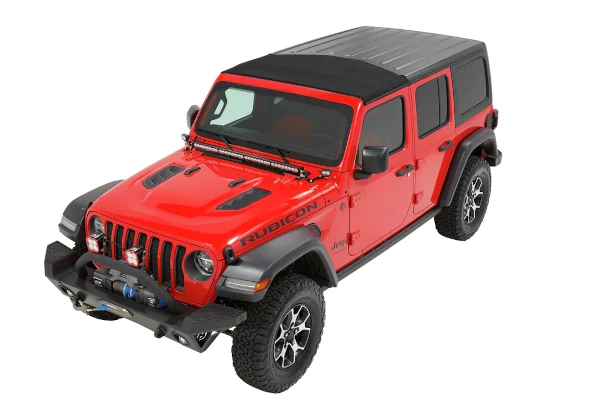 2023 Jeep Gladiato JT Bestop Sundrider Black Twill Soft Top Features:
Partial-style soft top
Made from heavy-duty, 30-ounce acrylic fabric
Includes industrial-grade webbing & high-quality straps
Pre-installed fabric-on-frame assembly and door rails
Made in the USA
---
2023 Jeep Gladiator JT Rock Slide Engineering 3rd Gen Step Slider Kit
One of the easiest and most effective ways to add tons of utility onto your 2023 Gladiator is with the addition of some premium aftermarket side steps. For today, we'll be focusing on the
2023 Jeep Gladiator JT Rock Slide Engineering 3rd Gen Step Slider Kit
, and why it's so popular among many off-road enthusiasts. Each one of these kits come standard with a driver side step, passenger side step, and end sections for both sides so you can easily enter and exit your Jeep's cab without a ton of hassles. This is especially useful for 2023 Gladiators sporting larger tires and suspension upgrades, but even at stock ride height a set of running boards can make all the difference. Specifically, the 3rd Gen Rock Sliders also feature an electric and automatic retractable design that offers the perfect balance of style and functionality no matter the terrain. The sliders automatically extend when one or more door is opened, and retract immediately when all doors are closed to give you plenty of ground clearance when you head off the beaten path. These premium side steps are also plenty durable to act as rock sliders, offering up more help when you're navigating tricky boulders. When it comes to construction, these high-quality sliders were crafted from solid steel in order to handle extreme driving applications without compromise. The hardcore construction of these units is then paired with a sleek, textured black powder-coating that helps combat the damaging effects of both rust and corrosion, retaining a sleek look for many years to come. Best of all, these sliders easily mount directly to your 2023 Gladiator JT's existing mounting points to make for a simple and straightforward process you can complete in your garage. If you want quick and easy access to your Jeep's cab, look no further than the Rock Slide Engineering 3rd Gen Step Slider Kit!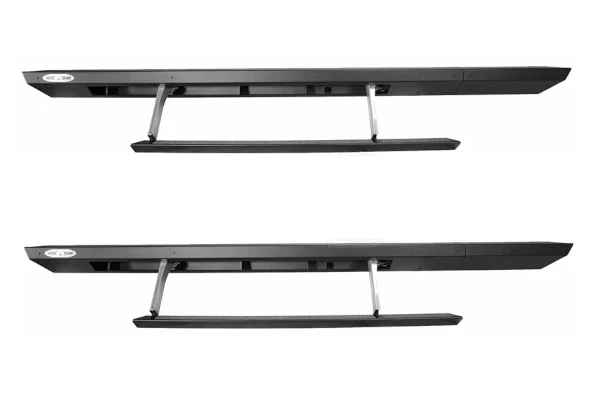 2023 Jeep Gladiator JT Bestop Sunrider Black Twill Soft Top Features:
Provides easier vehicle access
Electric and retractable step sliders
Made from 11-gauge, laser cut steel
Provides rocker area protection
Automatically drops 12 inches down for ease of access
---
Final Thoughts
With more and more aftermarket parts and accessories hitting the stores for your 2023 Gladiator, we hope that this article steers you in the right direction for some of the best modifications you can make to your ride. If you have any questions about the parts disused today, please feel free to contact us so we can better help you outfit your custom Gladiator build with the best parts in the industry.
Top 5 2023 Jeep Gladiator JT Parts & Accessories: