SET YOUR VEHICLE

2007- 2018 Jeep Wrangler JK Parts & Accessories
The Jeep JKs may be some of the most capable vehicles to ever roll off an assembly line, but if you want to push your 2007-2018 Jeep JK on or off-road, grabbing a few JK parts and accessories from your friends at Northridge4x4 is definitely a good idea. We have everything from towering JK lift kits, to high-performance front and rear JK axles, to JK floor mats and seat covers. We give you everything you need to transform your Jeep JK into a trail-dominating monster, overland Jeep JK build, or a cozy street and camping JK rig. We have nothing but the best JK parts and accessories, no matter what kind of Jeep JK you're trying to put together!
Top Jeep JK Parts at Northridge4x4!
The good news about the Jeep JKs is that there's a whole bunch of parts and accessories out there that let you get the most out of your rough-and-tough Wrangler build. The bad news is that there's a ton of parts to choose from and knowing where to start and what JK parts and accessories will work with what you're trying to to with your own Jeep JK can be extremely tough. That's why we here at Northridge4x4 have put together more than a few Jeep JK builds over the years and put a wide variety of parts and accessories to the test both on the street and out on the trail.
2007-2018 Jeep JK Suspension Parts
While you could argue the key to any Jeep JK build is its tires, in order to actually jump up in size, you'll need some sort of lift for extra clearance, and the only way to do that is with a
Jeep JK Suspension Parts
. Your Jeep's suspension is going to dictate a lot of what your Jeep JK is capable of handling, and is a key step in your Jeep JK performance parts journey. While a lot of Jeep JK Suspension Upgrades are about getting lift, a ton of different JK suspension parts and kits can improve ride quality, add wheel travel, and give you the off-road suspension performance your Jeep JK needs to tackle tough trails. Our very own
2011 Red Jeep JK Unlimited Rubicon Build
used Jeep 
Rock Krawler L
ift JK
 kit with Fox Shocks that gave it enough ride height to squeeze on a set of
Milestar Patagonia M/T 38x13.50R17
 tires while giving it the capability to hit the dirt.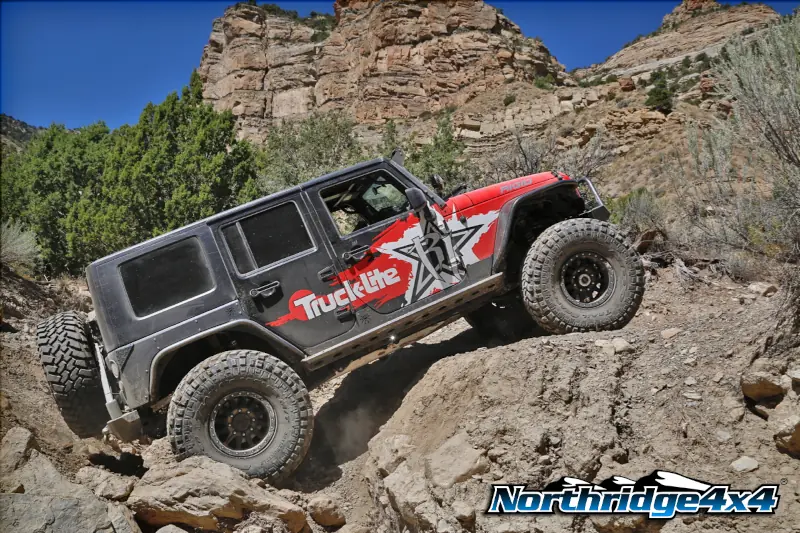 2007-2018 Jeep JK Drivetrain Upgrades
Before you throw on the massive set of tires that you've been dreaming about, it's probably a good idea to take a second and look at some Jeep JK Driveline Upgrades. While the factory driveshafts, axles, and gearing can handle stock tires or even slightly taller tires, if you're going to be throwing on some big Jeep 35" tires, Jeep 37" tires, Jeep 38" tires, or even Jeep 40" tires, your Wrangler's stock drivetrain and driveline hardware is going to have a bad time. That's why we here at Northridge have plenty of JK
Jeep Drivetrain
 upgrades so that you can replace anything that your big tires or aggressive trail riding may break. One of the first things you should upgrade is your Jeep's Ring-and-Pinion Gears. With big tires, you end up throwing off your Jeep's final drive ratio which can give you extremely sluggish acceleration and wonky shifting, and jumping up to more aggressive gearing can give you a ton of improvement. One of the best JK Ring-and-Pinion Gear Kits we have is our complete
Front & Rear Dana 44 Motive Gear Package
. This kit comes with complete Master Install Kits and your choice of up to 5.38 gearing so that you can turn the biggest of tires without hassles. Our own 2011 Unlimited Rubicon Build used the Motive package with 5.38s for its 38" tires with no hassles.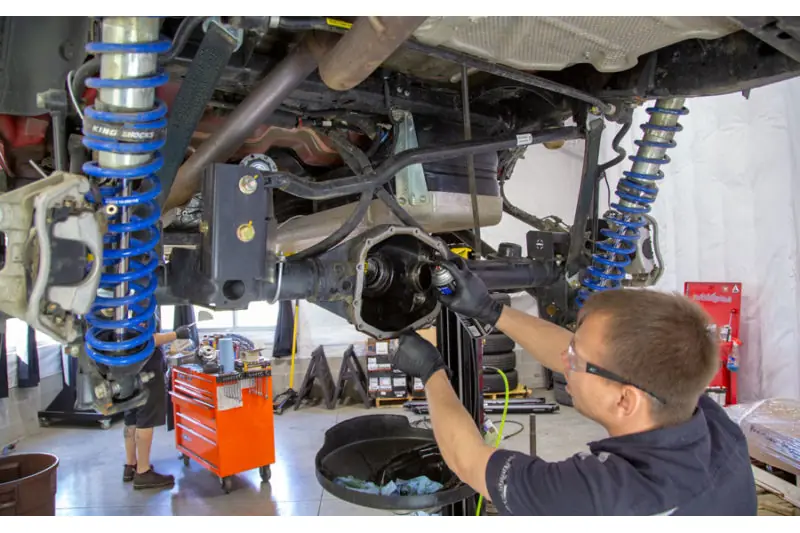 Another potential weak point on the stock JKs when you add big tires and head off-road are the stock driveshafts. The OEM driveshafts can only handle so much strain, and if you get bound up on a rock or an obstacle, your day can get ruined in a hurry.
Aftermarket Jeep JK Driveshafts
are made out of more durable materials and are designed from the ground up to handle the strain caused by huge tires and differential torque from off-road applications. We here at Northridge have a ton of different Jeep JK driveshafts to choose from, and you're bound to find a set of Jeep Driveshafts to fit your budget or application.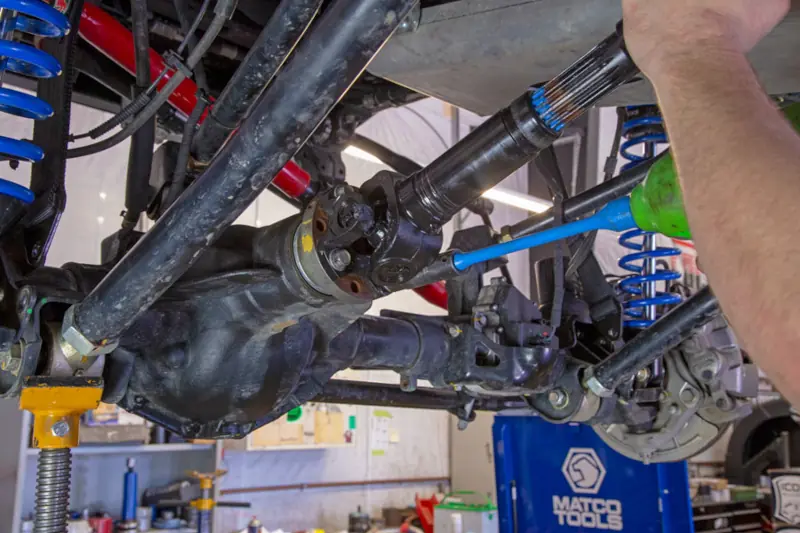 2007-2018 Jeep JK Lighting Upgrades
One of the major weaknesses of the stock Jeep JKs is their OEM lighting suite. The JK factory headlights and fog lights (if you have them) just aren't enough to give you the kind of lighting you need for after-dark trail runs, camping deep in the wilderness, or when you head out on a moonlit Jeep overland adventure. Whether you just want to upgrade your stock lighting or throw on powerful off-road lighting, we here at Northridge have a massive selection of Jeep JK lighting upgrades that will give your Wrangler build the output it needs to own the night. One of the most popular lighting upgrades we have for the JKs is the
JW Speaker 8700 Evolution J2
LED headlights, which provide much better output than stock and have unique look that is sure to catch attention. If you want a clean way to mount up powerful off-road LED lighting from folks like Rigid Industries with
Rigid Jeep
products,
KC HiLites
,
Baja L
ights
from Baja Designs
,
and many others, make sure to check out our
Jeep JK Off-Road Light Mounts
.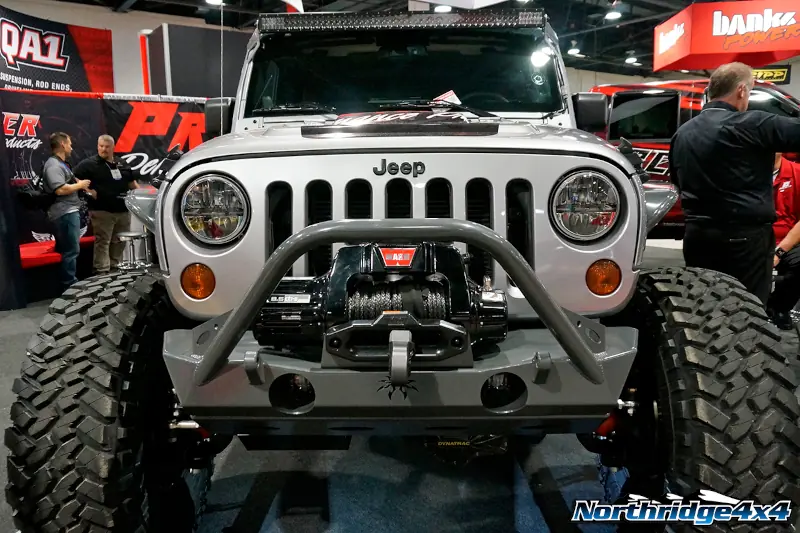 2007-2018 Jeep JK Bumpers & Armor
If you're planning on hitting tough trails and terrain in your Jeep JK Build, you're probably going to want some extra protection in order to keep your Jeep's body and drivetrain all in one piece. Our
Jeep Wrangler JK Exterior
Accessories
include everything from awesome
Jeep JK bumpers
to
Jeep JK skid plate packages
so that your Wrangler survives tough challenges. Many of our Jeep front bumper options even come with winch mounts so that you add a
Jeep JK winch
to your Wrangler and get an effective recovery option to get you or your buddies out of tough jambs out on the trail.