SET YOUR VEHICLE
The factory exhaust equipped on your
2007-2018 Jeep Wrangler JK
isn't anything to write home about, making an aftermarket exhaust a highly sought-after modification for many. While it's more than common for Jeep owners to make this performance upgrade, it does you no favors to pick up an exhaust that doesn't improve the overall efficiency of your ride. Here at NorthRidge 4x4, we only work with trusted and reliable brands to ensure you'll be going home with a true performance upgrade for your custom Wrangler build. In particular, MagnaFlow is one of the industry leaders in the aftermarket exhaust game, which is exactly why we're laying out some of the top products they offer for the Jeep JK. In today's article, we'll be discussing why MagnaFlow is a formidable option for any vehicle, and which one of their systems might just make the perfect addition to your ride. Give your Jeep a new lease on life by checking out everything MagnaFlow has to offer, right here at NorthRidge.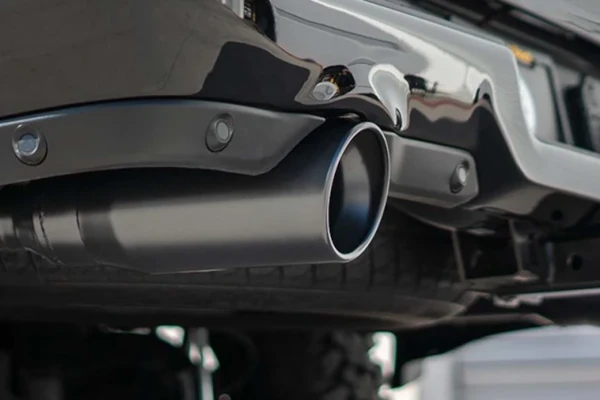 ---
MagnaFlow Exhaust
MagnaFlow, a well-known brand in the aftermarket exhaust industry, originally got it's start as a natural extension of Car Sound Exhaust. For over 35 years now, Car Sound Exhaust has been an absolute juggernaut in all areas of replacement and performance exhaust, providing customers with legendary quality and an iconic exhaust sound with every purchase. With years of experience and expertise under their belt, MagnaFlow has the tools to to create premium exhaust products that meet the strict demands of their customers, and now your 2007-2018 Jeep Wrangler JK can get in on the fun. Additionally, MagnaFlow uses only the best components and most advanced design techniques in the creation of their products, ensuring that each system is both high-performing and long-lasting. Each one of their products is also put through stringent testing, including dyanmometers, multiple flow benches, and various other highly sensitive testing equipment to meet strict quality standards. Furthermore, each one of their exhausts is equipped with a straight-through muffler design which helps produce the signature MagnaFlow sound that is already beloved by many. With everything considered, its easy to see why we work so closely with a company like
MagnaFlow
, so it's time to explore what makes their specific systems a strong choice for your Jeep Wrangler Jk.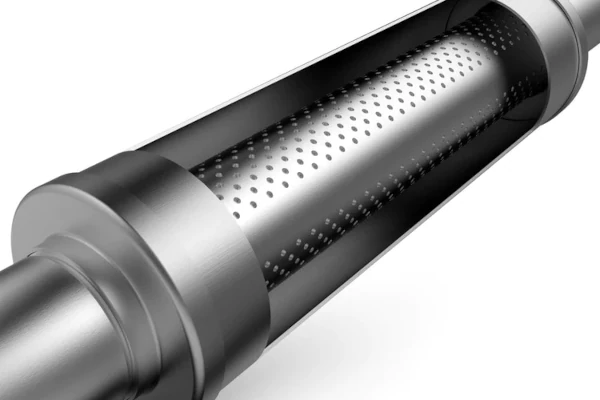 ---
2012-2018 Jeep Wrangler JK MagnaFlow Loop Delete Pipe
Jeep Wranglers are one of the few vehicles that have a stock loop section equipped on its exhaust, and while this may work fine for basic everyday applications, the loop section can interfere with aftermarket upgrades and even slow down engine performance along the way. MagnaFlow understands that this isn't always the best setup for every Jeep build, which is exactly why they created the
2012-2018 Jeep Wrangler JK MagnaFlow Loop Delete Manifold Pipe
. Also known as a performance manifold pipe, the loop delete pipe delivers a much straighter downpipe configuration by eliminating the stock loop section to achieve better airflow and engine efficiency in every situation. Each one of these loop delete pipes has also been weight-optimized in order to provide superior flow each time you get behind the wheel. By allowing your engine to breathe easier, your Jeep will be able to unleash more power which is extremely helpful when challenging new terrain or simply passing someone on the highway. The free-flowing design of this unit will also slightly improve your Wrangler's exhaust tone at idle and throughout the entire powerband. Better yet, MagnaFlow keeps things street legal by retaining your Jeep's factory catalytic converter, requiring no modifications made to the cat's pipe section or headers. When it comes to construction, this performance manifold pipe was made from high-quality stainless steel that was mandrel bent to ensure it hugs your Wrangler's body tightly, and provides impressive durability for hardcore, off-road applications. This is one of the most affordable exhaust upgrades MagnaFlow offers in their catalog, so pick one out today to make your Jeep JK ready for any additional exhaust modifications you plan to make!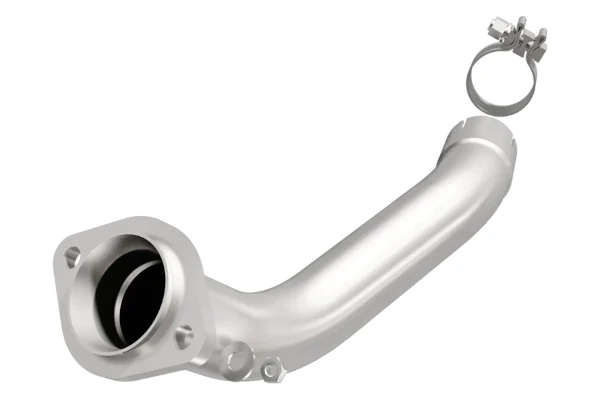 ---
2012-2018 Jeep Wrangler MagnaFlow Performance Exhaust Y-Pipe Assembly
Similar to the manifold loop delete pipe covered in the previous paragraph, the
2012-2018 Jeep Wrangler JK MagnaFlow Exhaust Y-Pipe Assembly
replaces the stock loop section so you can transition your exhaust for a single inlet, dual outlet setup. This assembly is especially useful for those who want to completely upgrade their custom Jeep JK build, giving you the building blocks to upgrade to a complete performance exhaust system. While this system won't offer any additional performance benefits, it negates the need for a resonator, making the overall exhaust system much lighter underneath your ride. Although this system won't produce any added horsepower or torque, it will help greatly improve the sound of your exhaust by providing better airflow in tight and constrained areas. Moreover, each one of these performance pipes is made using CNC robotic manufacturing to ensure a perfect fit, form and function on your ride, allowing you to achieve consistent and reliable performance each time you set off for advenutre. The 100% stainless steel construction helps ensure brutal driving applications while the corrosion-resistant finish helps combat the damaging affects of mother nature's unexpected surprises. One thing to note about this premium Y-Pipe assembly is that while it ensures a perfect fitment, professional installation is recommend by MagnaFlow. All in all, the Performance Exhaust Y-Pipe Assembly is perfect for those looking to make additional exhaust modifications in the future, offering a more efficient exit for the gases coming from the manifold.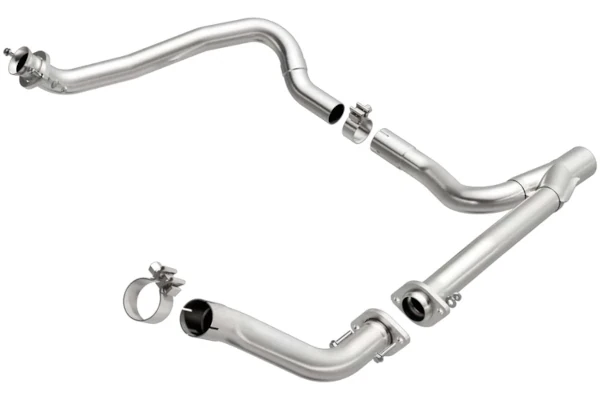 ---
2012-2018 Jeep Wrangler MagnaFlow Rock Crawler Series Cat-Back Exhaust
Moving on to the third option MagnaFlow offers for your Jeep Wrangler JK, the Rock Crawler Series Exhaust is the first cat-back system we'll be covering in today's article. A cat-back exhaust replaces every component from your Jeep's catalytic converter and back, offering up a complete performance upgrade in a simple and effective package. The
2012-2018 Jeep Wrangler JK MagnaFlow Rock Crawler Series Cat-Back Exhaust
brings superior boulder-climbing capabilities to your vehicle so you won't have to miss a beat when you're out on the trails. This particular system was specifically engineered to closely hug the undercarriage of your Wrangler, greatly improving the overall ground clearance and departure angles of your rig. The Rock Crawler Series also ends in a single side-exit, high-clearance, turndown style tipless exit that delivers even more clearance when your traversing tricky boulders and various other off-road obstacles. The Rock Crawler Series also does a great job of proving your Wrangler JK with an amazing exhaust sound thanks to the straight-through muffler design and fast-flowing operation. This system will deliver a powerful exterior note and moderate interior sound levels that offers a quality balance of aggression and comfort on your drives. The 2.5-Inch mandrel-bent main piping even helps eliminate excess back pressure, allowing your engine to perform more efficiently throughout the entire RPM range. You'll also be happy to know that this entire unit was constructed of durable stainless steel, ensuring your exhaust will be ready for whatever you or mother nature throws its way. Weight-optimized, dyno-tested and CNC machined, you can expect a perfect fit and fucntion on your Jeep JK without compromise. Best of all, this system easily installs on your ride without the need for any permanent modifications, making for a straight-forward process you can complete in your garage.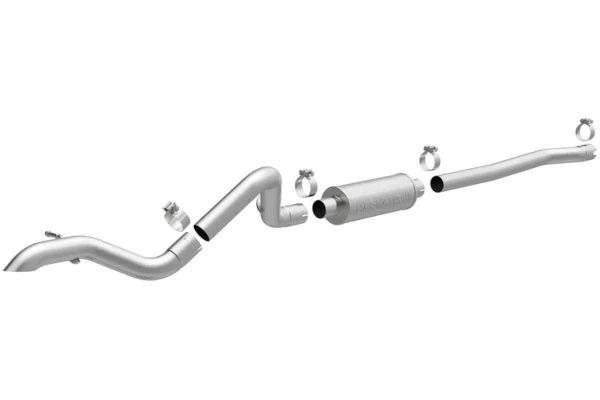 ---
2012-2018 Jeep Wrangler MagnaFlow Off-Road Pro Series Cat-Back Exhaust
Next up, we'll be covering the
2012-2018 Jeep Wrangler JK MagnaFlow Off-Road Pro Series Cat-Back Exhaust
as it delivers impressive off-road capabilities and performance in a single package. While similar to the Rock Crawler Series, the Off-Road Pro Series design is perfect for Wrangler's equipped with customized suspension systems, and anybody that partakes in off-road racing. MagnaFlow engineered this race-ready exhaust with an extremely lightweight design and turndown exit before the rear to help reduce the overall weight of your ride. The high-clearance design also further improves departure angles for maximum agility and performance in every situation. Each one of the Off-Road Pro Series also was extensively tested for off-road performance, so it certainly has what it takes to meet all of your performance needs, no matter how hard you push it. This exhaust even produces dyno-proven performance gains that helps slightly boost both horsepower and torque, allowing you to gain an edge on the competition. Additionally, the stainless steel construction helps prevent damage from accidental bumps and bruises, giving you more peace of mind when pushing your ride to the limit. When it comes to sound, the exhaust's mandrel bends and straight-through muffler design produces an aggressive exterior note that will leave others feeling envious around every corner. Built to last, the Off-Road Pro Series was built using CNC precision robotic manufacturing and extensive 3D scanning to ensure your exhaust system can take on whatever you throw at it. If you're an avid off-road racer, put your trust into MagnaFlow to deliver a premium performance upgrade at an affordable price.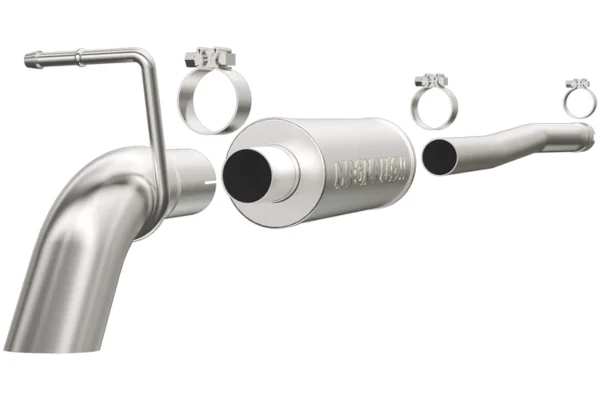 ---
2007-2018 Jeep Wrangler MagnaFlow Black Series Axle-Back Exhaust
The final option in MagnaFlow's catalog of performance exhaust systems for the Jeep JK is certainly one of the most unique. The
2007-2018 Jeep Wrangler MagnaFlow Black Series Axle-Back Exhaust
works by replacing the mufflers of your ride, and the exhaust pipes from the axle, back towards the tips. Compared to the cat-back kits that replaces the exhaust from the catalytic convertor and back, an axle-back is typically the way to go for increasing the overall exhaust volume and sound on your vehicle. The Black Series, as you may have already guessed, features powder-coated black tips with a dual, rear-exit design that helps deliver a powerful yet comfortable exhaust sound. This system produces a confident roar that will perk up ears whether your ripping through mud, passing other on the highways, or simply venturing off the beaten path. Additionally, the Black Series works to provide dyno-proven performance when you need it most, slightly increasing the overall horsepower and torque in your engine. When it comes to construction, MagnaFlow used stainless steel for the entirety of the system in order to provide impressive durability for a variety of applications. The stealthy satin black powder-coating, high-temp finish, and dual rear-exit design gives more character to the rear-end of your ride, updating the overall exterior appeal for true head-turning looks. Engineered specifically for performance and sound, this system is perfect for those who want to bring out the true personality of their Jeep Wrangler Jk.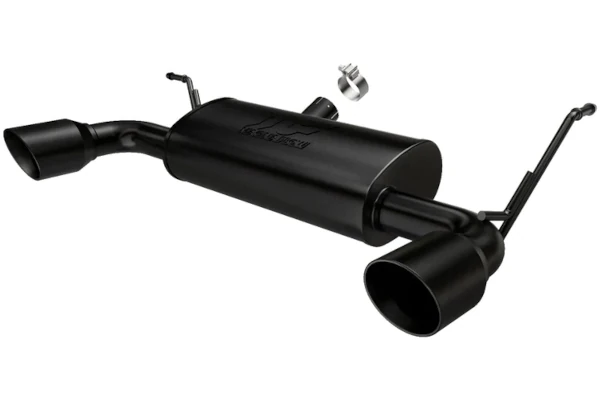 ---
Final Thoughts
Now that you've everything MagnaFlow has to offer for your Jeep Wrangler JK, it's time to make your decision. If you're looking for an immediate performance upgrade at an affordable price, we recommend picking up the Loop Delete Pipe as it's main goal is to promote better airflow out of your exhaust. If you're looking to make multiple exhaust modifications in the future, pick up the Y-Pipe Assembly as it offers a great baseline for adding on more power and sound to your Jeep in a simple package. For those looking for a total exhaust overhaul, go with either the Rock Crawler Series or Black Series Exhaust as they offer incredible versatility for a range of applications. Finally, if you constantly find yourself at off-road rallies and competing in events, the choice is simple with the Off-Road Pro Series Exhaust. All in all, any one of these upgrades will greatly boost the style and performance of your Jeep JK, so pick one out today to start adventuring like a pro.
2007-2018 Jeep Wrangler JK MagnaFlow Kits