SET YOUR VEHICLE
Rhino Rack Batwing Awning Left Side
1

Reviews
Customer Photos and Videos


1 of 1 people found the following review helpful
Good, but keep spare parts on hand!
12 months ago
Jiffy
I've had this awning on my Jeep JK for several months now. It is mounted on a Vortex 3 bar system using the front a rear cross bars. It is pretty easy to put on/take off. I imagine you could probably do it by yourself if you had some bungies to hold the opposite side on the cross bar. Of course its a lot easier and safer just to have an extra set of hands. The second time I went to use the awning it broke. I was setting it up by myself and extended it out prior to putting the leg poles down. As I was trying to tie the last pole to the roof rack, two of the hinges broke. Now this was probably my fault. I was trying to tie it somewhat tight to the roof rack (although I didn't think tight enough to break something). Since then I has my wife extend each leg as I pull the awning out to keep the weight off the arms. I was pretty surprised and disappointed to see the hinges that go into the arms were plastic. Just seemed like for the money you pay it'd be a little stronger. I was also pretty disappointed when I dealt with Rhino Rack. I went on their website and ordered the hinges. Ironically they came in a two pack (probably because this happens a lot). I ordered them and it took months for them to come in. I emailed them asking about it since they were not listed on backorder and received no response. Luckily the guy I bought my roof rack from had two spares that I was able to use before my trip. If you want to see what it looks like when the hinges break on the intro to the TrailRecon videos on Youtube you can see one with broken hinges in the rain. Seeing one broken on there made me feel better that I wasn't the only one. As for actual use. I've had it on for several months and the cover still looks pretty good. There is some fading on the trim, but in the Texas sun that's to be expected. When we were in Michigan on a trip it rained a couple nights on us. The awning came in clutch to help us cook and sit around without getting soaked. Very easy to collapse and I love the bag to hold the stakes being in the cover. Just make sure you open it to dry out after having it open on a rainy day. I don't think you'll be disappointed if you buy this. Just remember it wouldn't hurt to have spare parts on hand. If you're out on the trail and a hinge breaks its an easy fix if you have them with you. If you want to use this without the legs, I would just save up for one of the legless systems that run $200-$300 more.
Was this review helpful?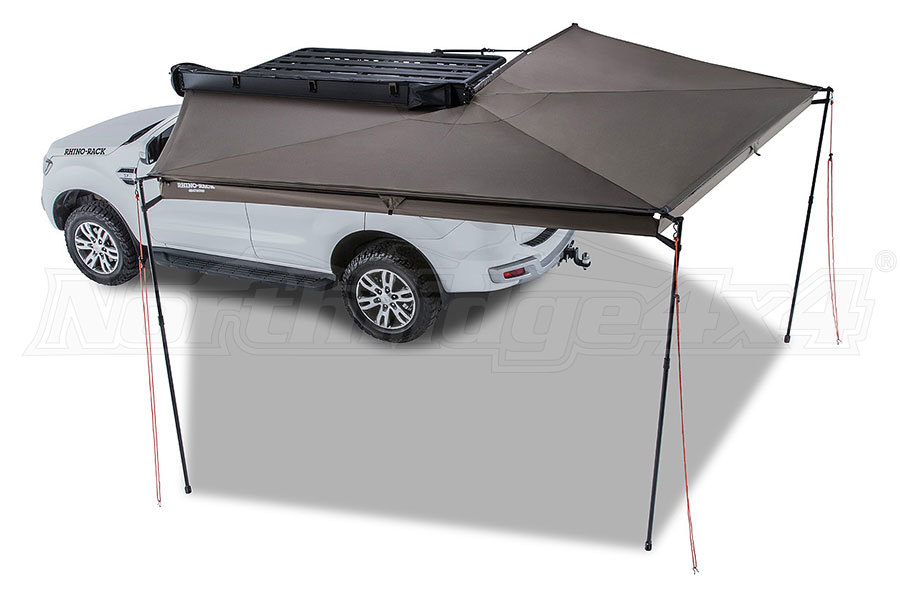 Community Media