SET YOUR VEHICLE
$
1499.99
$1,499.99

Bundle Savings:
Buy as a package deal and save: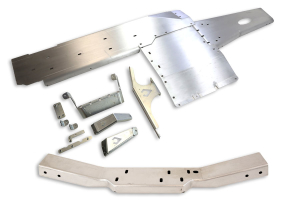 ARTEC BELLYPAN CROSSMEMBER PACKAGE 4dr 2007-11 JK
$1,784.98
View Product
Material Thickness:
1/4in
---
Mfgr. Warranty:
No Warranty
The Artec Industries Bellypan Armor Kit protects what you can not see from inside during your on or off road adventures. The ¼." 6061 Aluminum designed skid plates and the 3/16th zinc plated steel backetry are designed using the CAD files directly from the manufacturer. The factory components and the belly pan Armor Kit are so closely developed they fit like a glove and protect like a king. Forget the days when a rock barely hit your oil pan and no alert popped up until that wonderfully bright check engine light lit as the engine slowly took its last breath. The same can be said for the Transmission Pan, Gas Tank, Front Exhaust and Transfer Case. The Artec Industries' UNDER ARMOR covers each one with its modular design that allows for easier vehicle servicing. The high-tech CNC laser cut and forming allow for a stronger and distinct look. When the outside of your ride is impressive, it only makes sense that you keep it uniform, jealousy run deep.
**When installing the unit, there is no need to remove the gas tank, you can just bolt it into place and keep going. Working near the rear, you will also notice that it is cleared near the rear drive yolk shaft preventing any rubbing in that area as well. Keeping the underbelly obstruction free, the bolts on the Artec Industries' UNDER ARMOR are countersunk for absolutely smooth bottom ensuring nothing gets hung up or tangled around the bolt heads. Using the factory cross member, some holes must use factory hardware which is not countersunk. For an entirely smooth bottom, use Artec HD Crossmembers.
PEOPLE WHO VIEWED THIS ITEM ALSO VIEWED
No questions have been asked about this product.