SET YOUR VEHICLE

2020-2023 Jeep Gladiator JT Accessories & Aftermarket Parts
With the 2020 model year came a (literally) huge addition to the Jeep lineup - the Jeep Gladiator JT. Tons of accessories and aftermarket parts were soon to follow as you can imagine. The Gladiator pulls from its classic Jeep heritage with some assistance from FCA's Ram division, combining pickup truck utility with proven Jeep offroad prowess. Serving as the only front straight axle midsize pickup truck in the market, the Jeep Gladiator makes for an incredible offroading platform, easily clearing 37in+ tires with little work needed. No need for differential drops with the sturdy and renowned Dana 44 solid axle in the front, unlike the rest of the competition in the midsize segment. The Jeep Gladiator offers the same ease of building as the Wranglers while offering even more capability in the Overlanding segment due to the additional cargo space.
Gladiator Parts to Take Your Jeep to the Next Level
Here at Northridge4x4, we offer a huge selection of Jeep Gladiator accessories and aftermarket parts to make your JT truly unique. We carry the new EVO Manufacturing Gladiator lift kits, complete with KING shocks, as well as Gladiator specific Dynatrac ProRock drop-in axle sets for running massive tires. Looking for something with more flair and aesthetic? Revamp your Gladiator's exterior with some slim, steel fenders from Fabtech and some fresh JT wheels from Fuel, Pro Comp, Method or one of the many other brands we carry that take your Jeep Gladiator looks and ability to the next level..
Jeep is our specialty, and when you're looking for Jeep Gladiator accessories and aftermarket parts, we have you covered. Don't forget that we offer free shipping on orders over $70!
Top Jeep JT Parts & Accessories
Is it a Jeep? Is it a mid-size truck? Is it both? Whatever you want to call the 2020-2023 Jeep Gladiator JTs, one thing they definitely are is "capable". With the off-road capability of the their JL brethren and a nicely-sized bed, the Jeep JT can go practically anywhere why carrying more gear and cargo to boot. Best of all, we here at Northridge4x4 have a ton of Jeep JT upgrades and accessories available so that you can get even more performance, off-road capability, and improved utility out of your very own Jeep Gladiator. We don't just sell these parts, we put them to the test on and off-road by putting together our very own custom Jeep JT builds so that you know just how these Jeep JT accessories work out in the real world. Both our
2020 Jeep JT Rubicon
and our
2021 Jeep JT 3.0L Diesel
have had their share of JT modifications and upgrades, and we've put them to the test so that you can find the perfect Jeep JT parts for your very own rig.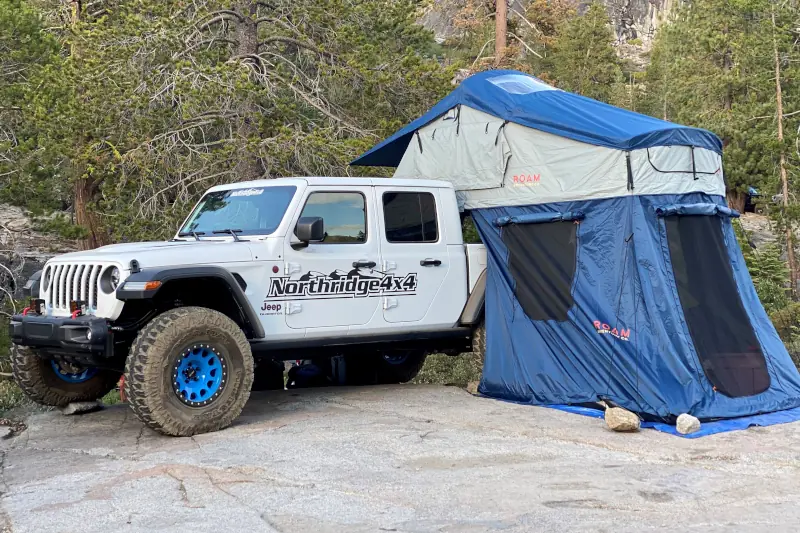 2018-2023 Jeep JT Suspension Upgrades
While your first inclination when it comes to modifying your Jeep JT may be to reach straight for big tires, you need to make sure those tires actually clear before you get too excited, so starting with a
Jeep JT Suspension Upgrade
or two is generally a good idea. On our 2020 Jeep JT Build, we opted for a
Jeep JT Teraflex 3.5" Alpine CT3 Long Arm Lift Kit
that we paired with
Jeep JT Fox 3.0 Factory Series Front Shocks
and
Jeep JT Fox 3.0 Factory Series Rear Shocks
which gave us the clearance to mount up a full set of
LT37x12.50R17 Milestar Patagonia M/T Tires
so that we got awesome ground clearance and traction. Our combination of lift and shocks gave our Jeep JT excellent on-road handling and awesome off-road performance, making it a force to be reckoned with both on the pavement and out in the dirt. Even if you're not going as aggressive as we are (and most folks aren't), we have a bunch of other
Jeep JT Suspension Upgrades
that may better suit your needs.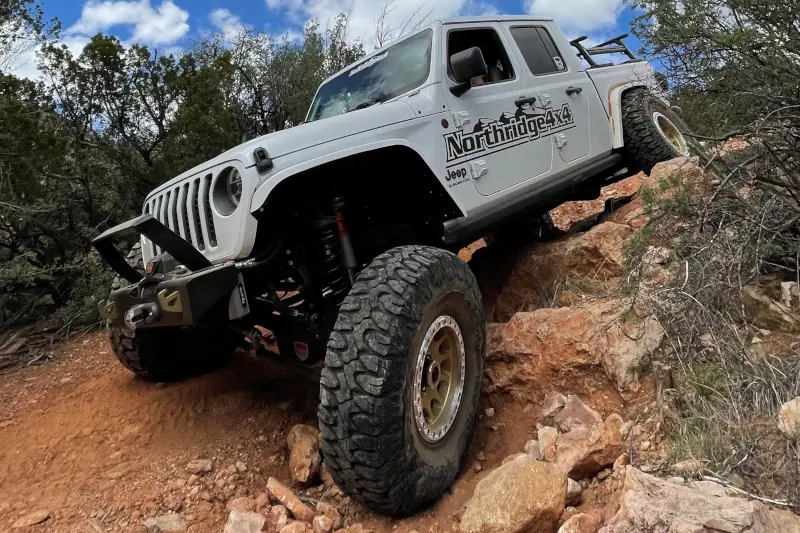 2018-2023 Jeep JT Exterior Upgrades
Once you have a suspension and tire setup for your 2018-2023 Jeep JT build, the next stop should be adding a great look and extra protection with some Jeep JT Exterior Upgrades. More protection for hitting tough off-road trails is never a bad thing, but giving your JT a mean look while you're at it is even better. For our 2020 Jeep Gladiator, we added a
Jeep JT Nemesis Helix Stubby Front Bumper
,
Jeep JT Nemesis Industries Front Fender Flares
, and
Jeep JT Nemesis Industries Rear Fender Flares
to give it a complete overhaul in looks. The Nemesis Stubby Bumper even comes standard with a winch mount, which gives it the ability to get out of trouble off the beaten path. If the Nemesis bumper and flares aren't your particular cup of tea, make sure to check out all of our
Jeep JT bumpers
and
Jeep JT fender flares
to find the setup that's perfect for your own JT Gladiator build.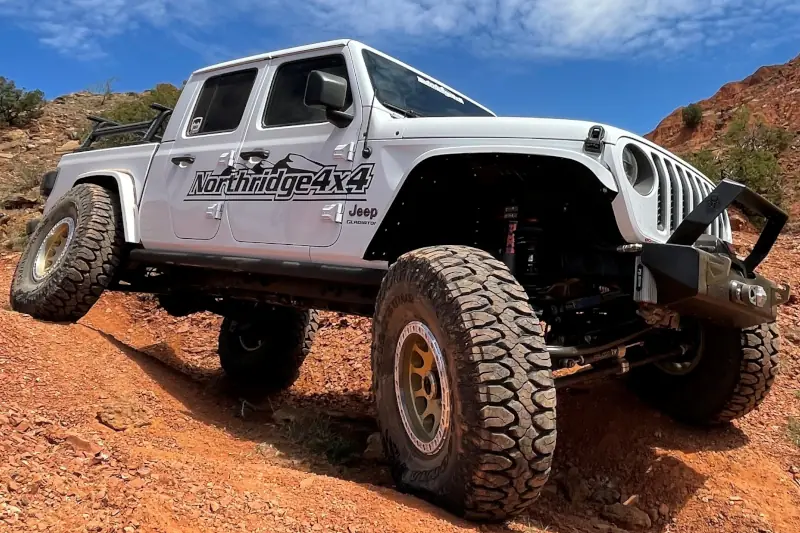 2018-2023 Jeep JT Exhaust Upgrades
It's no secret that the 3.6L V6 under the hood of your Jeep JT doesn't really have the meanest exhaust note in the world, but the factory cat-back can also cause some issues with departure angles. The good news is that we here at Northridge have a bunch of
Jeep JT Exhaust Upgrades
that can help you out. Even the most basic of
Jeep JT Cat-Back Kit
can give your Gladiator a great, new exhaust note, making them an excellent upgrade for practically any Jeep JT build. For our own
2020 Jeep Gladiator JT Build
, we opted for the
Jeep JT aFe Rock Basher Cat-Back Exhaust Kit
which features a pre-axle dumped exit to help improve departure angles over the stock cat-back system.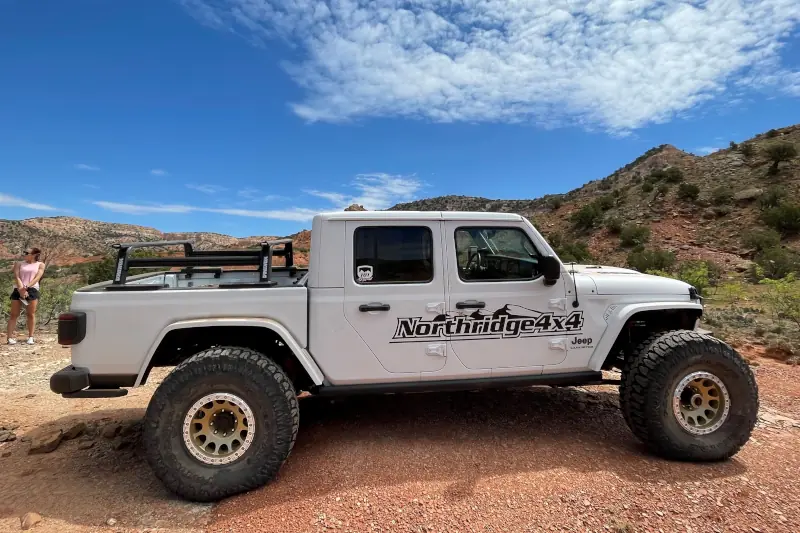 Are you a proud owner of a Jeep Gladiator? This powerful vehicle has endless potential for improvement, and we're here to help.
Our selection of Jeep Gladiator accessories and aftermarket parts is designed to elevate your ride to the next level.
The Jeep Gladiator is known for its versatility, whether it's conquering challenging off-road terrains or serving as a comfortable daily driver.
Our extensive range of accessories and aftermarket parts allows you to customize your Jeep Gladiator according to your specific needs and preferences.
Let's start with the essentials. If you're planning off-road adventures, we have you covered.
Our collection includes
JT suspension
systems,
JT skid plates
, and
off-road lighting
to ensure your Jeep Gladiator is fully equipped to handle any trail obstacles. Even if you're not venturing off-road, we offer plenty of accessories and aftermarket parts to enhance your driving experience. From interior comfort to exterior convenience, we provide seat covers, cargo organizers, side steps, and more to make your ride more enjoyable. Adding a touch of personal style to your Jeep Gladiator is easy with our wide range of aftermarket parts. Choose from
JT grill
inserts,
Jt fender
flares,
JT wheels
, and tires to create a unique and customized look that reflects your personality.
What sets us apart? Our extensive selection of products is second to none. We strive to meet all your needs, and if there's something specific you're looking for, we'll go the extra mile to find it for you. Moreover, our team consists of Jeep Gladiator experts who are passionate about what they do. We're always available to offer guidance, answer questions, and ensure you make the most out of your Jeep Gladiator, whether you're an experienced off-roader or a newcomer to the Jeep community. In summary, if you're ready to take your Jeep Gladiator to new heights, explore our comprehensive selection of accessories and aftermarket parts.
With our commitment to quality, expert knowledge, and dedication to customer satisfaction, we're the perfect partner to help you customize your ride. Don't wait any longer—start browsing our collection today and see how we can transform your Jeep Gladiator.