SET YOUR VEHICLE

2018 - 2023 Jeep Wrangler JL Parts & Accessories
Your Jeep Wrangler JL may be an extremely capable vehicle off the showroom floor, but to make it stand out from the rest of the herd and get the capability you need to handle tough trails out at Moab and beyond, you'll need some JL parts and accessories from your friends at Northridge4x4! We have a massive selection of Jeep JL accessories and parts that can transform your 2018-2023 Jeep JL into a force to be reckoned with both on the street or out in the dirt. We have everything from Jeep JL lift kits for fitting on massive tires, to Jeep JL body armor and bumpers that give your Wrangler the ability to survive the roughest terrain, to basic upgrades like JL floor mats and JL interior upgrades to make your Jeep that much easier to live with. Get the JL parts you need to completely transform your Wrangler right here, right now at Northridge4x4!
Top Jeep JL Parts & Accessories
The 2018-2023 Jeep JLs may be some of the most capable Jeeps to ever hit the showroom floors, but even they can use some help when it comes to being the best that they can be on the street or out on the trail. We here at Northridge4x4 have a massive selection of Jeep JL Parts and Accessories that can help turn the most mild-mannered of bone-stock JL into an aggressive, trail-dominating monster or a capable street/camping Jeep that's perfect for the weekend warrior. The being said, with so many parts available, it can be tough to figure out what JL parts and accessories you'll need. The good news is that we here at Northridge have a ton of experience in actually using the parts we sell. We've put together a bunch of different Jeep JL Project Builds together over the years and used them extensively on and off-road. Check out our
2018 Jeep JL Stingray Grey Build
or our
2018 Jeep JL Unlimited Sahara Build
, and read on for suggestions on where to start with your JL build.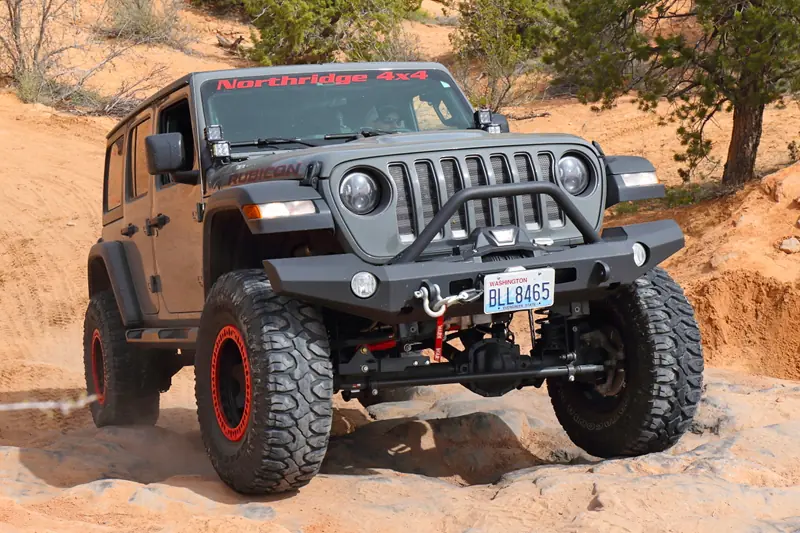 2018-2023 Jeep JL Suspension Upgrades
The first instinct of most new Jeep JL owners is to jump straight into a set of tires, but there's a couple of things you need to do before throwing a set of massive M/Ts on your Jeep JL build. One of the first must-have Jeep JL mods you should grab is a
Wrangler JL Suspension Upgrade
. If you're going to be adding big tires onto your Jeep JL, you're going to need some lift, and many of our suspension upgrades add ride height so that you get the clearance for big tires. On top of lift, many of our Wrangler JL suspension upgrades also improve ride quality, wheel travel, and off-road performance so that you can take your Jeep practically anywhere while getting a smoother ride on the pavement. On our
2018 JL 2.0L Turbo Build
, we used a
2018-2022 Jeep JL Teraflex 4.5" Sport ST4 Suspension Lift Kit
paired with
Teraflex Falcon SP2 3.3 Shocks
to give our JL the clearance to mount up
LT37x12.50R17 Nitto Trail Grappler M/Ts
, while also giving us the handling and off-road performance we needed to have a great time in the dirt and on the pavement.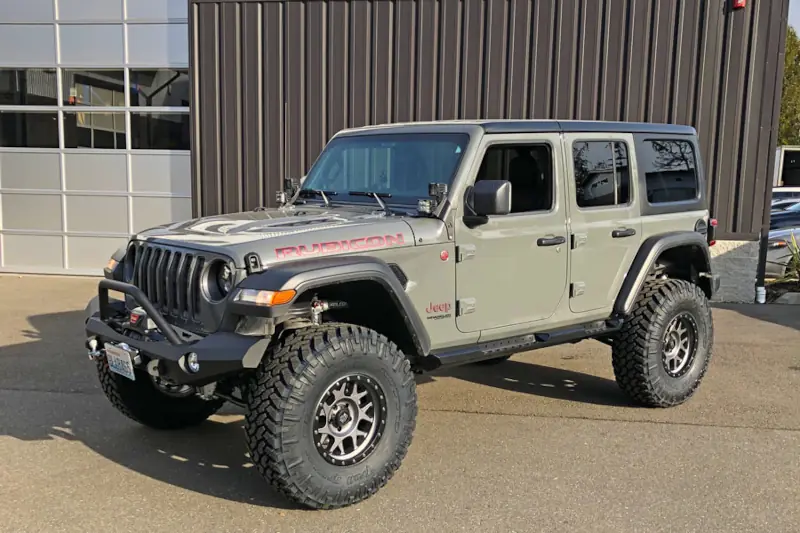 2018-2023 Jeep JL Lighting Upgrades
One of the objectively weakest points of the stock Jeep JLs is their factory lighting. The stock headlights and fog lights just don't provide the kind of lighting you need out on late-night trail runs, and they are even a bit lackluster on the street. One of the first Jeep JL accessories you should add to your Wrangler build is a few
Jeep JL Lighting Upgrades
. We here at Northridge4x4 have more than a few Jeep JL lighting parts and accessories available that will give your JL build the forward lighting output your Jeep actually deserves. We have replacement headlights like the excellent
Oracle Bi-LED Projector Headlights
that we put on our 2018 JL Stingray Build, as well as powerful off-road lighting from big names like
Rigid Industries
,
KC HiLites
,
Baja Designs
, and many more. If you want a clean way to install some of those powerful off-road LED lights, make sure to check out our
Jeep JL Light Mounts
that include mounting systems like the
Jeep JL Artec Industries Dual A-Pillar Mount Kit
that we installed on our 2018 JL Stingray Build. The Artec A-Pillar Kit allowed us to mount up a pair of
Rigid D-Series Hyperspots
and
Rigid DSS Side Shooters
near our Jeep's A-Pillars which gave us awesome forward and lateral lighting so that we could see problems out on the trails before they became huge disasters.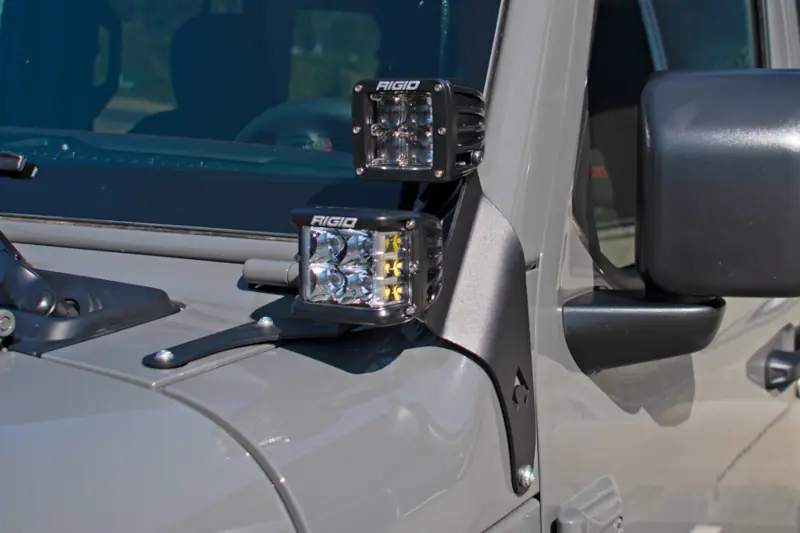 2018-2023 Jeep JL Bumpers & Exterior
If you're heading out onto the trail with your Jeep JL build, you're going to want to add some protection for your Wrangler JL's body and drivetrain. Installing a heavy-duty
Jeep JL front bumper
like the
Jeep JL Warn Elite Full-Width Front Winch Bumper
that we installed on our
2018 Jeep JL Stingray build
adds a ton of front-end protection and can handle the hits from tough terrain and obstacles so the rest of Jeep stays in one piece. Many of our front bumpers (like the Warn Elite) can even mount up winches and off-road lighting which helps make your Jeep JL much more capable and can help you get out of tough jambs out on the trail. Make sure you check out our other
Jeep JL Exterior Upgrades
to add even more protection to your Wrangler and give it an awesome look that is sure to turn some heads.