SET YOUR VEHICLE
Buy as a package deal and save
(99%)
: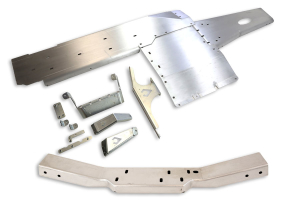 ARTEC BELLYPAN WITh CROSSMEMBER FOR 2012-16 JEEP JK PACKAGE
$1,502.84
View Product
---
Mfgr. Warranty:
No Warranty
Give your Jeep Wrangler added protection underneath the vehicle from debris and rocks when you install the Artec Industries Heavy Duty Crossmember. When you are going off-road and enjoying the thrill of traveling where most vehicles can't go, the last thing you want is to have road debris thrown up into the engine and cause severe damage. By adding the heavy duty crossmember, it provides added protection, allowing you to enjoy your off-road experience the way it was mean to be. The heavy duty crossmember is designed to easily fit the Jeep Unlimited, Rubicon and JK Wrangler for years 2007-2016.
Made from heavy duty 1/4-inch steel, the crossmember is precision cut by CNC laser from factory CAD files. The crossmember is designed to fit snuggly against existing sheet metal and is fastened with 3/8-inch bolts that thread into the pre-fastened nuts in the steel brackets. The heavy duty crossmember is designed for easy installation and quick removal using one tool. Nuts and washers are not included. It is possible that your vehicle exhaust might need minor modification for the crossmember to be installed. When you want to protect the undercarriage of your Jeep, get the Artec Industries Heavy Duty Crossmember.
No questions have been asked about this product.
Jeep Wrangler JK
Rubicon
2012, 2013, 2014, 2015, 2016, 2017
Unlimited Rubicon
2012, 2013, 2014, 2015, 2016, 2017
Sahara
2012, 2013, 2014, 2015, 2016, 2017
Unlimited Sahara
2012, 2013, 2014, 2015, 2016, 2017
Sport
2012, 2013, 2014, 2015, 2016, 2017
Unlimited Sport
2012, 2013, 2014, 2015, 2016, 2017
Unlimited
2012
Unlimited Altitude
2012
Unlimited Mountain
2012
Willys Wheeler
2014
Unlimited Willys Wheeler
2014
Unlimited Hard Rock
2015
Sport S
2016
Unlimited Sport S
2016, 2017