SET YOUR VEHICLE
$
499.95
$499.95

Bundle Savings:

MSRP:

$555.95
Buy as a package deal and save: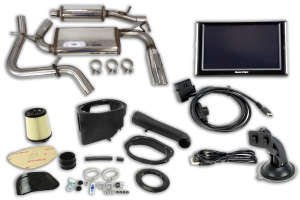 Jeep JK Performance Pack JK 2012-14
As low as
$1,054.06
View Product
Speedometer Correction:
Yes
Tire Pressure Monitoring Recalibration:
Yes
Transfercase Calibration:
Yes
---
Mfgr. Warranty:
1 Year Limited
SuperChips has developed their latest TrailDash 2 which features a new slim case design, and it has been upgraded to a 5" full-color display making this gauge one of the more slim examples available on the market. The TrailDash has been considered to be one of most advanced tuning devices on the market that allows you to monitor a wide variety of outputs and performance data. Now users can improve the performance and create a better driving experience all through a touch of a screen. This is the new Superchips Traildash 2.
Additional features include but not limited to:
•    5" High resolution color touch screen
•    New slim design complements the interior with the latest technology
•    Multiple gauge screen layouts
•    Customizable digital gauges
•    Single HDMI plug for power
•    Performance tests
•    Reads and clears trouble codes which includes the TPMS option with the required download
•    Ability to add aftermarket accessories and sensors with the Superchips EAS
•    Monitor includes video input and can run backup, as well as other camera accessories.
•    Locking axle options with transfer case in 4-HI and 4-Low 
•    Engine idle adjustability when using a winch
•    Speedometer recalibration for gear and axle swaps up to 5.38
•    Updates available via internet
PEOPLE WHO VIEWED THIS ITEM ALSO VIEWED