SET YOUR VEHICLE
---
Mfgr. Warranty:
Lifetime Warranty
WD Automotive GraBars make life a little easier when you are trying to get into a lifted Jeep. These would be great to hang onto if you're on an aggressive trail and need something to grab for dear life. The package includes black rubber grips.
Love them
11 months ago
Install was a bit tricky. Pay attention to the dorections, they have a couple techniques that will make life easier. Fit, finish & function are all A+.
---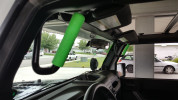 ---
Love them
11 months ago
The install on these wasnt too bad. Can be a little tricky but if you fallow the instructions too the tee there are a couple techniques they point out which make it much easier. Fit and finish is superb. My brother bought a knockoff brand that was cheeper but there is a world of difference in quality. Fit, finish and function are all A+
---
No questions have been asked about this product.
Jeep Wrangler JK
Rubicon
2007, 2008, 2009, 2010, 2011, 2012, 2013, 2014, 2015, 2016, 2017
Unlimited Rubicon
2007, 2008, 2009, 2010, 2011, 2012, 2013, 2014, 2015, 2016, 2017
Sahara
2007, 2008, 2009, 2010, 2011, 2012, 2013, 2014, 2015, 2016, 2017
Unlimited Sahara
2007, 2008, 2009, 2010, 2011, 2012, 2013, 2014, 2015, 2016, 2017
Unlimited X
2007, 2008, 2009, 2010, 2011
X
2007, 2008, 2009, 2010, 2011
X-S
2009
Sport
2010, 2011, 2012, 2013, 2014, 2015, 2016, 2017
Unlimited Sport
2010, 2011, 2012, 2013, 2014, 2015, 2016, 2017
Islander
2010
Mountain
2010
Unlimited Islander
2010
Unlimited Mountain
2010, 2012
70th Anniversary
2011
Unlimited 70th Anniversary
2011
Unlimited
2012
Unlimited Altitude
2012
Willys Wheeler
2014
Unlimited Willys Wheeler
2014
Unlimited Hard Rock
2015
Sport S
2016
Unlimited Sport S
2016, 2017