SET YOUR VEHICLE
$
664.05
$664.05

Bundle Savings:

MSRP:

$699.00
Buy as a package deal and save: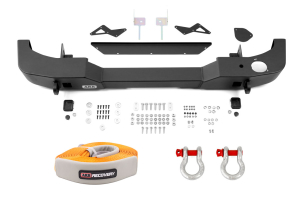 ARB Rear Bumper w/Snatch Strap and Shackles Kit - JK
$726.04
View Product
Shackle Tabs Included:
Yes
Tire Carrier Included:
No
This steel rear bumper has two Hi-Lift jacking points and is made from steel to provide strong protection to the rear of your vehicle. It includes integrated recovery points, and it has been zinc primed. A powder coating gives it a durable, black finish. This bumper is compatible with the factory tow package. Provide superior protection to your vehicle with this tough bumper.
In the case that you are on the fence about an aftermarket tire carrier, this bumper comes with a provision so that you can add one on later if you decide down the road. 
This product has no user uploaded media. You can upload your photo or video of your install by posting a
review
.
Great
JK RUBI
5 months ago
I will not shop anywhere else now other then Northridge4x4 they have the best price and customer service . The ARB rear bumper is a fine looking rear bumper, it does come with its challenging mounting issues, requires lots of patients and ingenuity .
---
ARB-some!
DC N
1 year ago
This was my first, but not last, ARB product! While it is definitely more rigid and beefier than the stock bumper it isn't by any means bulky. I really appreciate the number of hardware is uses compared to the original bumper, there's no way it's moving without something incredible happening. Northridge was amazing, they were able to deliver it at over $100 less than any local shop. The installation had it's minor challenges but nothing that made it take longer than an hour. Great all around! I look forward to another ARB and Northridge purchase.
---
Q: Rear Bumper justin 9 months ago

Answer

I currently have a AEV wheel carrier and am interested on a different bumper. Is the ARB rear bumper compatible with the AEV wheel carrier ?




A: It is not, we do however have this one that will work https://www.northridge4x4.com/fits/2016-jeep-wrangler-jk-unlimited-rubicon-3-6l-5at-4wd-116wb-4dr/rear-bumpers/psp17-61-040-poison-spyder-northridge-edition-rockbrawler-bumper-for-aev-carrier-bare


The OC 8 months ago
Jeep Wrangler JK
Rubicon
2007, 2008, 2009, 2010, 2011, 2012, 2013, 2014, 2015, 2016, 2017
Unlimited Rubicon
2007, 2008, 2009, 2010, 2011, 2012, 2013, 2014, 2015, 2016, 2017
Sahara
2007, 2008, 2009, 2010, 2011, 2012, 2013, 2014, 2015, 2016, 2017
Unlimited Sahara
2007, 2008, 2009, 2010, 2011, 2012, 2013, 2014, 2015, 2016, 2017
Unlimited X
2007, 2008, 2009, 2010, 2011
X
2007, 2008, 2009, 2010, 2011
X-S
2009
Sport
2010, 2011, 2012, 2013, 2014, 2015, 2016, 2017
Unlimited Sport
2010, 2011, 2012, 2013, 2014, 2015, 2016, 2017
Islander
2010
Mountain
2010
Unlimited Islander
2010
Unlimited Mountain
2010, 2012
70th Anniversary
2011
Unlimited 70th Anniversary
2011
Unlimited
2012
Unlimited Altitude
2012
Willys Wheeler
2014
Unlimited Willys Wheeler
2014
Unlimited Hard Rock
2015
Sport S
2016
Unlimited Sport S
2016, 2017