SET YOUR VEHICLE
$
445.5
$445.50

Bundle Savings:

MSRP: $544.50
QUALIFIES FOR FREE SHIPPING!
Buy as a package deal and save: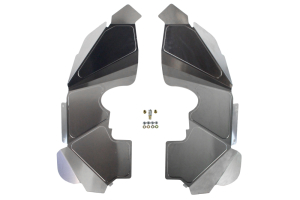 Poison Spyder Front and Rear Fenders w/ Bonus Inner Fender Package - JK
As low as
$1,070.10
View Product
---
Mfgr. Warranty:
1 Year Limited
The factory original equipment fender flares are made ot of a flimsy plastic that are known to break or get torn off while enduring a thick trail. The Poison Spyder Rear Crusher Flares are crafted out of durable all-steel replacements built to handle extreme terrain.
The Poison Spyder JK Crusher Flares can provide up to 40 inches of tire coverage (minor trimming of the inner sheetmetal may be required for clearance). The mounting plates are fabricated out of CNC laser cut 3/16 plate steel that has been made to fit the contours of the JK's flare mounting surface.
The Crusher Flare rails are CNC-bent 1.5 inch by .120 wall  DOMstructural tubing, with a fender surface made of 1/8 inch laser cut plate steel. The flare mounts are held in by countersunk flat head cap screws that provide a low profile. These will come standard with mounting provisions to allow for a ¾" LED marker lamp inside the flare, and can be wired into the factory running lights or turn signal circuits.
Finally these will come with braces to provide extra structural rigidity, and to keep the flares from deforming the factory outer rub sheetmetal on impacts.
 
Nice rear
2 months ago
Love the poison spyder rear fenders Peace of mind if I run along a rock and I know I won't get damage to my jeep Instructions not all that great But figured it out After that it was a breeze
---

---
No questions have been asked about this product.
Jeep Wrangler JK
Rubicon
2007, 2008, 2009, 2010, 2011, 2012, 2013, 2014, 2015, 2016
Unlimited Rubicon
2007, 2008, 2009, 2010, 2011, 2012, 2013, 2014, 2015, 2016
Sahara
2007, 2008, 2009, 2010, 2011, 2012, 2013, 2014, 2015, 2016
Unlimited Sahara
2007, 2008, 2009, 2010, 2011, 2012, 2013, 2014, 2015, 2016
Unlimited X
2007, 2008, 2009, 2010, 2011
X
2007, 2008, 2009, 2010, 2011
X-S
2009
Sport
2010, 2011, 2012, 2013, 2014, 2015, 2016
Unlimited Sport
2010, 2011, 2012, 2013, 2014, 2015, 2016
Islander
2010
Mountain
2010
Unlimited Islander
2010
Unlimited Mountain
2010, 2012
70th Anniversary
2011
Unlimited 70th Anniversary
2011
Unlimited
2012
Unlimited Altitude
2012
Willys Wheeler
2014
Unlimited Willys Wheeler
2014
Unlimited Hard Rock
2015
Sport S
2016
Unlimited Sport S
2016