SET YOUR VEHICLE
$
495.99
$495.99

Bundle Savings:

MSRP:

$544.50
Buy as a package deal and save: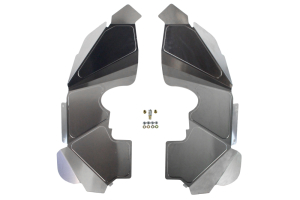 Poison Spyder Front, Rear Fenders and Inner Fender Package - JK
As low as
$1,191.97
View Product
---
Mfgr. Warranty:
1 Year Limited
The Poison Spyder JK Crusher Flare™ provides tire coverage for up to a 40" tire (minor trimming of the inner sheetmetal may be required for tire clearance). The Crusher Flare's™ mounting plate is made of CNC laser cut 3/16 plate steel that has been brake-formed to fit the contours of the JK's flare mounting surface like a glove. The Crusher Flare™ rails are CNC-bent 1.5" X .120 wall DOM structural tubing, with a fender surface made of 1/8" laser-cut plate steel. The Crusher Flare™ mounts using stainless steel countersunk flat head cap screws that provide a low profile, great looks and corrosion resistance. Installation requires drilling and installation of the provided nut-sert fasteners. Poison Spyder supplies a simple nut-sert installation tool to facilitate the process. Crusher Flares™ are sold as bare steel. For added structural rigidity when hardcore wheeling, Rear Crusher Flares™ come with a 4-piece Inner Brace Kit. The Inner Braces are engineered to provide the internal structure to keep the Crusher Flares™ from deforming the Jeep's outer tub sheetmetal on impacts. The components are laser-cut and brake-formed to precisely fit between the Jeep's outer sheetmetal and the heavier gauge steel of the structural inner tub. The result is a Crusher Flare™ installation that will withstand serious hits from the rocks.
The JK Rear Crusher Flare™ Kit comes standard with mounting provisions to place a small 3/4" LED marker lamp inside the flare just rearward of the tire. The LED can be wired in to the Jeep's running lights or turn signal circuits. 3/4" amber LED lamps are available separately from Poison Spyder.
Nice rear
8 months ago
Love the poison spyder rear fenders Peace of mind if I run along a rock and I know I won't get damage to my jeep Instructions not all that great But figured it out After that it was a breeze
---

---
No questions have been asked about this product.
Jeep Wrangler JK
Rubicon
2007, 2008, 2009, 2010, 2011, 2012, 2013, 2014, 2015, 2016, 2017
Unlimited Rubicon
2007, 2008, 2009, 2010, 2011, 2012, 2013, 2014, 2015, 2016, 2017
Sahara
2007, 2008, 2009, 2010, 2011, 2012, 2013, 2014, 2015, 2016, 2017
Unlimited Sahara
2007, 2008, 2009, 2010, 2011, 2012, 2013, 2014, 2015, 2016, 2017
Unlimited X
2007, 2008, 2009, 2010, 2011
X
2007, 2008, 2009, 2010, 2011
X-S
2009
Sport
2010, 2011, 2012, 2013, 2014, 2015, 2016, 2017
Unlimited Sport
2010, 2011, 2012, 2013, 2014, 2015, 2016, 2017
Islander
2010
Mountain
2010
Unlimited Islander
2010
Unlimited Mountain
2010, 2012
70th Anniversary
2011
Unlimited 70th Anniversary
2011
Unlimited
2012
Unlimited Altitude
2012
Willys Wheeler
2014
Unlimited Willys Wheeler
2014
Unlimited Hard Rock
2015
Sport S
2016
Unlimited Sport S
2016, 2017