SET YOUR VEHICLE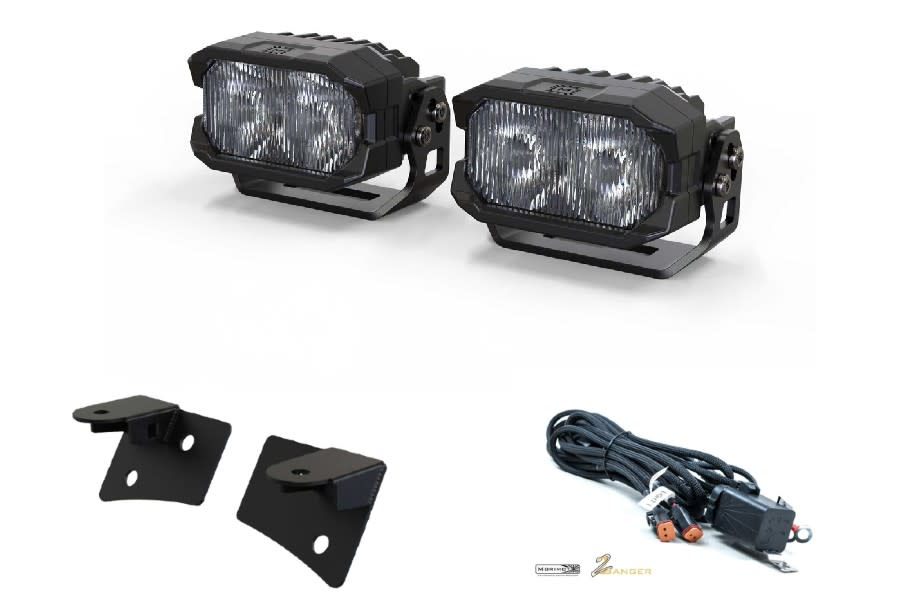 Product Media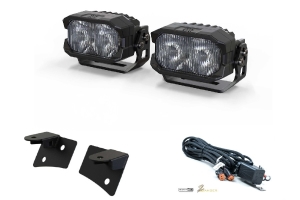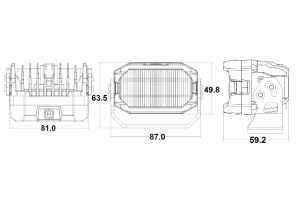 Other Auxiliary Lighting

>

Morimoto 2Banger NCS A-Pillar Kit -White Wide Beam - JK
Morimoto 2Banger NCS A-Pillar Kit -White Wide Beam
JK
Features & Product Details
BOLT ON BRIGHTER: The Morimoto 2Banger A-Pillar LED system is the perfect solution for more light, aimed exactly where you want it. From long-range spot-lights for high speed driving to ditch lights to illuminate the side of the road, our A-Pillar kit is all about versatility. Select a set of high performance 2Banger LED pods in your choice of beam pattern, pair that with the brackets to make installation a breeze, and power it properly with our switched wire harness.
ENGINEERED FITMENT: Morimoto's A-Pillar kit for the Wrangler JK has been through numerous rounds of design, prototyping and testing directly on the truck to ensure perfect compatibility. Everything lines up with pre-existing mounting points to create an installation that is truly modification-free. Guaranteed. Yes, we agree this is a basic requirement, but you wouldn't believe the poor fitment we encountered from other well-known brands during development. It was mind blowing.
BRANCHES BEWARE: Each bracket is laser cut from 304 stainless steel, then powder coated. Put simply, the side mirrors on your Ram will rip off way before our A-Pillar kit even flexes a muscle.
FORM MEETS FUNCTION: The overall footprint of the 2Banger is extremely compact, making them the perfect solution for adding extra light where full-size pods wont work. Each set of Morimoto 2Banger LED pods include a set of adjustable pedestal mounts for a universal fitment. Morimoto also offers a variety of application-specific mounting bracket kits for Racks and A-Pillars that make them bolt-on for many of today's most popular trucks. Check out the full lineup for details on what's available for your application.
PERFORMANCE: There are no "off the shelf" guts inside of a fancy housing here. Every element of the 2Banger is proprietary. LucidShape was used to optimize performance around the most modern, lumen-dense LEDs from Osram. Thermal dynamics have been optimized using SolidWorks. With two performance tiers, white or yellow output, and four distinct beam patterns (Wide/Fog, Spot, Combo, and Flood), there is a 2Banger to suit every performance need and driving style.
VERSATILITY: The 2Banger can be mounted alone, or linked together into a serious light bar. Each set of pods includes universal pedestal mounts for an easy install on any flat surface, like your steel bumper or the the wide-variety of application-specific A-Pillar brackets we offer. The BangerBar links offer a turn-key way to bolt your Bangers together into a bespoke light bar, where you spec the color of the light. You spec the beam optics. You set the radius. And then you destroy the darkness. For more details, look for product listings dedicated to the BangerBars.
NCS WIDE BEAM:
Illuminates the ground directly in front of the vehicle, making them a perfect complement to a set of high-performance Morimoto headlights. They produce a very wide beam to drastically improve visibility off to the sides of the road. Superior vertical gradient control eliminates glare to oncoming traffic, and when mounted in the fog light position and aimed appropriately, will meet the latest SAE standards for safe, legal use as a fog light on public roads.
ALL WEATHER: The white-output version is ideal for all-around visibility. For those who desire optimal output in rain, snow, or fog--the Yellow-output version will slay in shady weather. Morimoto has opted for Phosphor-converted Yellow LEDs that produce yellow light at the origin, which is the most effective way to penetrate through particles in the air without compromising output (Filtering white light through a yellow lens achieves the look, but no actual performance benefit in poor weather)
RELIABILITY: With power comes great responsibility. Extensive effort went into ensuring the reliability of the product. High power means high heat, which is why the 2Banger features a copper DTP (direct thermal path) PCB that maximizes heat-transfer to the radiator, which has been optimized through numerous rounds of thermal analysis. The cast aluminum shell is electroplated before powder coating to withstand flaking. The gasket system, integrated DT power connection, and breather valves all designed according to IP69K standards for full weather resistance.
STREET LEGALITY: When aimed properly, the Spot and Combo beam patterns will comply with SAE J581 standards for an auxiliary high beam. If you're looking for a high-performance street-legal LED pod to use as a fog light, the 2Banger wide beam model has been verified-compliant with the latest SAE-F regulation for on road use by Calcoast Labs in California.
POWER UP: The Morimoto 2Banger LED Pods have been developed from the ground up to set a new standard in their segment, and the same goes for the optional wire harness. If you want the best, bingo. Not one component on the harness was overlooked for the sake of cost or simplicity. Triple sealed proprietary 4-pin relay with hanger. Proprietary over-molded inline fuse holder with 20A mini fuse. DT06-2S female outputs with dual seals. Stainless steel power and ground terminals. Proprietary M-Spec push button switch with Yellow-LED backlight.
Specifications:
INTENSITY INTENSITY (NCS WIDE WHITE):9,500 Cd (95 lux @ 10m)
PEAK LUMENOSITY (LM)(RAW):900 lm (NCS), 2000 lm (HXB)
POWER (STABILIZED):13.5 w (NCS), 24 w (HXB)
CURRENT (AMPS @ 13.5V DC):1.0A (NCS), 1.78A (HXB)
LIGHT SOURCE:2x Nichia NCSY131F, Nichia NCSW131F, or Osram HX Boost
INPUT:Integrated Deutsch DT 2-Pin w/ Pigtail
MATERIAL:Makrolon LED PC (Lens), Powdercoated Die Cast Aluminum (Housing)
IP RATING:IP69K (Dust / High Pressure Water Resistant)
Specifications
Mfgr. Warranty:
Limited Lifetime
PEOPLE WHO VIEWED THIS ITEM ALSO VIEWED