SET YOUR VEHICLE
Use Code: NR100 and save $100 on orders over $850 *Some restrictions apply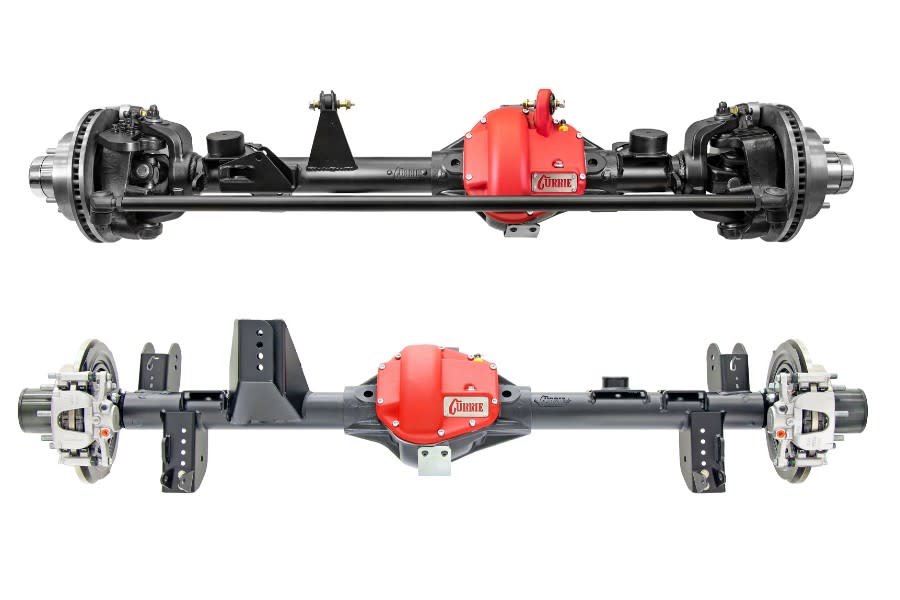 Product Media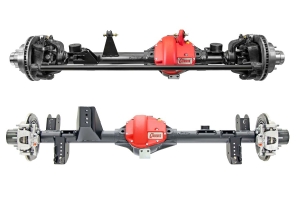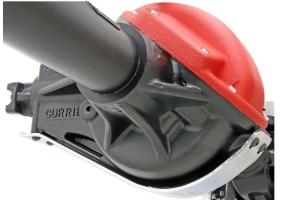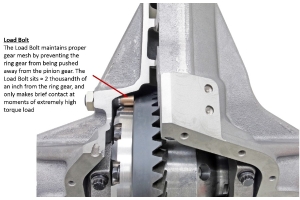 Complete Axle Sets

>

Currie Enterprises Extreme 60 - High-Pinion Axle Set w/ 5.13 Gears and E-Lockers - JK
Currie Enterprises Extreme 60 - High-Pinion Axle Set w/ 5.13 Gears and E-Lockers
JK
Features & Product Details
The Currie Extreme 60 front and rear axle set for the Jeep Wrangler JK and JKU, is designed for severe off-road use with tires up to 40-inches and V8 horsepower. The high-pinion design features Currie's exclusive rotated center section with ring gear load-bolt, a combination that delivers superior obstacle slide-over and unmatched gear strength. If you seek out the most challenging routes and toughest obstacles to conquer, the Extreme 60 axle set is a natural choice.
Axle Set Details:
Fully Assembled Extreme 60 High-Pinion Front And Rear Axle Assemblies
70-Inch Width (+2.3 in. Wider Per Side)
8-Lug Wheel Bolt Pattern For Ultimate Reliability
Satin Black Powder Coat Finish For Long Lasting Protection
High-Clearance Center Section With Rotated Cover Improves Obstacle Slide-Over
High-Pinion Design Raises The Driveshaft By 2-Inches For Additional Clearance
Ring Gear Load Bolt Prevents Deflection To Deliver Maximum High-Pinion Gear Strength
High Volume Flow-Thru Pinion Oiling System Keeps Bearings Bathed In Cool Oil
Rock Slider Low-Friction Skid Plate Sides Over Trail Obstacles With Ease
The Extreme 60 high-pinion axle set for the 2007 and newer Jeep JK Wrangler, includes complete bolt-in front and rear axle assemblies with all required brackets and mounts in place. The vehicle's factory driveshafts will require modification or replacement to accommodate the larger 1350 series u-joint and 60 series housing                           
Extreme 60 Axle Features:                          
Extreme 60 high-pinion nodular iron center section is the strongest 60 series casting we offer, with thick extended webbing, heavier main caps, ARP® main bolts, and additional reinforcement in critical areas   
Load Bolt - Currie exclusive ring gear load bolt (top left) eliminates gear deflection, to dramatically increase torque handling capacity. The load bolt typically sits .002 inch from the ring gear and only touches when extremely high torque loads are applied             
Currie exclusive high-pinion radius bottom center section delivers unmatched ground clearance, and improved obstacle slide-over by presenting a smooth curve rather than the sharp edge found on other 60 housings 
Replaceable AR400 hardened steel skid plate resists deformation and gouging to slide over obstacles far better than iron housings or mild steel plates           
High volume flow-thru recirculating oil system keeps pinion bearings bathed in cool oil, reducing operating temperatures and eliminating oil starvation issues     
Large 3.5-inch diameter .375 wall axle tubes (left) are more than three times stronger than the stock JK Dana® 44 (right) without being overweight or sacrificing ground clearance    
Powder Coat - Black satin powder coat finish adds long-lasting protection against rust and corrosion to keep your Currie Extreme 60 looking its best             
Extreme 60 Front Features:                        
Front axle steering geometry is optimized for large tires and lifted vehicles with increased caster and pinion angles              
The included heavy-duty tie rod features a 1.375 in. OD x .375 wall heat-treated chromoly tube and 1-ton forged rod ends that are designed to withstand off-road abuse and large tires.
Massive forged 1-ton inner knuckles (right) are designed to stand up to the severe punishment and large tires without flinching       
Upper control arm mounts feature rebuildable Johnny Joints® for maximum suspension articulation with unsurpassed durability 
Rock-proof Currie nodular iron front cover protects expensive internals, adds structural support to the housing's face flange, and locates the driver's side upper control arm mount              
13-inch diameter vented rotors and dual-piston calipers provide the increased brake capacity required for stopping large tires             
The included Warn® premium manual locking hubs are tucked in tight and out of harm's way, extending only 2-inch beyond the end of the wheel studs    
Extreme 60 Rear Features:
Desert race-inspired 2-inch heat-treated chromoly spindles and billet steel full-floating hubs carry the weight of the vehicle, eliminating the influence of side loading and impact shock on axle durability. Safety is improved as the wheel and brake remain in place and fully functional in the rare event of an axle failure      
Currie Performance double splined full-floating heat-treated chromoly axles provide superior strength and durability over traditional flanged floater axles      
Modified JK OEM backing plates and parking brake assemblies provide reliable operation with broad availability of serviceable wear items              
Rock-proof Currie nodular iron cover protects expensive internals and adds structural support to the housing's face flange for increased rigidity             
Specifications:                  
Housing - Extreme 60 Nodular Iron High-Clearance Center Section with Rotated Cover, Ring Gear Load Bolt and Integrated Skid Plate
Bearing Caps -    Increased cross section nodular iron caps secured with ARP® fasteners
Pinion Oiling - High volume flow-thru recirculating oil system
Gear Set - Dana 60™ reverse rotation thick gear sets (compatible with super 60 reverse cut gears)
Differential Carrier - Only high speed differential carriers (designed for low numerical gears) are used, enabling the use of stronger thick ring gears for all gear ratios. Carrier outside diameter is turned down to 8.30 inches for load bolt clearance
Ring Gear Load Bolt - Eliminates ring gear deflection under heavy load (3/4"-16 right hand thread with Jam nut)
Pinion Yoke -1350 u-joint
Skid Plate -AR400 hardened steel skid plate
Differential Cover - Currie nodular-iron cover, Red
Axle Tubes - 3 1/2 inch diameter, .375 wall DOM tube
Suspension Brackets - Heavy gauge 3/16 steel mounting brackets
Width - 70-inches wide (between wheel mounting surfaces)
Wheel Bolt Pattern - 8-lug (8 x 6.5 in.) with 9/16 studs
Finish - Black satin powder coat
​
Front Extreme 60
Axles -   Currie Performance 35-spline (1.5 in. diameter) 4340 Chromoly inner and outer axle shafts with 1480 u-joints
End Forgings -Currie 1-ton heavy-duty forged steel inner C's
Steering Knuckles -Currie 1-ton nodular iron steering knuckles machined and keyed for high-steer arms
Unit Bearings - 1-ton unit bearings with JK tone rings installed for ABS and ESP retention
Hubs - Warn Premium locking 35-spline hubs
Brake Rotors - 13-inch vented rotors (over 1.1 in. larger diameter than stock, provides increased brake force) with zinc plated caliper brackets
Brake Calipers - F-350 Dual-piston calipers
Tie Rod - 1-ton 1.357 in. OD x .375 wall heat treated chromoly tube with forged tie rod ends
Control Arm Mounts       Currie Johnny Joints® installed with ½" greasable bolts
Geometry - Optimized for vehicles with 3 to 4-inches of lift (5 degrees of pinion angle and 5 degrees of caster angle)
Trac Bar Mount - Integrated raised track bar and ram-assist mount. Trac bar mount height set for 3 to 4 inch lift, ram-assist mount setup for PSC 8-inch travel ram
 
Rear Extreme 60
Axles - Currie Performance double splined full-floating (35-spline 1.5-inch diameter) 4340 heat-treated chromoly
Floater Spindle - Currie Performance 2.5-inch heat-treated 4140 Chromoly spindles, supports 35 or 40-spline axles
Floater Hub  -Currie Performance billet full-floating hubs with 35-spline drive flanges, JK tone rings installed for ABS and ESP retention
Brake Rotors - Upgraded 13.750-inch vented rotors
Brake Calipers - Jeep Gladiator truck rear calipers
Parking Brake - Modified JK EOM backing plate and parking brake assembly
Geometry - Optimized for 4-inchs of lift with 5 degrees of pinion
Specifications
Brand:
Currie Enterprises
PEOPLE WHO VIEWED THIS ITEM ALSO VIEWED