SET YOUR VEHICLE
Product Media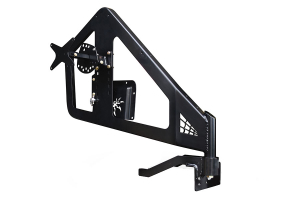 Tire Carriers

>

Poison Spyder Frame Mounted Tire Carrier - JK
Poison Spyder Frame Mounted Tire Carrier
JK
Features & Product Details
Poison Spyder's JK Frame Mounted Tire Carrier is the ultimate combination of strength, ease of use, high clearance and great looks. It attaches directly to the strongest structure on the Jeep: the frame. This removes the weight and stresses of large, heavy spare tires and wheels from the Jeep's tailgate, body tub, and bumper. The single-action opening is the pinnacle of convenience, requiring only a single hand to open the tailgate and tire carrier in tandem. The concealed pivot tucks in closer to the Jeep's body than previous Poison Spyder tire carriers, providing better clearances on the trail. This carrier is compatible with Poison Spyder Bruiser&trad;, Crawler&trad; and RockBrawler&trad; II* series rear bumpers, and can be added later. The SpyderShell&trad; Armor Coat finish carries a 5 year warranty.
Frame Mounted For Strength
Frame-mounting provides the ultimate strength for a pivoting spare tire mount on Jeeps. Body mounted tire carriers place the weight and stress of the spare tire on the Jeep's tailgate and/or body. Bumper-mounted tire carriers are better, switching those forces to the bumper, which is in turn bolted to the frame. But the ultimate strategy is to go right to the source of the Jeep's structural integrity: bolt it right to the frame. The Poison Spyder JK Body Mounted Tire Carrier does just that, using a triangulated mounting bracket that secures to the Jeep's frame rail and rear crossmember in three planes.
Single-Action-Opening
The Frame Mounted Tire Carrier's Single-Action-Opening feature is a huge convenience for when you're trying to open the tailgate and tire carrier with one hand, when you've got an armload of gear or groceries in the other. Rather than latching to itself, the Frame Mounted Tire Carrier is tethered to the tailgate so that they open and close in tandem. A custom designed tie-rod assembly, bumper mechanism and tailgate plate keep the two pieces perfectly aligned when open, but tight and rattle-free when closed.
*Multiple Bumper Compatibility
The JK Frame Mounted Tire Carrier is compatible with Poison Spyder Bruiser&trad; and Crawler&trad; series rear bumpers. This provides an upgrade path for Jeep owners who wish to purchase the bumper first, and then upgrade to the tire carrier at a later date. The tire carrier may be added later, without needing to replace or alter the Bruiser&trad; or Crawler&trad; series bumper (removal of the bumper is required during installation of the tire carrier). The JK Frame Mounted Tire Carrier is also compatible with previous generation RockBrawler&trad; II series rear bumpers that were originally purchased without an integrated tire carrier (some DIY modifications required). The Frame Mounted Tire Carrier may also be installed without any bumper at all, if the owner chooses.
Concealed Heavy Duty Pivot
The Body Mounted Tire Carrier uses an extreme duty pivot assembly that is located below the deck of the rear bumper, to allow the tire carrier to be tucked in closer to the Jeep's body tub and provide better off-road clearances. The pivot assembly includes a precision CNC machined spindle and housing, with a pair of high quality Timken tapered roller bearings to provide smooth operation under the heaviest loads Spindle seals keep your lubrication in, and dirt and water out.
Fabricated Plate Steel Construction
The tire carrier swing is fabricated entirely from CNC laser cut, precision brake-formed plate steel. The pieces are expertly welded together in a specially designed assembly fixture to ensure consistent fit and quality. A web gusset design is cut into the corner of the tire carrier to provide a little Poison Spyder flare.
2-Way Adjustable Tire Mount
The tire mount is adjustable up and down, as well as in and out, to accomodate a wide variety of tire sizes up to 40". The adjustability allows the tire to be mounted as low as possible for any tire size, to keep a low center of gravity. The wheel mounting plate includes lug stud holes for a variety of wheel bolt patterns, including the JK's stock pattern 5 X 5" (also includes 5 X 4.5", 5 X 5.5", 6 X 5.5" and 8 X 6.5")
License Plate Relocation Mount
The included license plate mount places the license plate at the center of the spare tire, for those who choose to move it there. If relocating the license plate, our License Plate Delete Cover and LED License Plate & 3rd Brake Light (each sold separately) will be useful in completing the relocation. The tire carrier assembly includes tie-in loops along the cable-way, to secure the wiring for any license plate light, third brake light, or backup camera you choose to install.
SpyderShell™ Armor Coat
SpyderShell™ is more than just powder coating—it's a complete system that includes the state of the art in preparation, application, materials and packaging to ensure that your SpyderShell™ products stay looking great for years. The SpyderShell™ process has been engineered to provide your Poison Spyder product with years of unmatched great looks, corrosion protection and weather-resistance. Our proprietary 6-stage system starts with media blasting the entire part, to remove contaminents and prep the metal surface for the best possible adhesion. Next, any seams are sealed with 3M Scotch-Weld to block moisture from entering and causing corrosion where the powder can not reach. The first coat to be applied is a zinc-rich powdered black primer, which is baked on to form an impenetrable bond between the metal product and the coating. The primer is black--rather than traditional gray--so that any rock chips or trail damage are less conspicuous. The final top coat is an industrial grade, "super-durable" architectural finish in semi-gloss black, which is engineered to retain its appearance through years of exposure to sun and weather. SpyderShell is a coating process unmatched by any other Jeep armor aftermarket manufacturer, for which we are confident in offering a 5-year warranty on materials and workmanship.
Optional Hi-Lift Jack Mount
A custom Hi-Lift Jack Mount, available separately, is CNC laster cut and bolts to the top of the tire carrier. It features a distinctive web design to match the corner gusset detail on the RockBrawler™ II Tire Carrier, and mounts the Hi-Lift jack above and forward of the spare tire to keep it tucked up and away until needed.
Future Accessory Upgrade Possibilities Built-In
Along each surface of the tire carrier we've built in threaded mounting holes for future upgrades. While Poison Spyder may release additional accessories for the tire carrier at a future date, DIY'ers may find these mounting holes handy for attaching home-built brackets and mounts for accessories of their own choosing. Some suggestions might be alternate mounting for a Hi-Lift jack, fuel can or Rotopax mounts, coolers, hunting racks, tool boxes, etc.
Specifications
Material Thickness:
3/16in
Type:
Tire Carrier Hinged
Mfgr. Warranty:
5-year warranty on materials and workmanship
PEOPLE WHO VIEWED THIS ITEM ALSO VIEWED
QUESTIONS & ANSWERS
Q:

Poison spyder frame mounted carrier

GL

11 months ago

Will the poison spyder frame mounted tire carrier work with the stock hard rock bumper on 2016 jku rubicon?

0 of 0 people found the following answer helpful

A: It does not work with the factory bumper. It's made to work with the PS Bruiser, Crawler and Rockbrawler II bumpers.

Northridge Kaleb @ Northridge4x4

11 months ago

Was this answer helpful?