SET YOUR VEHICLE
Product Media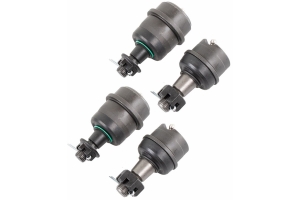 Ball Joints

>

Synergy Manufacturing Non-Knurled HD Ball Joints - Set of 4 - JK/WJ
Synergy Manufacturing Non-Knurled HD Ball Joints - Set of 4
JK/WJ
Features & Product Details
Synergy Manufacturing Non-Knurled HD Ball Joints - Set of 4 Features:

Sold in sets of 2 or 4 to replace a single side or both sides of the vehicle.
Heavy-duty, greasable, metal on metal design for significantly increased wear resistance and prolonged life
Ball Joint bearing surface area is considerably larger than stock due to elimination of the stock style inner nylon liner
Ball joint housing is manufactured from sintered graphite, bronze, and 1045 steel for a strong, smooth, bearing surface
Ball joint stud is manufactured from induction heat treated 4140 steel for maximum strength and smooth operation
Ball joint dust boot is made from wear/tear-resistant black nitro-butile rubber (NBR)
12 Month Unlimited-Warranty
Synergy Manufacturing Non-Knurled HD Ball Joints Offer OEM-Style Fit Do you have a new front axle housing or are looking to purchase your first set of replacement ball joints? If so, non-knurled ball joints are what you are looking for. Ball Joints are typically offered in two fitment styles, knurled and non-knurled. Synergy MFG has been making HD knurled ball joints for years intended as replacements for those looking for better ball joints after going through several sets of OEM style ball joints that simply don't hold up to the rigors of off-road use and large tires. The Synergy Manufacturing Non-Knurled HD Ball Joints significantly increased durability over stock style ball joints. Replacing worn ball joints can correct steering, alignment issues, and even death wobble. Tight Fit Even with Enlarged Bores The new Synergy Manufacturing Non-Knurled HD Ball Joints are ball joints intended to be used in NEW front axle housings or replacing stock, non-knurled type ball joints. If your axle housing already has had knurled ball joints installed or you are on yet another set of ball joints, these are not for you. Look into Synergy MFG's Knurled HD Ball Joints instead. Knurled ball joints allow the ball joints to still fit tight in the knuckle "C" bores after the bores have been enlarged from several sets of ball joints being pressed in and out. Knurled ball joints are a "fix" after non-knurled ball joints are no longer a sufficient press-fit. Fitment:
Jeep Wrangler JK
Jeep Grand Cherokee WJ
Important Note:
Compatible with all aftermarket axle shafts (including RCV) with no modifications needed
Synergy High-Performance Grease (4119) recommended
Metal on metal ball joints require a small break-in period of typically 100-500 miles to fully "seat" the bearing surfaces. During this time the steering may feel "sticky" or slow to "return to center". Once broken in, the steering will be smooth and tight.
Knurled ball joints required when replacing knurled ball joints that have enlarged the axle end forging bores
Non-Knurled ball joints recommended for replacing non-knurled ball joints
Due to these ball joints being tight tolerance, metal on metal ball joints, proper fitment is critical. Using the wrong style of ball joints can cause significant steering issues. We always recommend installing non-knurled ball joints until non-knurled ball joints are no longer a press-fit into the axle end forging bores. If your axle end forging bores have been enlarged to the point that non-knurled ball joints are no longer a press-fit, knurled ball joints are required.
Use of the improper ball joint style for the axle housing voids our warranty. It is up to the installer to verify the proper ball joint style is being used.
Specifications
Brand:
Synergy Manufacturing
PEOPLE WHO VIEWED THIS ITEM ALSO VIEWED