SET YOUR VEHICLE
$
60
$60.00

Bundle Savings:

MSRP:

$66.00
Buy as a package deal and save
(5%)
: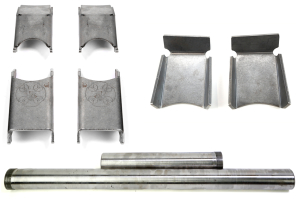 EVO Manufacturing 44 Magnum Axle Sleeves w/Control Arm Skids and C2 Gussets Kit - JK
$242.23
View Product
Axle Type:
Dana 30 / Dana 44
Enhance your Jeep JK Wrangler's front axle C's and reduce bending with the EVO Manufacturing's C2 Knuckle Gusset Kit for the front. The gussets are American made from durable steel and are designed to fit directly to the JK Dana 30, Dana 44, and 2-Wheel Drive axles.
Gusset installation will require welding.  Each kit can completely gusset the front axles on the passenger and driver sides. 
Cheap insurance
briandobsch
2 years ago
Installed the EVO C2 Gussets on my JK a few months ago. Hands down the most valuable investment I've made for my Jeep to date. It gives me peace of mind that I won't bend the C's on my weak Dana 30 axle. The price is affordable and the product is very high quality from a great manufacturer.
---
Comment