SET YOUR VEHICLE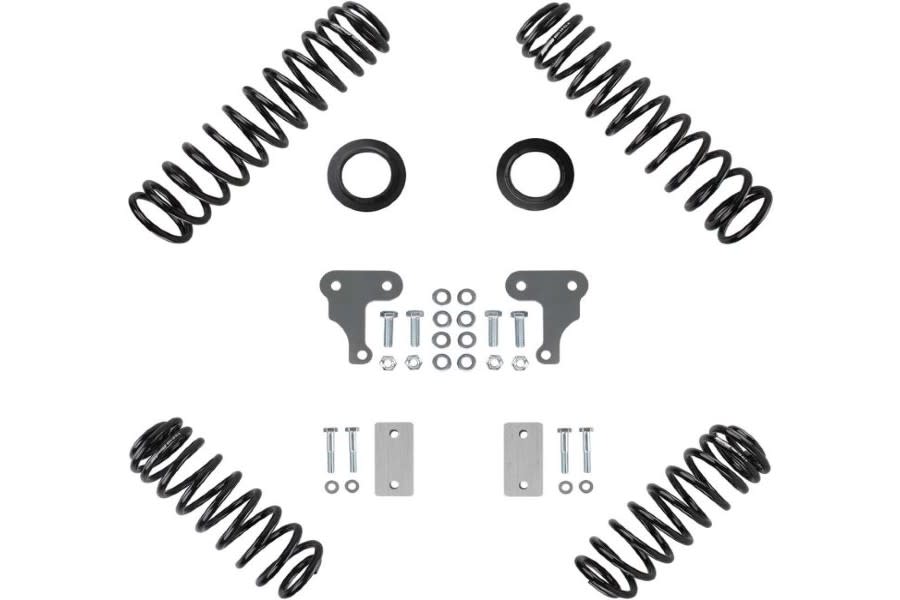 Product Media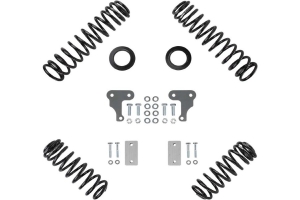 0-2in Lifts

>

Synergy Manufacturing 1in Starter Lift Kit - JL 4Dr
Synergy Manufacturing 1in Starter Lift Kit
JL 4Dr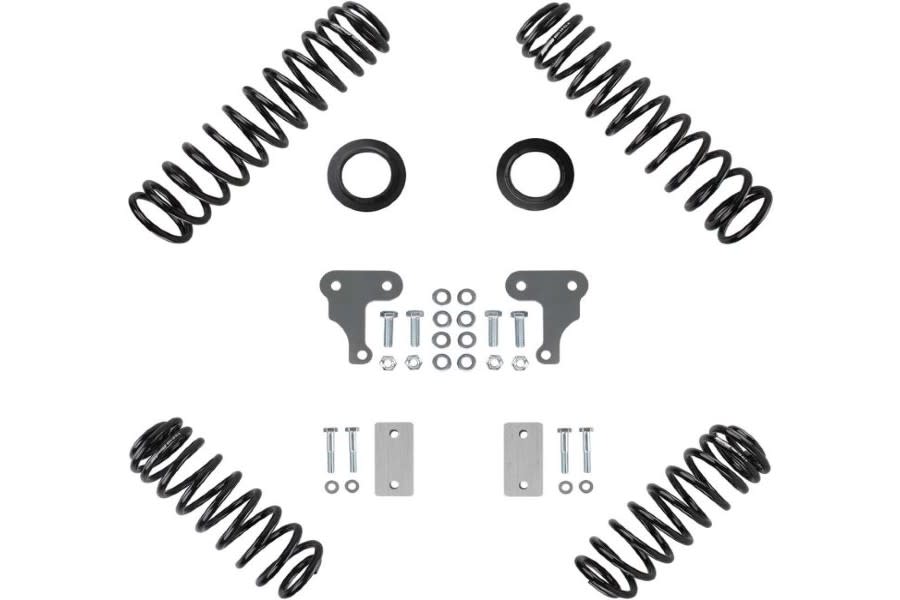 Features & Product Details
Synergy MFG Suspension Systems use a synergistic approach, meaning the combined effect of the components is greater than the sum of the individual parts. The overall performance of the system is the most important factor when Synergy is designing components to work together. Synergy MFG Suspension Systems are complete systems for your vehicle and include all necessary components for the lift height and performance advertised. All these systems have shock solutions available, whether it be shock relocation brackets to continue using the stock shocks in Synergy's Starter System or one of Synergy's Synergy MFG tuned shock packages aimed at affordability or performance. Coil springs and shocks are two of the largest determining factors in ride quality and a mismatched system will never perform to its potential. All Synergy MFG tuned shocks are matched to the coil springs and application to provide the best ride and performance possible.
The Jeep JL / JLU Starter System is a coil spring 2-inch lift designed around 37-inch tires for Rubicon models and 35-inch tires for non-Rubicon models. This system is designed to be the most capable performance coil spring lift on a budget, with room to upgrade as funds allow.
Benefits:
Budget coil spring suspension system to easily fit larger tires
Improved off road and on road performance
Includes all components necessary to get you on the trail
Complete Bolt-on System for easy install
Compatible with OEM wheels
Reuses stock shocks
No maintenance required for all included components
Lifetime Warranty on all hard parts
Fully upgradeable to higher level systems
Will Fit up to a 35-inch tire on the non-Rubicon, and 37 inch Tire on the Rubicon
Features:
Multi-rate, progressively wound coil springs increase lift height to 2 inches over stock. Front and rear coil springs are all new and have been designed specifically for the JL platform. Like OEM, the coil springs are unique lengths for each corner of the vehicle to compensate for weight distribution and prevent leaning. Longest in class free length prevents coil springs from coming unseated at full articulation and coil spring block height has been designed around optimal bump stop spacing for the lift height and tire size. Industry first closed and ground lower ends of the front coil springs ensure perfect fitment with the included front lower coil spring isolators. Synergy's coil springs are guaranteed to resist bowing and have a lifetime guarantee against sagging/breakage.
Front and rear adjustable bump stop spacer kits are included to provide the necessary clearance required for larger tires. Bump stop spacing is adjustable from 2-4 inches in 1-inch increments without having to remove any hardware.
Stock rear sway bar links are relocated to the front and new rear sway bar links and drop brackets are added to the rear to allow full articulation of the rear suspension and maintain compatibility with stock wheels.
Front sway bar link relocation brackets paired with the stock rear sway bar links relocated to the front allows full articulation out of the front suspension.
Front and rear lower shock relocation brackets allow the stock shocks to be reused making this a true budget system. As funds allow, shocks can be upgraded later to increase performance and wheel travel.
Suspension components feature an abrasion-resistant powder coat finish for maximum durability and corrosion resistance.
100% bolt on components assure an easy, trouble-free installation with the use of basic hand tools.
Notes:
In Order to use factory shocks, you need to add Front & Rear Lower Shock Relocation Brackets to the kit
If using longer travel aftermarket Shocks, you must do one of the following options:
1) Move OEM rear sway bar links to the front and add these Sway Bar Links to the rear
2) Keep OEM rear sway bar links and add sway bar disconnects to the front
Synergy MFG coil springs lift the vehicle the advertised height over stock based on a fully loaded JL Rubicon. Other JL models will see more lift over stock. These coil springs do not lift taller than advertised. The stock rake based off the Rubicon model is kept retaining its load carrying capacity. If you prefer the vehicle to sit level when unloaded, Synergy recommend adding a small coil spacer to the front (up to 3/4 inch without affecting up travel or causing coil bind.
For off road use, the front sway bar can be disconnected on Rubicon vehicles via the built in electronic disconnect system. On non-Rubicon vehicles, Synergy recommends the addition of Synergy's front sway bar disconnect kit.
Synergy MFG's Starter System is designed to be used with stock length shocks. If upgrading to longer shocks, the suspension will also need to be upgraded to at least Stage 1.
Synergy MFG is not responsible for maintaining finish of products. Environmental factors will affect rate of corrosion and wear for items advertised to be corrosion resistant. Synergy recommends using protective coatings for all items that will see extended outdoor and off road use. Synergy have had great experience with the Fluid Film product and recommend it and similar products for any items susceptible to damage from corrosion. It is great for keeping double adjuster assemblies working like new and protecting shock bodies from the elements.
Specifications
Brand:
Synergy Manufacturing
Mfgr. Warranty:
See Individual Parts
PEOPLE WHO VIEWED THIS ITEM ALSO VIEWED