SET YOUR VEHICLE
Use Code: NR100 and save $100 on orders over $850 *Some restrictions apply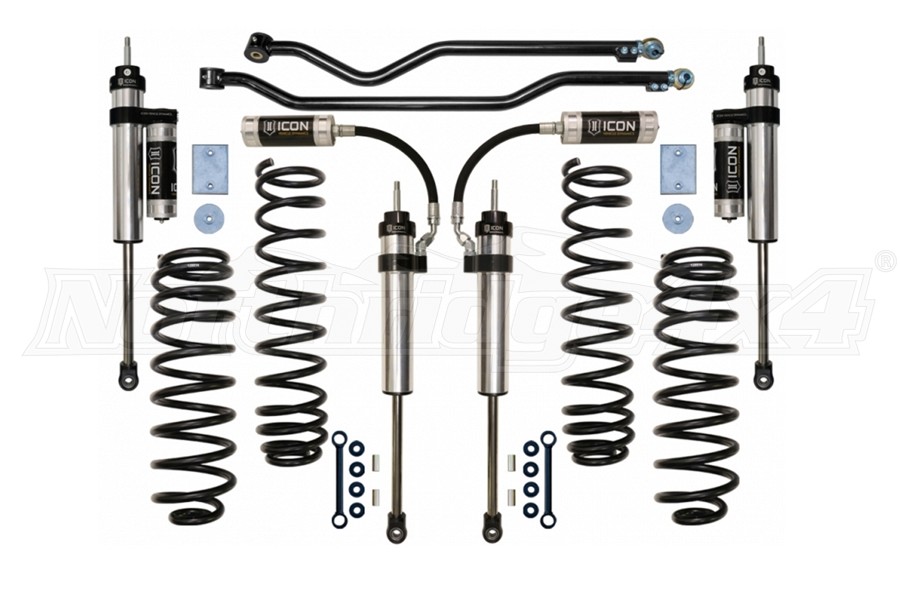 Product Media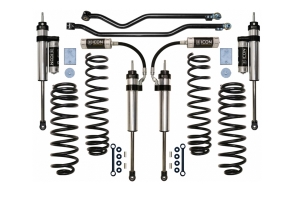 3-3.5in Lifts

>

Icon Vehicle Dynamics 3in Suspension System Lift Kit, Stage 4 - JK
Icon Vehicle Dynamics 3in Suspension System Lift Kit, Stage 4
JK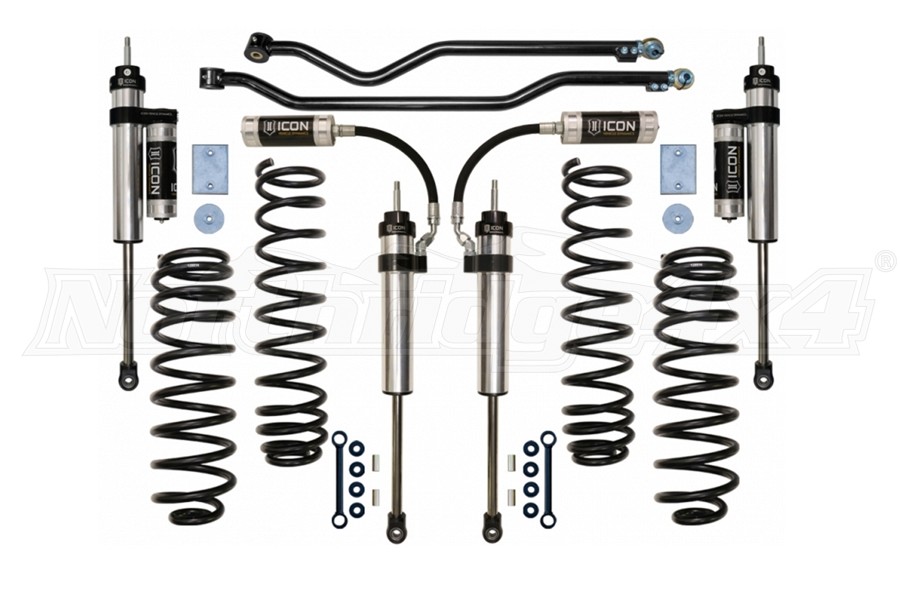 Features & Product Details
Overview:
The ICON Vehicle Dynamics 3" Lift Suspension System is designed for Jeep JK owner's demanding the ultimate in performance and ride quality, without the larger stance you find in bigger lift systems on today's market. ICON's Jeep Wrangler JK 3" lift system is engineered with front and rear dual rate progressive wound springs which is the foundation for on and off road performance and suspension articulation. The dual rate design gives you a softer initial rate for superb on road comfort and a firmer than stock secondary rate that increases during compression for excellent bottom out control. ICON V.S. 2.0 Aluminum Series shocks add the finishing touch with OE mounting, aircraft grade components, and vehicle specific valving. Together the combination of ICON dual rate coils and V.S. 2.0 Aluminum Series shocks adds 30% more wheel travel over stock, helping you rock crawl safer or soak up larger terrain at higher speeds keeping those wheels on the ground. This ICON 3" JK lift system is designed from the ground up to give the 07+ Jeep Wrangler JK's the best performance, suspension handling / ride quality, and clearance for 33" tall tires (35" tall with installation of aftermarket high-clearance fenders).
Key Features:
• Dual Rate Coil Springs Front and Rear
• Adds 30% More Wheel Travel over Stock
• No Welding or Cutting
• Vehicle can be Returned Back to Stock
• Includes High Performance Re-buildable / Re-valvable IFP 2.0 Aluminum Series Shocks
• Level Stance Front to Rear
• Out Articulates Most Long Arm Kits of Comparable Height
• 100% Made in the USA
• Lifetime Guarantee that Coil Springs Won't Sag
Tech Info:
• Fits 2007 - Current Jeep Wrangler JK 2wd or 4wd models
• 2 Door Models sit 1/2" - 3/4" taller than 4 door models but still level
• 2012 models require exhaust extension kit (Part # 22011) for proper front driveline clearance
• No driveline modifications necessary if kit is installed as intended (with or without track bars)
• For optimized axle centering add the ICON front and rear Jeep JK adjustable track bars
• Front End Alignment Required
Wheel & Tire Fitment Info:
OEM Wheels & Tires:    Yes
AfterMarket Wheels:    4.5" Backspace
(wheel spacers required to run factory wheels with an over sized tire)
Aftermarket Tires:     33" tall x 12.50"
(Larger 35" tire packages will fit with minor modifications or aftermarket high clearance fenders, test fitment recommended)
System Components Included:
2007 - Current Jeep JK - 3" Suspension Lift System Stage 1
22010  (QTY - 1)   Jeep JK 3" Front Dual Rate Spring Kit (Pair)
22015  (QTY - 1)   Jeep JK 2" Rear Dual Rate Spring Kit (Pair)
22040  (QTY - 1)   Jeep JK 3" Lift Box Kit (front and rear billet bump stops / front sway bar links / hardware)
26519  (QTY - 2)   JK 2WD & 4WD 2"-3" Lift Front Shock - 2.0 Aluminum Series
26520  (QTY - 2)   JK 2WD & 4WD 2"-3" Lift Rear Shock - 2.0 Aluminum Series
Options:
21020      Jeep JK Front Adjustable Track Bar Kit         
21025      Jeep JK Rear Adjustable Track Rod Bar Kit
26519R    Jeep JK 2WD & 4WD 2"-3" Lift Front Remote Reservoir Shock - 2.0 Aluminum Series
26520R    Jeep JK 2WD & 4WD 2"-3" Lift Rear Remote Reservoir Shock - 2.0 Aluminum Series
27820      Jeep JK 2WD & 4WD 2"-3" Lift 2.5" V.S. Series Remote Reservoir Front Shocks
27725      Jeep JK 2WD & 4WD 2"-3" Lift 2.5" V.S. Series Piggyback Reservoir Rear Shocks
27820C    Jeep JK 2WD & 4WD 2"-3" Lift 2.5" V.S. Series Remote Reservoir Front Shocks w/ CDCV
27725C    Jeep JK 2WD & 4WD 2"-3" Lift 2.5" V.S. Series Piggyback Reservoir Rear Shocks w/ CDCV
29920      Jeep JK 2WD & 4WD 2"-3" Lift 2.5" Omega Series Bypass Remote Reservoir Front Shocks
29925      Jeep JK 2WD & 4WD 2"-3" Lift 2.5" Omega Series Bypass Piggyback Reservoir Rear Shocks
22011      Jeep JK Exhaust Extension Kit
22012      Jeep JK Alignment Cam and Knock out Tool Kit
22013      Jeep JK Alignment Cam Kit (Fits in Front Lower or Rear Upper Link position)
22014      Jeep JK Replacement Front Drive Shaft w/ Yoke Adapter (2012 - Current)
22016      Jeep JK Replacement Front Drive Shaft w/ Yoke Adapter (2007 - 2011)
22017      Jeep JK Alignment Cam Knock out Tool
22018      Jeep JK High-Clearance Steering Stabilizer Kit
22019      Jeep JK Front Hydraulic Bumpstop System
21031      Jeep JK Front Lower Fixed Link Kit
21036      Jeep JK Front Upper Adjustable Link Kit
21041      Jeep JK Rear Lower Adjustable Link Kit
21046      Jeep JK Rear Upper Fixed Link Kit
Specifications
Brand:
Icon Vehicle Dynamics
PEOPLE WHO VIEWED THIS ITEM ALSO VIEWED