SET YOUR VEHICLE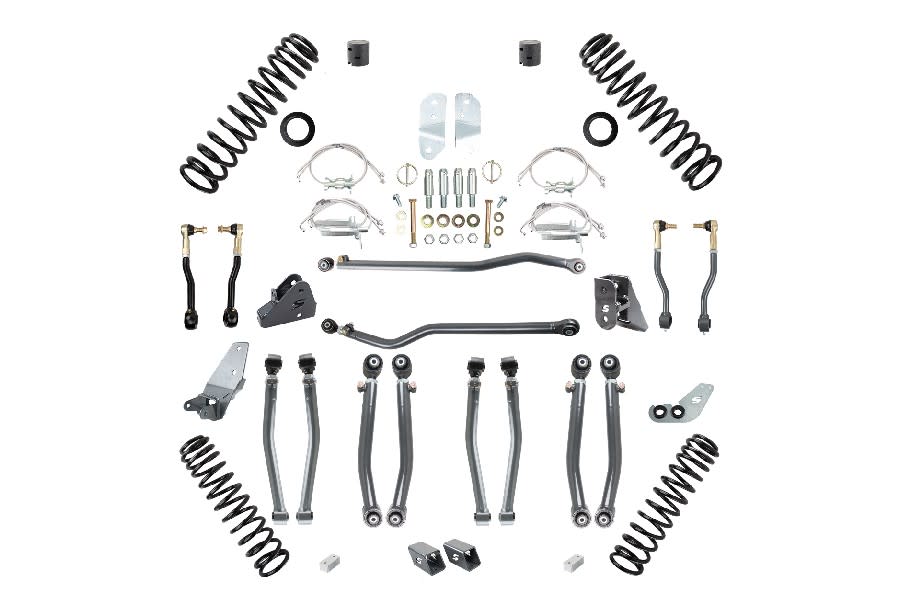 Product Media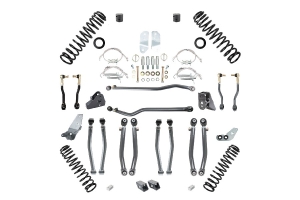 Suspension Package Deals

>

Synergy Manufacturing 4 Inch Lift Stage 3 Suspension System, 4dr - JL 4dr
Synergy Manufacturing 4 Inch Lift Stage 3 Suspension System, 4dr
JL 4dr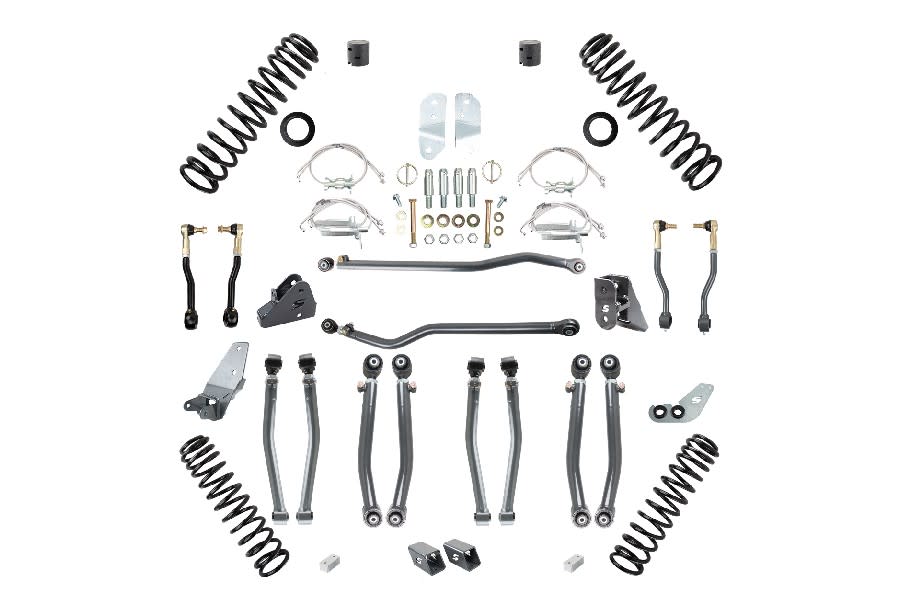 Features & Product Details
Synergy MFG Suspension Systems use a synergistic approach, meaning the combined effect of the components is greater than the sum of the individual parts. The overall performance of the system is the most important factor when we are designing components to work together. Synergy MFG Suspension Systems are complete systems for your vehicle and include all necessary components for the lift height and performance advertised. Coil springs and shocks are two of the largest determining factors in ride quality and a mismatched system will never perform to its potential. The table below includes fitment information for popular brand shocks
The Jeep JL Stage 3 Suspension System is a coil spring 3 to 4-inch lift designed around 37-inch tires for all models; the 4-inch lift will fit 40-inch tires will fit Rubicon or aftermarket high clearance fenders. This system further builds off our Stage 2 System by adding our heavy duty drag link and front track bar relocation bracket to correct the steering geometry, as well as our adjustable rear track bar and new stainless brake lines to deliver a complete and balanced suspension package with all the limits for maximum wheel travel properly addressed. This system is the apex of our JL Wrangler offerings and capable of extreme performance.
Benefits:
Coil spring suspension system to easily fit larger tires
Corrects suspension geometry to center front and rear axles and fine tune alignment and pinion angles
Includes front sway bar quick disconnects for easy disconnection of the front sway bar for off road use
Greatly improves wheel travel and articulation over stock and spacer lifts
Best in class ride quality and performance when paired with coil spring matched Synergy Tuned Shocks
Includes all components necessary to get you on the trail
Complete Bolt-on System for easy install
Compatible with OEM wheels
No maintenance components
Lifetime Warranty on all hard parts
Fully upgradeable to higher level systems
Features:
Front steering correction kit combines our proven Heavy Duty Drag Link and Front track bar bracket to raise the front roll center, and correct the steering geometry.
Multi-rate, progressively wound coil springs increase lift height 3 to 4 inches over stock. Front and rear coil springs are all new and have been designed specifically for the JL platform. Like OEM, the coil springs are unique lengths for each corner of the vehicle to compensate for weight distribution and prevent leaning. Longest in class free length prevents coil springs from coming unseated at full articulation and coil spring block height has been designed around optimal bump stop spacing for the lift height and tire size. Industry first closed and ground lower ends of the front coil springs ensure perfect fitment with the included front lower coil spring isolators. Our coil springs are guaranteed to resist bowing and have a lifetime guarantee against sagging/breakage.
Front and rear adjustable bump stop spacer kits are included to provide the necessary clearance required for larger tires. Bump stop spacing is adjustable from 2-4 inches in 1-inch increments without having to remove any hardware.
New rear sway bar links and drop brackets are added to the rear to allow full articulation of the rear suspension and maintain compatibility with stock wheels.
Front sway bar links with quick disconnects allow easy disconnection of the front sway bar for maximum articulation of the front suspension when used off road.
All adjustable control arms are included to correct caster, pinion angle, and center the axles. These control arms feature our maintenance free Dual Durometer Bushings (DDB) focusing on performance, flex, longevity, and ride quality. Double adjuster assemblies are used for easy length adjustment on the vehicle and pinch bolts are used to secure the double adjusters so there's no fighting jam nuts.
Adjustable front and rear track bars allow centering of the both axles, reduce lateral shift in the front end, and eliminate bind on articulation.
Rear track bar relocation bracket raises the rear roll center to reduce body roll and centers the rear axle while preventing drive shaft interference with the gas tank which is possible with long travel shocks.
Parking brake cable bracket secures the parking brake cables when they are relocated under the rear crossmember so they don't impede suspension travel.
Suspension components feature an abrasion-resistant powder coat finish for maximum durability and corrosion resistance.
100 percent bolt on components assure an easy, trouble free installation with the use of basic hand tools.
Notes:
Synergy MFG coil springs lift the vehicle the advertised height over stock based on a fully loaded JL Rubicon. Other JL models will see more lift over stock. These coil springs do not lift taller than advertised. The stock rake based off the Rubicon model is kept to retain its load carrying capacity. If you prefer the vehicle to sit level when unloaded, we recommend adding a small coil spacer to the front (up to 3/4 inch without affecting up travel or causing coil bind, 8017-075).
Synergy is not responsible for maintaining finish of products. Environmental factors will affect rate of corrosion and wear for items advertised to be corrosion resistant. We recommend using protective coatings for all items that will see extended outdoor and off road use. We have had great experience with the Fluid Film product and recommend it and similar products for any items susceptible to damage from corrosion. It is great for keeping double adjuster assemblies working like new and protecting shock bodies from the elements.
Wheel and Tire Fitment:
Recommended tire size is limited by fender clearance. With higher clearance fenders or trimmed fenders, larger tires may be fitted. Bump stop spacing should be matched to the collapsed length of the shocks. Mismatched bump stop spacing and shocks will limit the available travel from the system.
Specifications
Brand:
Synergy Manufacturing
PEOPLE WHO VIEWED THIS ITEM ALSO VIEWED