SET YOUR VEHICLE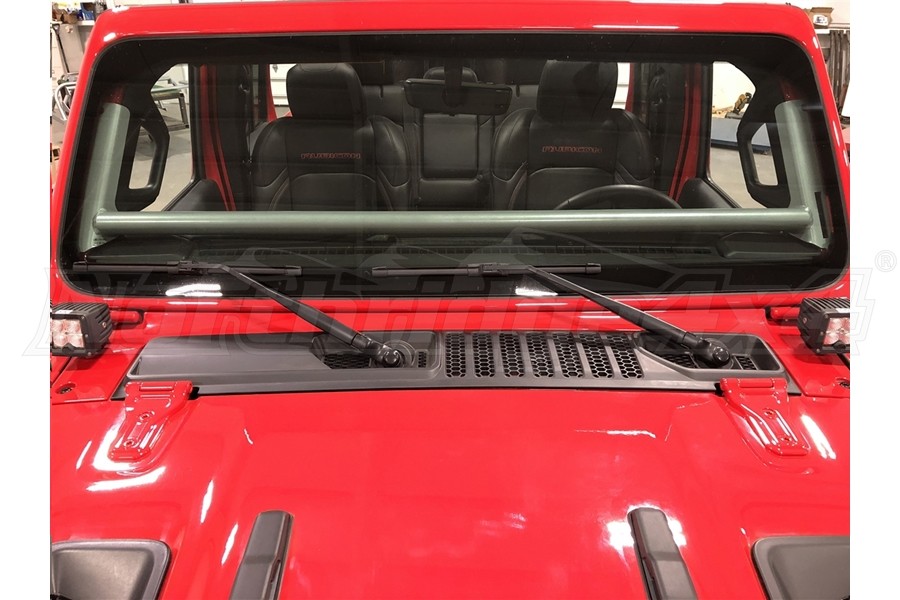 Product Media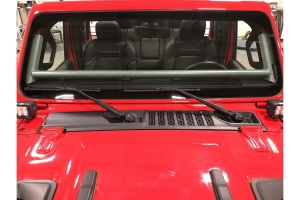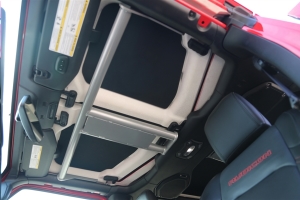 Community Media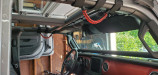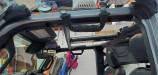 Cage Accessories

>

Rock Hard 4x4 Bolt-In Ultimate Sports Cage Brace Kit, Front - JL/JT
Rock Hard 4x4 Bolt-In Ultimate Sports Cage Brace Kit, Front
JL/JT
Features & Product Details
The RH4x4 Jeep bolt-in Sport Cage is the cornerstone of Rock Hard 4x4™ products. Developed first for the Jeep Wrangler TJ and proven after years and years of trail use and abuse - the RH4x4™ bolt-in Sports Cage has become one of the most popular safety upgrades in the Jeep aftermarket industry.

The Why - Factory Design Complications
The Wrangler JL almost didn't come to market with solid axles. Weight was a major factor in determining if the Wrangler would sacrifice off road capability for fuel mileage standards. In the end, and what we have today, is a Wrangler attempting to both satisfy regulations and maintain its heritage. To save weight, and save solid axles, the JL engineers installed a very light weight, very thin wall (14 gauge), very body-integrated cage system. 

To strengthen this lighter cage, the engineers produced an extremely hardened, odd shaped tubular design. In developing our Cage Brace System, we broke virtually every drill bit in our building. The tubing is unlike any material Jeep has ever used, certainly in the occupant safety realm. The shape requires a new way to install a Cage Brace System, and a back to the drawing board approach for us. After a fully year of research and development, we're proud to release our innovative design. 

Installation
We promised we'd innovate a no-weld design, and we've done it. Our Cage Brace System strengthens the weak/vulnerable points in the OEM JL cage plus adds functionality. Our System does require some special tools, but does not require welding.

Drilling - every RH-90700 Cage Brace System includes a "Drill Bit Pack": 2 special hardened drill bits and a special "die grinding tree". Why 2 drill bits? Because odds are, you'll need 2. The new factory cage material, while only 14 gauge, is hardened. It takes a very slow (300 RPM ideal, 500 RPM max) drill process and a special hardened cobalt drill bit to penetrate. Your big box store drill bits will not work. The die grinder tree will help you remove burs and finish out the holes. You aren't required to purchase, but may very well need, an additional Drill Bit Pack. 

The Design
The RH4x4 JL Cage Brace System strengthens the JL cage is all the critical areas. 

Windshield Frame
Allows for windshield lowering and adds critical horizontal side-to-side brace in a hard impact.

Overhead T-Section Brace
Adds critical horizontal side-to-side brace plus mid-section forward brace, plus includes accessory mounting plate.
PEOPLE WHO VIEWED THIS ITEM ALSO VIEWED
REVIEWS & CUSTOMER MEDIA
1

Reviews
Customer Photos and Videos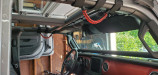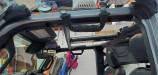 Great system, take your time
2 months ago
fosgate
Was worried I would not get the rivnuts installed in the correct spot being my first time doing those. The system works great. I got the front and back system and installed it all myself. Take your time, mock it up a couple of times and mark, remark and check again. Also make sure you follow the instruction to use the tap on the threads EVERY time you put a bolt in and remove it. Get an air die grinder, it will make it a lot faster. I did the windshield bar first as it was the easiest and able to hold with clamps while I marked it. After I had it powder coated a dark gray/black it matches the interior and looks stock. I love that it is stealth that way. I wanted it to blend in.
Was this review helpful?
QUESTIONS & ANSWERS
How much does this product weigh?